One of the favourite guessing games of economists is what happens next to interest rates and when.
Instead of adding to the guesswork today, I'll merely take a quick look at where Aussie interest rates have come from, and where, on balance, futures market think they might go to next (and why).
Economy
If you've been watching what has happened to the Aussie dollar of late – all the way back up from below 88 US cents in February to above 93.6 cents today – and to various bits and pieces of economic data over the last few weeks, you may get the impression that things are steadily looking up for the Australian economy.
One fairly useful measure of the strength or otherwise of the economy is what the futures markets believe may be coming next for interest rates.
Here's what has happened to Australia's interest rates over the past quarter of a century.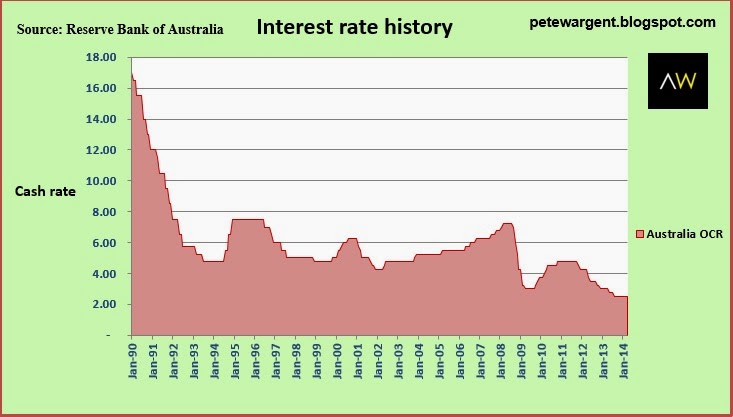 Like many developed countries, we've been in a downward interest rate trend as inflation has come under control, and more recently, as the global financial crisis put many developed nations in a hole.
With a cash rate of 2.50%, our cash rate is still comparatively high, though, when compared to the US (which is still pumping stimulus into its economy), the Eurozone (where deflation is feared) or the UK where the base rate has been stuck at 0.50% for five years.
Japan hasn't had a benchmark interest rate above 1.00% since 1995!

Of course, since most adult Australians own homes, those with mortgages are generally happy to see low interest rates since it makes monthly mortgage repayments, relatively speaking, easy to service.
The losers from low interest rate environments tend to include many pensioners and net savers, who see returns on deposits and fixed interest rate investments fall.
Interest rates being stuck at zero tends to be a sign of a sick economy.
Yield curve
A yield curve, while sounding a little complicated, is simply a graph which charts the yield of fixed-income securities plotted across a range of maturity dates.
By plotting such a chart of cash rate futures, you can get a fair idea of how markets are anticipating future changes in the Reserve Bank's official cash rate to play out.
For example, the 30 Day Interbank Cash Rate Futures contract for October 2014 is presently trading at exactly 97.500 which gives an implied yield of 2.50% (100 – 97.50 = 2.50).
In other words, on balance markets are assessing that the cash rate in October is likely to be exactly where it is today, which is also what the Reserve Bank's Monetary Policy wording has implied.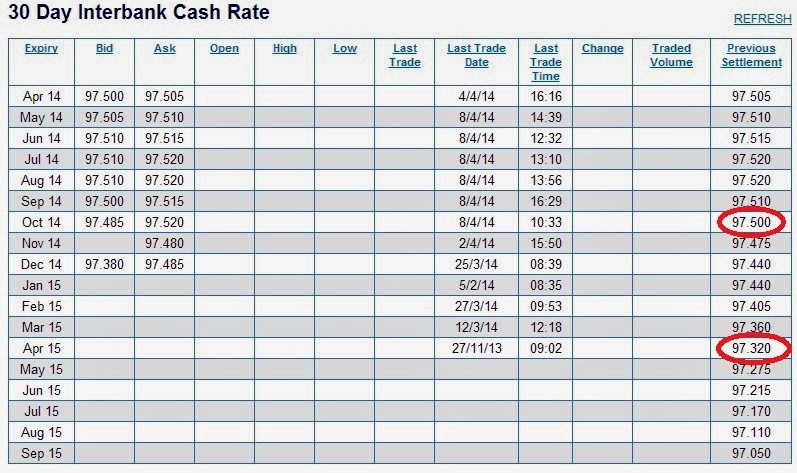 Roll forward a few months, though, and you'll see that an April 2015 contract last settled at 97.320, giving an implied yield of 2.68% (100 – 97.32 = 2.68).
In other words, markets are pricing in the potential for interest rates to be higher by April next year, albeit not by very much.
By plotting the implied yield across all maturity dates for the next 18 months, we should end up with something approximating to a neat curve which incorporates the expectations of futures markets as at close of business yesterday.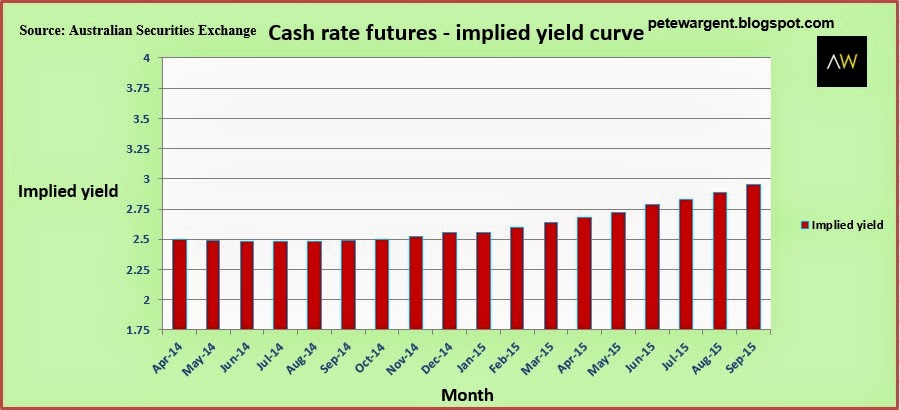 Until fairly recently, the yield curve had remained inverted – that is, expecting further rate cuts to be in the pipeline. And if you look closely, you'll see that the market still has not quite – quite! – shed its inverted shape.
September 2014 contracts, for example, have an implied yield of 2.49%, which is just one solitary basis point lower than the cash rate.
Taking the bigger picture, however, consensus now appears to be that low interest rates are working exactly as they should and the next move in the cash rate is likely to be up to 2.75% some time over the next year or two.
Jobs, jobs, jobs
Depending on who you listen to, the Reserve Bank is apparently in a blind panic about all manner of things from dwelling construction to falling mining investment, rising unemployment, house prices to imported inflation, although the bank's own rhetoric has continued to remain sanguine enough, suggesting that a period ahead of stable rates is the most likely outcome.
The reason for this post today is that we have some key data coming up, that being the labour force print for March 2014.
As noted towards the beginning of this post, a raft of other data from booming commodity exports, to rising house prices, strengthening retail figures and near-record building approvals has suggested that the economy is responding positively to the delivered cuts in interest rates.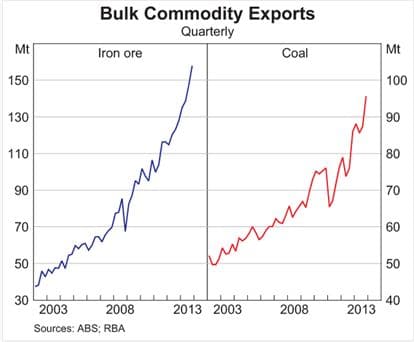 The missing link to date has been the jobs market, which can sometimes be a lagging indicator in an economic recovery.
Last month, the labour force figures for February showed the economy adding an extraordinary, almost unbelievable 80,500 full-time positions, and if we get a repeat dose of that then there is no question that rates will be on the way up soon.
A slight problem is that due to sample sizes and sample rotation, the labour force data has a habit of spitting out results that would make a dartboard appear consistent, and therefore it would be no surprise at all if tomorrow's results show many of those jobs 'gains' being reversed and the unemployment rate remaining doggedly flat.
And if that happens, then the first interest rate hike will probably be pushed out for quite some time.

SUBSCRIBE & DON'T MISS A SINGLE EPISODE OF MICHAEL YARDNEY'S PODCAST
Hear Michael & a select panel of guest experts discuss property investment, success & money related topics. Subscribe now, whether you're on an Apple or Android handset.
NEED HELP LISTENING TO MICHAEL YARDNEY'S PODCAST FROM YOUR PHONE OR TABLET?
We have created easy to follow instructions for you whether you're on iPhone / iPad or an Android device.

PREFER TO SUBSCRIBE VIA EMAIL?
Join Michael Yardney's inner circle of daily subscribers and get into the head of Australia's best property investment advisor and a wide team of leading property researchers and commentators.
---
---