Australia's population grew by 388,000 people over the year to this last March quarter
The ABS released its Demographic Statistics for March 2014 today which showed the Australian population recording a thumping population growth of +111,600 persons over the quarter and +388,400 or 1.7 percent over the past year.
The figures for the March quarter are often higher than those recorded in other quarters, but this is still exceptionally strong population growth on a historical basis .
The figures brought the total Australian population as at March 2014 to 23,425,700 with the acceleration in population growth over the past decade clearly evident in the gradient of the chart below.
NSW population booms – but mining states slowing
Our 2014 state-level population growth forecasts which you can read here predicted that New South Wales could feasibly account for more than a third of Australia's total population growth in 2014 if the trend towards slowing population growth in the mining states plays out as we expect.
The New South Wales construction boom is set to keep the economy growing at a very healthy 3 percent plus clip over the years ahead.
The data for the first quarter shows that exactly what we expected is beginning to happen, with the total New South Wales population exploding higher by 114,500 persons over the year to March, but the trend in Queensland and Western Australia now clearly turning sharply south.
Over the past year New South Wales (+114,500), Victoria (+108,800), Queensland (+75,800) and Western Australia (+63,400) accounted for all of the materially significant population growth in Australia covering off a massive 93.3 percent of the total.
This continues the long run trend of population growth being heavily focused on these four states.
Population growth to slow in aggregate in 2014
While the figures recorded showed a massive aggregate population increase in the seasonally strong Q1, we do expect population growth to slow through the remainder of 2014 as per our population forecasts.
The reason for this is well explained by the chart below, that being that although net overseas migration ("NOM") today accounts for a massive 60 percent of Australian population growth – as compared to only 40 percent from natural increase – the trend in NOM growth for this cycle is now rolling over as denoted by the blue line below, and will continue to decline through Q2 and Q3.
South Australia?
There was some reasonably heartening news for South Australia in this release with annual population growth staying positive at +15,500 over the past year, although the growth rate of just 0.9 percent continues to track miles below the national average.
Many of the seasoned property experts have continued to recommend buying property in South Australia over the years, presumably partly because it is relatively cheap,
This has become even more so the case over the past six years since Sydney and Melbourne have recorded capital growth but Brisbane and Adelaide prices have failed to match inflation. RP Data's Cameron Kusher with the key stats:
Of course, we have no more access to a crystal ball than anyone else does, but we have for some time continued to note concerns here about the South Australian economy which urgently needs stimulating and job creation.
Property markets do not operate in a vacuum and cheap house prices do not in themselves assure growth in real terms over the long term unless the economy is creating jobs growth, population growth and real wages growth.
The demographic statistics today continued to show how South Australia has long been suffering from a debilitating "brain drain" and statistically significant net interstate migration. and thus the state has been heavily reliant upon immigrants to keep the population growth figure positive.
Nothing wrong with that per se, one might argue, but people will only continue to come if there are jobs for them to come for, and the labour market has been stagnant for some years now in South Australia.
Notably last month's labour force data did show a marked uptick in part-time employment, along with most of the states, but whether or not last month's outlandish jobs growth of 121,000 in a month (outrageously the highest jobs growth figure ever recorded in Australia's history as I analysed here) proves to be a quirk of sampling remains to be seen.
The red line shows the cumulative jobs added in South Australia on a seasonally adjusted basis over the past 15 years, and particularly the total stagnation of the last half decade.
It's worth noting here just how crucial this point is for South Australian property markets – the difference between an economy with a moderately growing population and labour force as compared to one with a moderately declining population and labour force is as stark as the difference between night and day.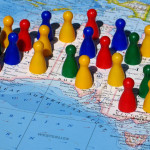 By way of an example of why population and jobs growth is important I took a look at what happened to Detroit's population and the flow-on impacts as the automotive industry collapsedhere.
Of course, South Australia is not Detroit, but this does help to underscore precisely why the local economy needs stimulus and jobs.
With the mining construction boom now set to fade into obscurity as the commodity price bubble deflates (the odds of an Olympic Dam expansion with the copper spot below US$3.04/lb instead of flying high at $4.50/lb must be fading by the week) economies such as South Australia and Tasmania urgently need job creation through government spending and infrastructure projects.
This is particularly so given the news out of Detroit itself in the past year:
"The Australian car industry is all but dead and South Australia is in shock following confirmation that Holden will cease production after more than 60 years.

The Japanese maker is also struggling and Holden's demise will put further pressure on its ability to stay in Australia. Experts have forecast that it will soon announce its own closure.

Holden general manager Mike Devereux, who just a day before told the Productivity Commission that GM in Detroit had made no decision to close operations, said yesterday "this is an incredibly difficult day for everybody at Holden, given our long and proud history of building cars in Australia".

But he added: "As painful as it is to say, building cars in this country is just not sustainable."

University of Adelaide economic expert John Spoehr, however, says assistance of at least $1 billion is needed to stave off long-term hardship in Adelaide's north, which he says is already suffering from "recessionary conditions".

Opposition Leader Bill Shorten, attacked the Government for not doing more to keep Holden's doors open. and said it was guilty of a "lack of leadership".

"The job of an Australian government is not to get rid of Australian jobs," he said. "This is the biggest car crash in Australia's history."

South Australian independent Senator Nick Xenophon believes the closure will eventually cost tens of thousands of jobs and economic modelling concurs with that view, putting economic losses in this state at $4 billion and job losses at 65,000 by 2020.

Although stunned by the news, community leaders in the northern suburbs have vowed to overcome the economic disaster. But they stress they'll need real help.

Glenn Docherty, the Mayor of Playford and Liberal candidate for the electorate of Newland, said the area would need both state and federal funding.

"This is the most significant economic decision the Abbott Government has made and it's going to have catastrophic consequences for our country," ACTU secretary Dave Oliver said.

"The departure of Holden will sink the car industry in this country and the flow-on effects for jobs and manufacturing will be cataclysmic."
As noted above, South Australia is by no means another Detroit. For one thing, the major employers in the state are the healthcare and defence sectors, though this does re-emphasise the dependence upon the government for employment.
But if Xenephon is right about the $4 billion loss to the economy and a devastating 65,000 job losses then the local economy needs boosting, and given sharply declining commodity prices, the most likely source of job creation would appear to be through government and infrastructure investment.
Of course, Xenephon could be wrong and the economy could overcome the hurdles faced in the lead up to 2017.
And naturally Xenophon could be dramatising (one certainly hopes so – the South Australian economy has not added 65,000 jobs in more than fully 8 years) while the significant decline in the Aussie dollar could help exporters – the dollar crunched through 88 cents today and is now trading with a more attractive-looking "87 handle" at around 87.8 cents.
Nevertheless the growth in the South Australian economy is forecast to be the weakest of any of the mainland states and it may pay to be wary of property market commentary which endlessly emphasises upside potential without acknowledging downside risk.
As an interesting aside, if Sydney and Melbourne assets looked attractive to foreign capital when the Australian dollar was at 110 cents, then they must look by comparison an absolute steal now with the currency having depreciated by more than 20 percent (in US dollar terms) and counting.
The Australian dollar has lost a good deal of ground against other currencies too as bulk commodity prices have declined and the cash rate down at 2.50 percent.

SUBSCRIBE & DON'T MISS A SINGLE EPISODE OF MICHAEL YARDNEY'S PODCAST
Hear Michael & a select panel of guest experts discuss property investment, success & money related topics. Subscribe now, whether you're on an Apple or Android handset.
NEED HELP LISTENING TO MICHAEL YARDNEY'S PODCAST FROM YOUR PHONE OR TABLET?
We have created easy to follow instructions for you whether you're on iPhone / iPad or an Android device.

PREFER TO SUBSCRIBE VIA EMAIL?
Join Michael Yardney's inner circle of daily subscribers and get into the head of Australia's best property investment advisor and a wide team of leading property researchers and commentators.
---
---