I know a lot of commentators are complaining about the amount of airtime that Harry S. Dent gets for his forecasts. But since his publicist kindly gave me some signed copies of his books last week (and since I am also a voracious reader), let's take a look at what he has to say on Australia's public and private debt.
"Australia is my favourite overall developed country in the world for vacation and for living."
Good-oh. True! We have low unemployment and our cities are amongst the most liveable in the world. Australians are also the wealthiest people in the entire world.
How's about that? Of all the 200 or so countries you could be living in – which the news reminds us every night includes some countries in desperate strife – you're in the most prosperous of the whole lot. An arresting fact. Australia is also one of the most law-abiding and safer places in which to live.
"Australia has the lowest total debt for English-speaking countries outside Canada at 276%. Australia's government debt is unbelievably low at 21%. Hence, Australia's government will have more room to cushion its banking crisis ahead."
True again. Yes, this is the case.
An a resources-exporting nation, Australia really ought not to have high government debt, and nor do we.
Should there be an economic downturn, there is scope for government spending on infrastructure to be ramped up, interest rates to be cut, stimulus packages to be hurled at consumers, and so on.
It's becoming increasingly clear from ASX releases that the scaling back in mining capex is now right upon us with a large number of major construction projects now completed. A little later than expected, but we're into the downturn.
As Dent notes, the Australian government has some fuel in the tank if it's needed.
The Reserve Bank forecasts Australia's GDP growth to increase to around 4% over the next few years, so at this juncture, stimulatory government spending does not appear to be what is required.
I also note that we don't have a "banking crisis" at this point in time, with the major banks recording another year of earth-scorching results. Dent is forecasting here that an eventual fall in dwelling prices will result in a crisis for the banks. We'll have to wait and see on that, but banks have been steadily building equity in recent times, albeit with material exposure via their resi home loan books.
Events of the last half decade in other developed countries have shown that banks have endured some large write-downs on non-performing loans. Fortunately, the average Australian is miles ahead on their mortgage repayments (at record levels) at this point in time, and non-performing loans have remained very low to date.
Simply leaving mortgage repayments at 2008 levels (the official cash rate in March 2008 was 7.25%) has allowed many of us to open up a huge buffer on required loan repayments. The cash rate of just 2.50% has delivered a colossal affordability dividend to Australian homeowners.
The mortgage repayment statistics (and, for that matter, retail sales galloping along at a 6.5% annualised growth pace) clearly show that Aussies are enjoying a time of very easily affordable living.
Not in line with what you read in the press?
That's mainly because modern lifestyle expectations have shifted dramatically over the past generation.
Read what the actual statistics are saying. For example, more Aussies than ever before have funds in hand for overseas travel, recording a blistering 8.4 million overseas trips in 2012-13 – comfortably the highest level of overseas trips ever recorded in Australia.
One of the key factors for this chart going forward will be the rate of unemployment.
"Australia's consumer debt at 105% is higher than that of the US and most other developed countries as it has the highest average real estate valuations among Western countries. All of its major countries are on the coast with very limited land for development as most of the land is very arid.
True. This is an accurate geographical lesson. I learned this at junior school actually – "Australia is mainly just a large desert" – the text-books told us exactly that. Memorably, we also learned that Australia also had "very large bananas".
It's funny the things, you remember. In fact, it was only when Neighbours and Home and Away came to the UK in the 1980s that Poms like me realised that Australia might be quite a nice place to live.
In truth, national comparisons of consumer debt are next to useless. It's very cheap to live in Memphis, but not at all so in Manhattan (or, indeed Mayfair).
Similarly, Dubbo or Dandenong may be quite cheap on a national basis, but that's not necessarily much use if you earn lower than average wages, or for that matter, if you want to live in Darwin or Dover Heights or Double Bay.
I don't think we learn much from that.
You can only really assess how owners are coping with affordability on a localised basis.
Broadly speaking, Aussies are enjoying ultra-cheap mortgage repayments, but new buyers are finding deposits harder to save. At this stage of the cycle, lending standards appear to be easing.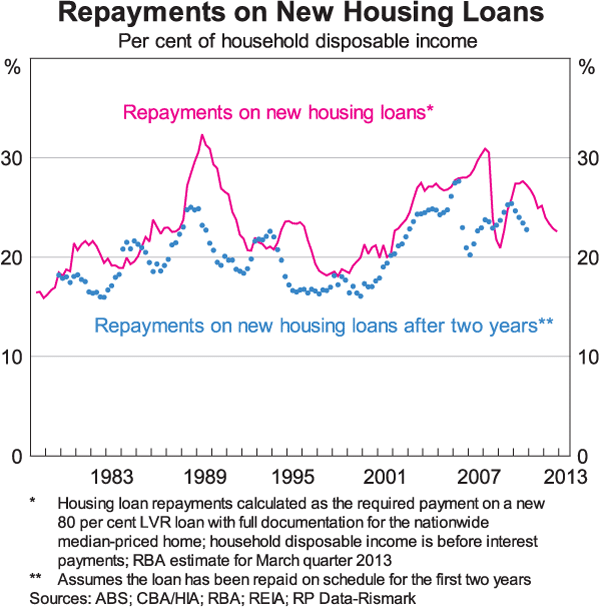 The land for development is far greater in cities like Adelaide and in regional centres, of course. Sydney is hemmed in on all sides, which is creating a huge upwards pressure on land values.
"Australia went through the first crash without a subprime or banking crisis."
True again. Harry might have chosen to add "contrary to my predictions of a 50-55% crash by 2014", but we'll let that one slide. Australia will eventually get a correction, but it won't be of that magnitude in the major capital cities. In fact, Dent has downgraded his crash prediction to less than half of his earlier call from 3 years ago.
Housing prices didn't fall much then went a bit higher. Now they're starting to crack on the high end will finally fall in the years ahead.
False. In inflation-adjusted terms, all Australian cities except for Sydney are below their 2010 peaks. And here's a sale from yesterday – $525,000 over reserve. Prices are not cracking at the top end at this point in time. The years ahead, of course, are uncertain, as always.
"No normal worker I've talked to in Sydney could afford to own an apartment in the downtown area. It's mostly international buyers and foreigners buying upscale households, as in London, Vancouver and New York".
Hmm, maybe – it depends who he spoke to and what you define as a "normal worker". I own "downtown" property and consider it very easily affordable to me – but then, I'm from a dual income household.
I also have a large number of friends, none of whom are foreigners, who own "downtown" properties on Pitt Street, Market Street and so on. Being of that ilk, however, most of my city-based friends work in mining or are finance professionals, which is probably not how you would choose to define a normal worker.[sam id=40 codes='true']
Of course, as is the case in most maturing city markets, one wouldn't expect that your average manual labourer could afford to live "downtown", but then this kind of misses the point since most Aussies don't want to live in the city anyway. Most of us seem to want to live in lifestyle suburbs close to the cities, industrial zones tend to be located further out, and so on and so forth.
Where I live, a couple of minutes walk to Darling Harbour and the city, most people seem to be dual income apartment dwellers in the 25-35 age bracket.
They generally work in the CBD and most seem to be living the dream at the moment, since interest rates are as low as most have ever seen. The trendy bars, restaurants, coffee houses and takeaway parlours around here are absolutely packed to the rafters 7 days a week.
I'm sure life won't be quite so easy when they try to trade up to a house in the suburbs, though, particularly if borrowing rates revert higher.
Personally, my best assessment is that the Sydney property market will get a period of strong price growth in 2014, followed by an eventual cooling when interest rates eventually revert higher towards a neutral setting, whenever that may be.
"Australia should weather the coming crisis better than any country in the developed world, but it won't avoid a crash next time around like it did this time. That said, if I have a choice of anywhere to live in the next ten years in this kind of winter season and financial crisis – especially in the next two years from 2014 to 2015 Australia would be my first choice".
A bit of a contradiction?
Australia "won't avoid a crash" but it will be the best place to be of "anywhere" to live in the entire world over the next decade. I tend to agree on the latter point. Australia has favourable demographics, and a bright future.
That's why a lot of us choose to live here.
As for the crash, well, Dent was completely wrong last time, but time will tell, I guess!
He's often said that Australia will lead the boom to follow the crash, so I suppose that should tell you that any investment decision – be it in equities or real estate – ought to be a long-term gig.
Anyway, must log off, heading to Darling Harbour for a swanky Indian restaurant lunch* at Zaaffran. It's what we do around here, y'know…

Subscribe & don't miss a single episode of Michael Yardney's podcast
Hear Michael & a select panel of guest experts discuss property investment, success & money related topics. Subscribe now, whether you're on an Apple or Android handset.
Need help listening to Michael Yardney's podcast from your phone or tablet?
We have created easy to follow instructions for you whether you're on iPhone / iPad or an Android device.

Prefer to subscribe via email?
Join Michael Yardney's inner circle of daily subscribers and get into the head of Australia's best property investment advisor and a wide team of leading property researchers and commentators.
---
---