---
In December 2014, APRA made the first moves to tighten up the mortgage lending industry to deliberately slow a market that it judged to be overheated.
These 'macroprudential' measures did not include any hard policy changes, but were instead aimed at highlighting areas they would supervise more tightly.
In particular, they were interested in keeping lending to property investors below 10% annual growth to avoid higher risk or excessive speculative lending in that sector of the housing market.
More recently, in July 2015, in response to a recommendation from the Financial System Inquiry, APRA announced changes to capital adequacy requirements for the big four banks and Macquarie.
The average risk weight will increase from approximately 16% to at least 25%, by 1 July 2016.
RBA Governor Stevens noted that "the whole point of [the regulatory changes] was to change the competitive landscape between the majors and the others [non-major banks, credit unions, etc.]".
There have already been a number of different responses by the banks in relation to these two separate events:
Mortgage rates for investors were increased in August despite there being no cash rate increase from the RBA.
A number of the major banks have raised additional capital, and to cover the cost, mortgage rates were raised across the board for new and existing home owners in October.
There may be more adjustments to mortgage rates over the coming six months as this process continues.
Overall, these changes are consistent with our view that house price growth will slow, and housing construction will post little-to-no growth in 2016.
Additional increases in interest rates would weigh further on this outlook.
APRA's macro prudential measures have tightened lending criteria and raised interest rates for investors, slowing finance growth
Source: APRA, ABS, ANZ-Property Council, RBA, ANZ Research
Despite these changes, interest rates are still historically low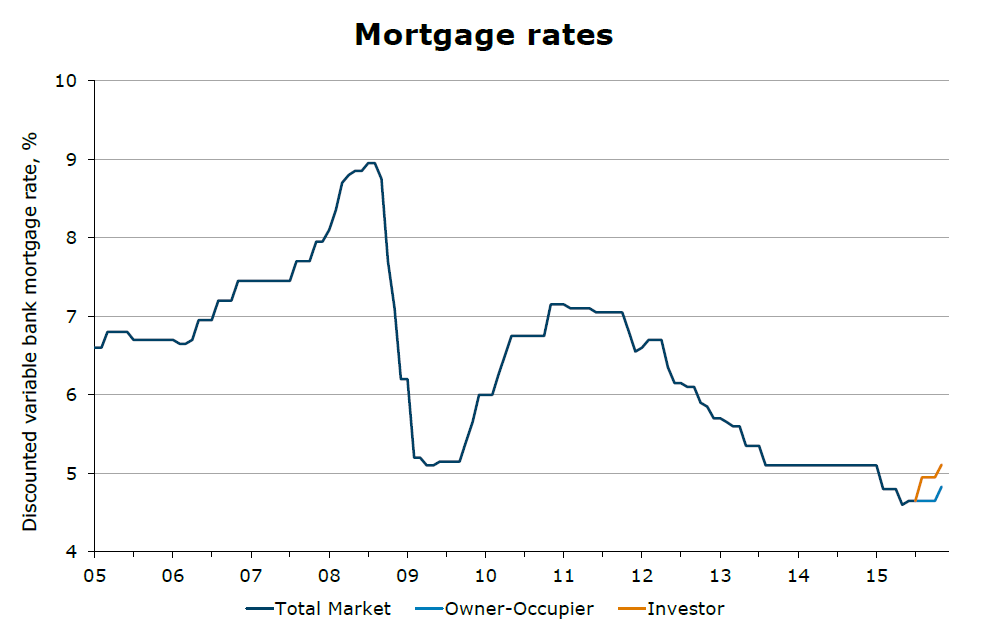 Source: Bloomberg, RBA, ANZ Research
Source: ANZ Australian Housing Update
---
---