Late last week the Australian Bureau of Statistics (ABS) released labour force data for September 2016.
While at a headline level the results were positive with the unemployment rate falling from 5.7% to 5.6% which was its lowest level since September 2013, if you dig a little deeper there were some worrying signs.
The labour force participation rate was recorded at 64.5% which was its lowest level since October 2014 with the participation rate having trended lower for most of the past 12 months.
The number of employed persons has increased by 1.4% over the past year however, all of the employment has come in the form of part-time rather than full-time with part-time employment increasing by 5.4% over the year compared to full-time employment falling by -0.4%.
Given this, it is no surprise that the ABS reported in August that the underemployment rate had hit an all-time high of 8.7%.
If part-time employment growth continues to outstrip full-time, we would expect the underemployment rate to continue to climb, suggesting many working part-time would prefer to be in full-time employment.
The ABS released September 2016 quarter consumer price index (CPI) data earlier this week.
The data showed that headline inflation rose by 0.7% over the quarter to be 1.3% higher over the year.
The annual change has lifted from 1.0% over the previous quarter.
The Reserve Bank's (RBA) preferred measures of underlying inflation the trimmed mean and weighted median rose by 0.4% and 0.3% respectively over the quarter and were 1.7% and 1.3% higher over the 12 months to September 2016.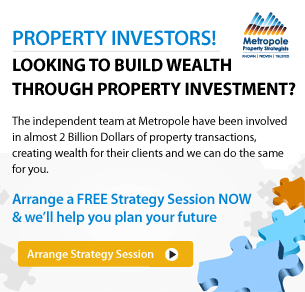 The data indicates that interest rate cuts in April and August of this year which had the intent of lifting inflation back to with the RBAs target range of 2% to 3% per annum have so far been unsuccessful.
Looking at the CPI sub-groups, CPI was lower over the year for communication (-7.5%) and transport (-3.4%) while the increase was moderate for recreation and culture (0.6%), clothing and footwear (1.2%) and food and non-alcoholic beverages (1.5%).
At the other end of the spectrum, increases were relatively stronger for: alcohol and tobacco (5.7%), health (3.9%), education (3.3%), insurance and financial services (2.9%), furnishings, household equipment and services (1.9%) and housing (1.8%).
CoreLogic collected results for almost 92% of the 2,680 capital city auctions last week.
The number of auctions across the combined capital rose from 2,443 the previous week while clearance rates also increased to 78.1% from 76.2%.
The 78.1% was the highest clearance rate since the first week of June last year.
Melbourne's auction clearance rate was recorded at 80.6% last week up from 77.7% over the previous week while the number of auctions rose from 1,182 to 1,377.
Sydney's auction clearance rate increased from 81.4% the previous week to 82.6% last week.
Auction volumes were slightly lower in Sydney last week with 897 auctions compared to 913 auctions the previous week.
Auction clearance rates in Sydney and Melbourne have remained strong as volumes have increased and are well above levels from a year ago.
12 months ago, Melbourne had 1,690 auctions and a clearance rate of 69.7% and Sydney had a clearance rate of 61.3% from 1,024 auctions.
Note that sales listings are based on a rolling 28 day count of unique properties that have been advertised for sale.
Over the past four weeks, there were 47,324 newly advertised properties added to the market nationally which was -1.9% lower than a year ago while the 234,731 total properties advertised for sale were -2.4% lower than a year ago.
Although total listings are lower than they were a year ago, they are currently at their highest level since late March of this year.
Across the combined capital cities, there were 29,465 newly advertised properties for sale over the past 28 days and 106,883 total listings, new and total listings were -3.8% lower than a year ago and 2.9% higher respectively.
Brisbane (+10.0%) and Perth (+14.2%) are the only capital cities in which newly advertised listings are higher than a year ago while new listings are substantially lower in Darwin (-22.7%) and Sydney (-17.1%).
The total number of advertised properties is lower over the year in Sydney (-7.3%), Melbourne (-0.5%), Hobart (-30.2%) and Canberra (-12.9%) and higher elsewhere, substantially higher in Perth (+21.2%).

Subscribe & don't miss a single episode of Michael Yardney's podcast
Hear Michael & a select panel of guest experts discuss property investment, success & money related topics. Subscribe now, whether you're on an Apple or Android handset.
Need help listening to Michael Yardney's podcast from your phone or tablet?
We have created easy to follow instructions for you whether you're on iPhone / iPad or an Android device.

Prefer to subscribe via email?
Join Michael Yardney's inner circle of daily subscribers and get into the head of Australia's best property investment advisor and a wide team of leading property researchers and commentators.
---
---