Everyone knows that location is critical when selecting an investment property that will outperform.
But what makes a good location and why are some locations better prospects than others?
When I started investing around 40 years ago the emphasis for homebuyers was largely affordability and proximity to infrastructure.
The outer fringes of our capital cities were developed in the wake of freeway extensions on all sides and commuting from vast, newly born suburbs into the CBD became commonplace.
As far as amenities went, as long as you had a relatively easy drive to your place of employment, as well as nearby shops, healthcare services and schools, life was pretty good.
It's different today
Nowadays the property choices Australians make are still driven by lifestyle, but how we think and function in today's world has changed.
With more than half Australian households having only one or two people in them, more of us are: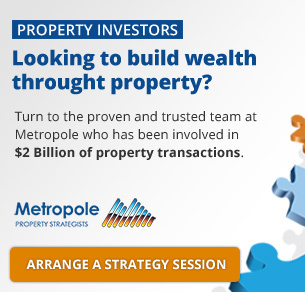 Choosing to start a family later in life.
Enjoying the opportunity to work flexible hours and from home offices.
Seeking better work-life balance and prioritizing downtime before overtime.
Opting to live within walking distance from not only infrastructure necessary for daily living, but also cafes, restaurants and recreational facilities, as lifestyle moves to the top of the owner-occupier and tenant wish list, alongside affordability.
Downsizing to easily maintainable and cost effective apartments and townhouses, with smaller gardens and more efficient, compact design.
A short stroll to success
This means that "walkability" has become the new buzzword on the property investment block.
Of course proximity to amenities such as shops, parks and public transit that allows local residents to either walk or take a short train, bus or tram ride, has long underpinned property values in inner city neighbourhoods throughout the developed world.
But now we are witnessing a similar trend across an increasingly cosmopolitan Australia.
In fact it is common for a considerable premium to be paid for properties that are a short walk to the beach or café strips and long term capital growth figures show that in Sydney the city's most "walkable" suburbs have outperformed the averages by up to 20%.
Where it's "at" – the café culture
It should come as no surprise that as our lives become busier and time is in increasingly short supply, cafés have become a kind of transition point where we meet up with friends, family and often business associates for a "catch up".
Many city dwellers have their favoured haunts, where they're on a first name basis with the local barista and have a "regular" order.
The serving and consumption of coffee has become somewhat of a ritual and many of us fancy ourselves as coffee connoisseurs.
Given that more of us are living alone or in smaller households, it's not surprising that the relaxed, "home away from home" vibe of inner city cafes is becoming an increasingly popular draw card for those seeking a familiar social outlet.
Lifestyle locations dominate
Yes…lifestyle has undeniably become the fundamental force in today's residential real estate market.
Culturally, we have become a nation that enjoys strolling to the local corner eatery to catch up with friends or just enjoy some time out with a latte.
But it's not only suburbs close to beach and bay that command premium.
Proximity to schools with a good reputation is a must for many family buyers, with some purchasers prepared to pay extra to be within a particular school catchment zone so their children can either walk, bus or "train it" to school.
In fact in my experience, parents are more willing to spend half an hour or more driving to work if it means their children can safely walk to an esteemed, local school.
Australian cities have now been ranked by Walkscore
As our population grows and our major cities increase in population by an estimated 10% over the next five years the walkability of an area will be become an even more important consideration for property investors seeking locations that will outperform into the future.
Well…now you can find out how "walkable" your suburb is.
Walkscore.com, which measures the number of typical consumer destinations within walking distance of a dwelling, with scores ranging from 0 (car dependant) to 100 (most walkable) has recently ranked more than 100 Australian cities and 3,000 suburbs.
And the good news is that walkable neighbourhoods were recently recognised for their health and economic benefits afforded to residents by the University of Melbourne, where a ten year study found good access to local infrastructure encouraged more people to ditch the drive and adopt "health-enhancing behaviours".
For property punters, the cultural transition that Australians are currently undergoing is important to note.
It signals an end to the suburban McMansion "fad" and demonstrates just how crucial demographic waves of change can be to planning and executing a successful, long term property portfolio.
While affordability will always be a factor in our property decisions, lifestyle is the fundamental key in our marketplace today.
Inner city, bayside apartments filled with character and complemented by flowing, commonsense floorplans, with excellent nearby lifestyle amenity have become the "new black" in residential real estate for many buyers – young and old.
This is where investors would do well to focus their property investment activity in years to come.
BY THE WAY…
If you're looking for independent property investment advice, no one can help you quite like the independent property investment strategists at Metropole.
Remember the multi award winning team of property investment strategists at Metropole have no properties on the market to sell, so their advice is unbiased.
Whether you are a beginner or a seasoned property investor, we would love to help you formulate an investment strategy or do a review of your existing portfolio, and help you take your property investment to the next level.
Please click here to organise a time for a chat.
Or call us on 1300 20 30 30.
When you attend our offices in Melbourne, Sydney or Brisbane you will receive a free copy of my latest 2 x DVD program Building Wealth through Property Investment in the new Economy valued at $49.

Subscribe & don't miss a single episode of Michael Yardney's podcast
Hear Michael & a select panel of guest experts discuss property investment, success & money related topics. Subscribe now, whether you're on an Apple or Android handset.
Need help listening to Michael Yardney's podcast from your phone or tablet?
We have created easy to follow instructions for you whether you're on iPhone / iPad or an Android device.

Prefer to subscribe via email?
Join Michael Yardney's inner circle of daily subscribers and get into the head of Australia's best property investment advisor and a wide team of leading property researchers and commentators.
---
---