There are three echo-booms.
The Office for State Revenue figures for March showed that New South Wales stamp duty receipts were on the rise again, back up to $629 million.
The onset of urbanisation in China, and the associated boom in iron ore and coal prices triggered a series of echo-booms in Australia, and this is one of them.
Here is a brief timeline…
Echo-boom 1 – Mines
The first major boom was in bulk commodity prices and then in turn resources construction, as we constructed mega-mines and natural gas projects in order to export the in-demand commodities.
Some marginal producers will inevitably fail and smaller mines may become unviable as commodity prices revert towards their longer term averages, while others will continue to operate profitably, exporting iron ore, coal, copper, gold, LNG and other commodities overseas.
Commodity prices soared towards their dizzying peak nearly five years ago in June 2011 before softening demand and a ramp up in supply began the reversal.
In turn resources construction peaked in the fourth quarter of 2012, and has been falling ever since, for nearly 3.5 years now.
With mining and resources construction in a long terminal decline, the Reserve Bank of Australia planned a hand-off or "baton change" to dwelling construction, to be facilitated via low interest rates and largely through new property sales to foreign investors.
Echo-boom 2 – Housing
Despite claims that the plan wouldn't work because land prices were too high, low rates have allowed developers to get building.
In fact, the residential construction boom has been a roaring success, with both approvals and commencements ripping to historic highs.
Arguably the market has constructed too many high rise dwellings, and too few family-appropriate medium- and low-density housing options.
And there will be some looming settlement risks over the next 24 months, particularly for over-eager investors who opted to speculate with "low down" deposits.
Through the property investment boom in Sydney in particular the New South Wales Government has snaffled up a stamp duty windfall the scale of which could not have even been imagined in 2012, with an $8.7 billion feast of receipts over the past year alone resulting in another considerable surplus.
After a decade of wallowing in infrastructure deficit, completing the virtuous circle, Sydney will now benefit from embarking upon a record infrastructure boom.
Echo-boom 3 – Infrastructure?
Left to its own devices, in a low interest rate environment the market will evidently build houses, but not so much in the way of adequate infrastructure.
In Sydney's case this is now at last beginning to change through the encouraged investment and a massive infrastructure boom is underway.
Indeed, such is the extent of the infrastructure boom that engineers in Sydney are now in short supply and wages are soaring.
An engineer friend of mine relocated up to Brisbane recently for lifestyle purposes, yet within three weeks he'd moved back to Sydney, lured back by a lucrative contract.
Here's the CBD and South East Light Rail extension now under construction, captured in a photo I took earlier this week.
Quite a disruption to tear up George Street.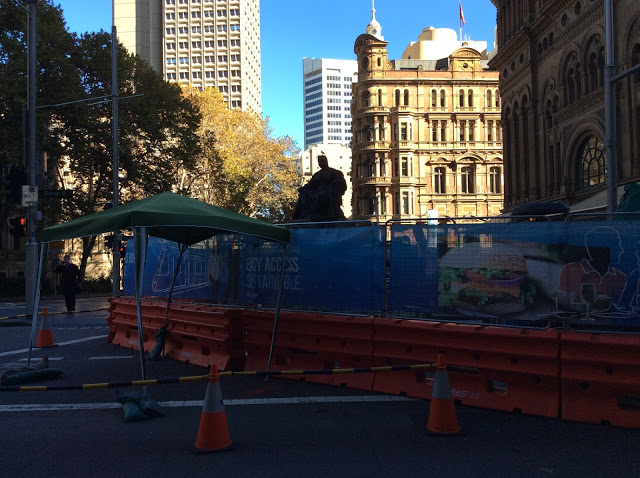 And here's where the light rail route will run, opening up the south eastern corridor of Sydney.
Suburbs standing to benefit will include Surry Hills, Kensington (University), Kingsford, Randwick, Coogee, and Maroubra.
The infrastructure boom will keep Sydney's economy firing nicely, but in regional Australia GDP per capita is sliding.
Unfortunately infrastructure boom will be of less benefit to regional Australia, with many regions struggling to overcome the death of the mining construction boom.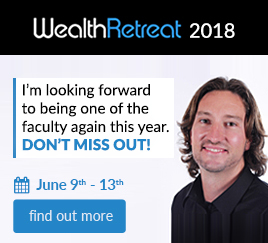 As I looked at here Infrastructure Australia has a strong bias towards focussing on capital city investment.
Infrastructure plans and peri-urbanisation
Projected population growth over the two decades between 2011 and 2031 is evidently huge – the equivalent of an entirely new Melbourne and Brisbane combined – while the projected growth to 2061 is more than all of the existing population of the capital cities cobbled together.
However, according to the Australian Government, regional development and decentralisation policies tend to have a short life span, and thus regional population growth is forecast to decline as a share of the pie:
"It is unclear whether governments and the Australian community would support material ongoing interventions over the long term to encourage decentralised growth. Proposals for investment in regional areas need to be supported by rigorous and transparent analysis."
A handful of areas which are close to the capital cities might be expected to grow appreciably, being "peri-urban" locations with social and economic linkages to the capital cities.
These are cited as follows:
Notes the Government: "In the absence of employment growth in these locations, 'journey to work' trips to and from the capital city may increase appreciably."
Which suggests to me that being social creatures, Australians will continue to trade space for place.
Infrastructure investment: capital cities are critical
The infrastructure audit background paper could hardly have been more explicit in its conclusions, so to wrap up I will simply quote it directly:
"Within the capital cities, the location of new development and population growth will be critical.

While the cost of providing new infrastructure in 'greenfield areas' is substantial, the cost of retrofitting or augmenting some infrastructure (for example transport links in tunnels) in established areas can also be high.

With a few exceptions, the population case for expanding infrastructure networks in regional areas is less obvious.

Arguments for investment in infrastructure in those areas will be driven more by social considerations."
While I don't necessarily agree with the intended policy – I don't originally hail from a capital city myself, after all – it is abundantly clear that infrastructure investment will be focussed very heavily on the capitals.

SUBSCRIBE & DON'T MISS A SINGLE EPISODE OF MICHAEL YARDNEY'S PODCAST
Hear Michael & a select panel of guest experts discuss property investment, success & money related topics. Subscribe now, whether you're on an Apple or Android handset.
NEED HELP LISTENING TO MICHAEL YARDNEY'S PODCAST FROM YOUR PHONE OR TABLET?
We have created easy to follow instructions for you whether you're on iPhone / iPad or an Android device.

PREFER TO SUBSCRIBE VIA EMAIL?
Join Michael Yardney's inner circle of daily subscribers and get into the head of Australia's best property investment advisor and a wide team of leading property researchers and commentators.
---
---