The CoreLogic RP Data April Home Value Index results out today show the trend for capital gains has dropped from the peaks of 2015 with dwelling values continuing to track higher across each of the capital cities over the first four months of this year.
In April, the pace of capital gains rebounded from the relatively flat numbers recorded in March, with dwelling values increasing by an average of 1.7 per cent across the CoreLogic RP Data combined capitals' index.
The latest figures now take the combined capital city dwelling values measure 3.3 per cent higher over the first four months of 2016.
Across the country, housing market trends remain mixed, however, CoreLogic RP Data research noted that the improvement in the rate of capital gains has been 'broad-based' during 2016 with every capital city except Perth recording a lift in dwelling values over the calendar year to date.
The results show value growth moved at a faster pace compared with the final three months of 2015 when capital city dwelling values slid 1.4 per cent lower off the back of weaker market
conditions in Sydney and Melbourne.
While we've seen capital gains moderate substantially after peaking last year in Sydney and Melbourne, dwelling values continue to trend higher, just not as fast.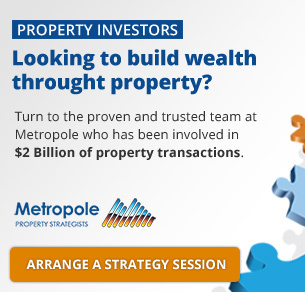 The annual rate of growth in Sydney peaked at 18.4 per cent in July last year and has since moderated back to slightly less than half the peak rate of growth, at 8.9 per cent over the most recent twelve month period.
Melbourne's housing market continues to show a level of resilience to a slowing trend, however the annual growth rate has fallen from a recent peak of 14.2 per cent to the current annual growth rate of 10.1 per cent; Melbourne was the only capital city to see double digit growth over the past twelve months.
Perth and Darwin remain as the only two capital city markets to experience a decline in home values over the past twelve months, with Perth values down 2.1 per cent and Darwin values 3.7 percent lower.
With recent month-on-month increases in home values in these two cities, the declining trend rate is now levelling.
This may be an early sign that these markets are beginning to find their cyclical trough after more than a year of annual declines.
Over the current growth cycle, which commenced broadly in June 2012, capital city dwelling values have moved 34.4 per cent higher, led by a 52.7 per cent rise in Sydney home values, and a 37.1 per cent lift in Melbourne values.
This result highlights the two-tiered nature of Australia's housing market.
Brisbane experienced the third highest rate of dwelling value growth over the growth cycle to date; dwelling values in the city are now up 18 per cent.
Australia's regional markets also exhibited a lift in house values over the year to date.
While house values across the non-capital city markets have generally underperformed compared with the capital city regions, regional house values moved 2.4 per cent higher over the first quarter of the year.
The regional results are far from uniform across the states, with houses across both regional Western Australia and South Australia clearly showing values have moved lower over the past twelve months, down 1.2 per cent and 6.1 per cent respectively.
The regional market to receive the highest value gains was New South Wales where house values were up 6.5 per cent over the past twelve months.
Mining and resource-related areas continue to be a drag on regional housing market averages, however regional coastal and lifestyle markets, as well as major regional service centres which are sheltered from the mining downturn, are recording much healthier housing market conditions.
The capital gains gap between houses and units has reversed over recent months across the combined capital city measures.
Historically, house values have risen at a faster annual pace than units except during the down phase of the market.
Based on the latest data, house values have risen by 7.2 per cent, compared to a 8.0 per cent rise in units over the past twelve months.
The results are very different across the cities, however, a substantial performance gap favouring detached homes is evident in Melbourne and Brisbane.
Melbourne house values are 10.8 per cent higher over the past twelve months compared with a 4.7 per cent rise in unit values, while in Brisbane house values are up 6.7 per cent compared with a 1.2 per cent increase in unit values.
The mature nature of the Sydney unit market has actually seen houses underperform compared to units, with growth of 8.4 per cent and 11.5 per cent respectively over the past twelve months.
It is this strong performance from the Sydney unit market which is largely driving the higher growth rate across the combined capitals average.
This growth differential can likely be explained by the higher supply levels of units in the inner city markets of Melbourne and Brisbane.
CoreLogic's latest Settlement Risk report shows approximately 31,000 apartments are due to settle across Melbourne's inner city region over the next 24 months, while Inner Brisbane has almost 17,500 units due to settle over the next two years.
According to CoreLogic research analysts, settlement risk implies that units sold off the plan could show a valuation at the time of settlement that is lower than the contract price, creating the risk for developers that contracted buyers may look to seek ways in which to avoid completing the contract to purchase the property.
Buyers of the off the plan units who find their valuation at the time of settlement is lower than the contract price may face a higher than expected financial outlay as lenders seek to ensure an 80% loan to valuation ratio.
This risk may have been exacerbated in recent weeks with three of the big four banks reportedly limiting the extent to which they are willing to lend to non-residents.
Of course non-residents are a material segment of persons buying new units off the plan.
Rental markets have continued along their soft path, with capital city rents holding steady over the month, but down 0.2 per cent compared with a year ago.
The fact that dwelling rents are broadly flat at a time when dwelling values continue to rise has continued to push rental yields lower.
The gross rental yield for capital city dwellings pushed to a new record low of 3.4 per cent in April, while Melbourne's gross yield profile is even lower, averaging 3.0 per cent.
The low yield profile across Australia's two largest cities, which are also the cities that attract the largest investment demand, suggests that most recent investors, despite the low mortgage rate settings, are likely to be utilising a negative gearing strategy to offset their cash flow losses against their taxable income.
Buyer demand continues to be supported by mortgage rates that are close to historic lows, as well as high levels of investment demand.
Even though investor demand has eased since May last year, investors still comprise approximately 46 per cent of all new mortgage commitments.
With the likelihood of interest rate increases in the foreseeable future almost non-existent due to the negative March quarter inflation reading, buyer demand is likely to remain high for housing.
Similarly, as long as taxation policy continues to support investment in the housing market, we are likely to see investors remain as a substantial component of housing demand due to the lacklustre returns evident in other asset classes such as cash, bonds and equities

Subscribe & don't miss a single episode of michael yardney's podcast
Hear Michael & a select panel of guest experts discuss property investment, success & money related topics. Subscribe now, whether you're on an Apple or Android handset.
Need help listening to michael yardney's podcast from your phone or tablet?
We have created easy to follow instructions for you whether you're on iPhone / iPad or an Android device.

Prefer to subscribe via email?
Join Michael Yardney's inner circle of daily subscribers and get into the head of Australia's best property investment advisor and a wide team of leading property researchers and commentators.
---
---