Airbnb may have gained a reputation for disrupting the hotel industry, but it's also making big waves in the property game as well.
In the past, short-term or holiday leases were seen as a very niche part of the rental property market.
With Airbnb, that is changing – though where some see opportunity, others see risk.  
In our discussions with real estate agents, anecdotal evidence has filtered through that Airbnb may offer an opportunity to leverage higher returns than what can be achieved with a standard rental.
One agent, whose client purchased a high-end property in Sydney's Eastern Suburbs for around $2m, said the property's new owner had come up with a savvy plan: he would rent the property via Airbnb during the summer months, a move that would generate enough income to cover the entire year's worth of mortgage expenses.
Come autumn, any additional income generated for the rest of the year would then be positive cash flow – and the owner intends funnel those surplus funds into his mortgage, to pay it down in rapid fashion.
This sounds like a powerful strategy in theory.
However, what are some of the practical considerations and the risks that investors must be mindful of?
MANAGING YOUR AIRBNB INVESTMENT
One aspect of a holiday letting strategy that you must consider up front is the amount of time you will have available. 
Essentially, with Airbnb you become an owner-letter, which means you are responsible for all of the tasks your property manager would ordinarily perform on your behalf.
"Essentially, you become an owner-letter, which means you are responsible for all of the tasks your property manager ordinarily performs on your behalf"
Answering enquiries, processing bookings, taking payments, liaising with tenants, managing reviews, meeting guests on site and showing them the property, dealing with key handovers with dozens of different vacationers every year…
These are just some of the tasks you'll need to add to your to-do list.
If you already work full-time or have a packed schedule, you may want to consider whether an Airbnb strategy is practical.
A more passive, standard lease arrangement may be less profitable, but it will also be less work.
RISKS OF AN AIRBNB STRATEGY
»    Property damage 
This is the big one that has landlords so concerned.
Without the benefit of a qualified property manager to screen guests and manage repairs, how do you know the people sleeping in your property each night are going to treat it properly?
With Airbnb, security deposits are generally not required, though there are solid terms and conditions that guests must agree to beforehand. Either way, property insurance is a must.
»    Insurance 
A consumer research study by IAG in 2015 found that 54% of Airbnb hosts surveyed did not know whether their own home and contents insurance would cover them hosting guests.
This is a huge risk to take when you consider how expensive it could be to repair damage to your floors, walls or appliances.
Airbnb offers 'Host Protection Insurance', but the validity of this insurance when a property is sublet by a property's tenant is still up for debate.
»    Income
Many people dive into an Airbnb strategy with grand plans to make a big profit.
However, the risks of receiving a cyclical income via a holiday home rental mean that you may end up making little to no money from your property for days, weeks, or even months at a time.
The only way to offset this is to plan your cash flow so that your high occupancy periods are a buffer for your stretches of low or no income.
You need to be realistic and understand what your average rental income is likely to be over the entire year, because you may not attract tenants year-round.
Keep in mind, too, that traveller cancellations can impact on your cash flow.
»    Neighbourly disputes 
Your decision to use Airbnb  may be one that doesn't sit well with your neighbours, especially if it means they will be sharing stairwells, facilities and amenities with a rotating roster of strangers.
These problems can arise with any property investment, but specific risks apply to holiday homes.
Be mindful of your neighbours (and your neighbourhood) when devising your Airbnb plan, as you don't want to create stressful relationships in pursuit of a profit.
»    Regulatory risks
You need to ensure that you have the appropriate permission and meet the local regulations governing holiday rentals, in order to avoid compliance action by councils.
This may be challenging as the rules change from time to time, and legislation is evolving at quite the pace. We look at the legal aspect of Airbnb investments on the following page.
The future of property rentals? 
When all is said and done, is an Airbnb strategy worth investing your time and effort in?
The answer depends on the individual, though one thing is certain: the share economy is here to stay, and its evolution is likely to impact on the property industry further in the years ahead.
While there are clearly some profitable upshots of leveraging Airbnb as a landlord, there are also plenty of risks to be aware of, so as with all things related to investing, it pays to do your due diligence.
This type of strategy won't suit all properties, nor will it match well with every investor's risk profile.
Consider these factors when deciding  whether it's worth investigating further: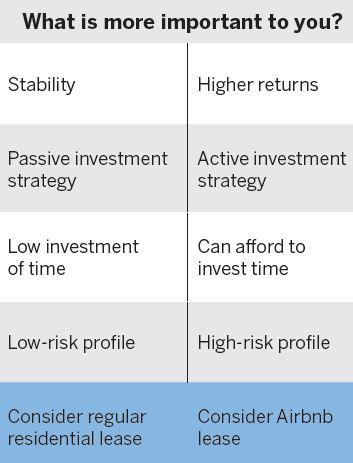 "While there are clearly some profitable upshots of leveraging Airbnb as a landlord, there are also plenty of risks"
AIRBNB: WHEN TENANTS BECOME LANDLORDS
Airbnb is changing the landscape of short-term accommodation in cities around the world. 
The service, and its part in the share economy explosion, has captured attention and headlines in a way that is rivalled only by the ride-sharing taxi service Uber – and this has potential big impacts for property investors
Frustratingly, there are no federal laws governing rentals, and each state and territory has its own rules and guidelines regarding Airbnb lettings.
As an exercise, Aitken Lawyers surveyed 20 properties that were listed on Airbnb in localities in Sydney where there was a high incidence of rental accommodation.
Because the properties did not list their actual addresses on Airbnb, we looked for properties where photographs of the listings had a street number or other identifying feature on the front of the building.
We were then able to identify the property on Google Maps and check its history through Domain.com.au.
Of the 20 properties we looked at, 14 were listed on Domain.com.au as rental properties. 
We can't publish the results of the properties listed for privacy reasons, but we believe the figures refl ect a situation that should be of concern to landlords.
The question of legally letting out rooms around Australia on Airbnb differs considerably from place to place.
In Tasmania, in February this year, the state government unveiled a new share economy policy that, from July 2017, allows Tasmanians to rent up to four rooms without a permit.
In Sydney, councils have been threatening ratepayers who list their properties on Airbnb with fi nes, and in Melbourne one landlord went all the way to the Victorian Supreme Court to evict her tenants because they were subletting on Airbnb.
The Melbourne example involved tenants listing their rental on Airbnb while they went on holiday.
The judge in the case overturned an earlier ruling by the Victorian Civil and Administrative Tribunal, finding that the tenants were subletting in contravention of a clause in their rental agreement.
The owner, Catherine Swan, said at the time that it was important that, when leasing properties, landlords had certainty regarding who their tenants were.  
Since that case, real estate agents have moved to include specifi c reference to Airbnb in tenant leasing arrangements, but owners should be aware that there are a lot of short-term rental services on the internet that offer the same sort of arrangement, including Gumtree and HomeAway and numerous others.
Importantly, anyone listing on Airbnb signs up saying they are the owners of the property.
Airbnb requires that those signing up either own the property or have consent from the owner to list the property.
It may be that a tenant, listing their rental on the service, is acting fraudulently if they haven't received informed consent from their landlord to list the property – which is especially important when considering claims made for damages or injury under homeowner's insurance.
Insurance providers, for their part, have advised that they will seek to recover funds from a tenant if a guest causes accidental or malicious damage, but the situation is more uncertain if a guest is critically injured.
Even more troubling are the insurance risks of letting a room on Airbnb referred to in a NSW State Government report released in October last year, which discussed the possibility of insurance coverage not being valid if councils' Local Area Planning laws are broken – coverage may be denied in these cases.
It is worth consulting an insurance provider on how to insure against the risk of guests injuring themselves.
Take, for example, the case of a death in an Airbnb rental in Texas in 2015, when a Mr Stone tried out a rope swing in the property's backyard and the branch of the tree it was tied to broke and fell and he was killed. 
While Airbnb now offers Host Protection Insurance of up to $1m, there are still too many unknowns to be certain that this insurance will cover people who are letting on Airbnb illegally.
Landlords who find that their properties are being illegally listed on Airbnb as short-term accommodation can pursue a claim that's similar to Catherine Swan's in Melbourne.
In such a case, the landlord should serve their tenants with a notice of breach of their lease and seek orders for the possession of the property, or demand that their tenants remove the listing.
Also, be sure to include clauses in rental agreements that specifically deal with short-term occupations or short-term rentals, including Airbnb.
This article originally appeared on Your Investment Property magazine by Editor Sarah Megginson