SELLING a property is not without its risks.
When you choose an agent, be aware that how the agent manages all the ups and downs along the way will determine the final sales result.
You need an experienced agent who understands the risks and manages them to a successful outcome.
Every property sale starts with a contract of sale which is the basis of the transaction.
From that moment on, anything could happen.
Your location and local laws will determine the legal process and the delivery and interpretation of what is required to bring a sale to a successful close.
Some of the unexpected obstacles that could present themselves might create some tension, possibly some arguments and even some tears.
Many of them are outside your agent's usual scope of business.
However, a great agent with a clear head and experience will work for you to deliver the very best result, whatever happens.
Settlement or closing day is the day everyone is looking forward to; it signals the end of the sale.
The seller will have vacated the property and be living somewhere else by now, sometimes in a rental property while they are looking to buy again and sometimes they have already moved into their new home.
Settlement day is the day the money changes hands and there's nothing more exciting than that.
The buyers will also be excited; they are waiting for the cleaners to finish and to get the go ahead to move into their new home and start their new life.
The agent is excited because they are about to hand over the keys to their new client, the buyer.
They are starting a new relationship in their selling area with a new family and maybe one day this buyer will become their seller and they will start the whole process again.
It's also exciting because the agent will be getting paid in a day or two.
Until settlement is finalised, it's important to remember that the property is still the legal responsibility of the seller.
They must maintain the property to be able to hand it over as good as when the buyer saw it last and they must maintain insurance cover and continue to handle utilities to ensure a smooth handover.
What could go wrong?
Where do I start?
Any number of things could go wrong.
Here are a few drawn from my experiences:
The buyer dies before settlement/closing
Yes, it does happen from time to time, either as the result of an accident or if it's just their time.
Although this will be a very stressful event, remain calm and be sensitive to individuals' needs and worries; you can expect your agent to do the same.
Not all the paperwork is provided
Sometimes this happens.
There are lots of papers involved and any one of them could go missing or be perceived to be missing.
Stay logical and work through the process to ensure both sides have what they need to proceed.
There is no point blaming anyone; just focus on the end goal and let your professional support team do their job.
Unexpected delays
These can occur on either side. Sometimes people are travelling and not physically able to sign a document or attend a meeting, or they're waiting on a report from a third-party that's not forthcoming.
There are so many legitimate reasons for delay and yet some buyers and sellers get a little crazy and want to impose unrealistic deadlines on the other side.
Deadlines don't help. Sometimes it is nothing more than a delay.
Everyone is still on side but they are just being held up, so take a deep breath and imagine you're in their shoes.
Poor pest or building report
When selling their home, most sellers want to believe that everything about their home is fine; they believe there's nothing to worry about.
They know there's a funny smell after heavy rain but they ignore it; they know the floor slopes downhill a little in the hallway but they put a rug down; they know that they've let the pest inspections lapse because there was no problem five years ago.
However, lawyers like to insist buyers have a pest and building inspection as part of their due diligence, even if one is provided by a seller, as it may not be deemed to be 'independent'.
Building inspectors are entrusted with reporting back if they find anything that isn't quite right.
Even brand new construction is going to have things that aren't quite right.
It can be an emotional rollercoaster for a seller to be told that the home is less than perfect and an equally emotional ride for a buyer to be given a list of defects.
The agent then becomes the meat in the sandwich, mediating a potential disaster where the buyer is discounting the price by their own calculations depending on the report and the seller is not acknowledging any problem or issue.
It could get worse; if live termites and insects are found, that takes the disaster to another level altogether.
The agent is the only one authorised to speak with all parties, that is both the buyer and the seller, both their lawyers, and the inspector, so the agent has to mediate to ensure the deal moves forward.
In this case, your agent is like an airline pilot. Flying the plane looks easy until there is a problem and then it's experience that really counts.
Undisclosed items
Different suburbs and states have different rules about disclosure but, generally speaking, sellers and their agents have an obligation to disclose anything that may adversely affect the buyer's desire to buy the home.
Even with the best intentions and checklists, sometimes something isn't discovered until it's almost too late, so be aware that buyers have rights.
Withholding knowledge can be a very costly decision for many reasons.
Weather damage
Recently, my area was hit by gale-force winds, hail the size of your fist, and torrential rain that left hundreds of properties physically damaged, many of them uninhabitable.
Electricity was off for days, food spoiled in refrigerators, roofs were blown off and ceilings collapsed.
There were broken windows and water damage throughout homes, including damage to carpets, floors, cupboards and walls.
I noticed at least a dozen homes in the area had For Sale signs and another dozen had Sold signs.
This was literally an unprecedented and unexpected disaster that affected every buyer and every seller who could not proceed with their plans until restoration was complete.
Can you imagine the conversations the agents were having with buyers and sellers?
The buyer changes their mind and does not proceed
Yes, it can happen. The buyer can be spooked by discovering things they didn't expect to find and they can pull out.
Most states have contracts that are either final or pending closure.
Buyers may have the choice to move forward conditionally or unconditionally, so there is always a chance that they could simply change their mind.
Buyer's remorse can be costly; the buyer might not proceed simply because they feel that they have paid too much.
Buyer's remorse is real.
The agent has negotiated the buyer to the highest price possible and if they are really uncomfortable at that level, they may cancel the sale altogether, sometimes with a small financial penalty, sometimes without any penalty.
The home doesn't meet valuation
Unless a buyer is paying cash, they are likely to be borrowing money from a bank.
The bank will require a valuer to appraise the home to ensure their loan is safe.
Depending on the size of the loan and the buyer's deposit and ability to repay the loan, if the valuer decides the risk is too great, then the bank will not proceed and the buyer is unable to finance the home at that level.
It's a risk you take if the buyer is paying too much and can't afford the home.
Your agent might float the idea of vendor finance with the seller.
It's not ideal but it might be an option.
Everyone's circumstances are different and often you don't really know who you are dealing with until the chips are down.
Bad luck
Nobody wants to admit it, however, luck plays a role in every property transaction.
Sometimes luck has a significant role and other times not.
When you decide to sell a property, you open a window of opportunity for several weeks and promote the property to the available buyers.
If luck is on your side, then you find and engage with several buyers who are ready and willing to compete with one another to secure the property.
If your luck holds up, they do just that and the property is sold for an outstanding price and everyone is happy.
Sometimes, however, you can have no luck at all and go through the whole exercise without finding a buyer who shares the value of your dream.
Worse than no luck is bad luck, when you do find a buyer but for some inexplicable reason they are unable to complete.
Changing agents
I've seen homes for sale for so long, even the signboards are looking tired!
Either the agent is not doing their job by not finding a willing buyer to buy the home, or the seller is not listening to the market and still wants a price that the market is not willing to pay.
If the agent is not doing their job, then, as the seller, you should fire them and you should interview and appoint another agent to do the job.
Check your sales agreement to see how long you have engaged the agent for; if you are unhappy and the agent can't resolve things to your satisfaction, fire them.
On the other hand, if the seller is not listening to the market, then the agent should fire their client and they should interview other sellers to find one who is motivated and willing to listen to the market.
Either way, the seller is changing agents and the tired signboard will soon be replaced by a fresh new signboard and the whole process starts again.
A satisfying selling experience
The reason you decided to sell your house was to achieve a great result.
The real estate agent you chose to go on this journey with you is the one who demonstrated that they were the best agent for the job.
With the agent's strategy and process and your fair share of good luck, avoiding the pitfalls above, you've now sold above market and have enjoyed a rewarding and satisfying selling experience.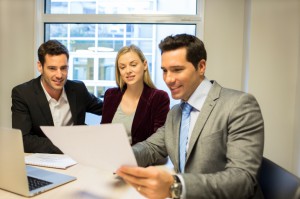 Real estate agents love testimonials.
They're only as good as their last job and every happy client that tells a friend brings them one step closer to being hired by someone that seller knows.
If you've been happy with your real estate agent, don't hold back – write them a great testimonial to say how happy you are.
Your kindness is appreciated and your real estate agent will share your testimonial with their next potential seller as part of their presentation.
There is nothing more powerful than good word-of-mouth support.
You can also leave comments on independent websites that rate real estate agents' success so that others can see at a glance who is delivering results.
Spread the good news and make it easy for the agent to be recognised for their excellent results.
This article is an excerpt from Geoff Grist's excellent book Sold Above Market.

Subscribe & don't miss a single episode of michael yardney's podcast
Hear Michael & a select panel of guest experts discuss property investment, success & money related topics. Subscribe now, whether you're on an Apple or Android handset.
Need help listening to michael yardney's podcast from your phone or tablet?
We have created easy to follow instructions for you whether you're on iPhone / iPad or an Android device.

Prefer to subscribe via email?
Join Michael Yardney's inner circle of daily subscribers and get into the head of Australia's best property investment advisor and a wide team of leading property researchers and commentators.
---
---