Our capital cities are acting as self-sustaining jobs magnets, with another 10,000+ jobs migrating to the city…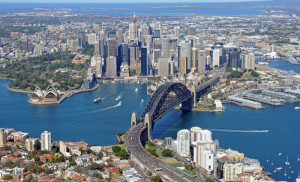 But many parts of our cities won't benefit.
I noted recently how Deloitte forecasts have shown that the Eastern – the bit around where the city, harbour and beaches are located – has continued to create thousands more jobs than workers for a jobs surplus of around 175,000, and is forecast to continue doing more of the same over the decade ahead.
Western Sydney, on the other hand, has tens of thousands more workers (1,088,000) than jobs (881,000).
The net result is that each working day well over 300,000 Western Sydney residents travel out of the region to work, compared to only 100,000 travelling into the region, for a jobs deficit of 200,000.
It's all well and good to suggest that aspiring homeowners should simply pack up and head west for more affordable housing options, but if this requires an hour long commute across congested road or rail, in aggregate this will fail to transpire.
Notes Deloitte:
"Place matters more than ever. As telecommunications and travel have grown steadily cheaper, people have chosen to live closer together rather than further apart".
Indeed.
This was evident in soaring property prices in Pyrmont in 2015, one of the strongest performing suburbs in Australia.
Perhaps this was unsurprising given the dearth of new dwelling approvals in the suburb and the massive nearby $6 billion Barangaroo project – which will provide a massive volume of commercial space for 23,000 office workers – moving closer to completion.
Worsening jobs deficit
As the chart above shows, the Western Sydney jobs deficit is projected to get much more pronounced.
Through 2031 more than half of the city's population growth is expected to be in Western Sydney at 52 per cent – with an extra 1 million residents expected and an estimated 664,000 new homes needed in the region – yet only 38 per cent of the new Sydney jobs are expected to be created there.
By 2041 it is projected that Western Sydney will have a colossal jobs deficit of 340,000, while conversely Eastern Sydney is projected to have a surplus of some 238,000 jobs, with the "high value" professional and business services jobs overwhelmingly centred on the east and only a "comparative weakness" in the west (which is also home to 8 of the 10 poorest LGAs).
Thus by 2041 it is projected that an extra 140,000 persons per day will be using the already congested transport links from Western Sydney, which would require 19 new freeways, six new train lines, or 1,700 new buses.
In this context it is little wonder that Sydneysiders place a premium upon place over space, and continue to target the suburbs close to the city.
Commonwealth Bank to migrate 10,000 jobs
Commonwealth Bank recently announced via a media release published on its website that it will migrate some 10,000 of its jobs from Lidcombe, Parramatta and Olympic Park to the Australian Technology Park (ATP) at Redfern, which Mirvac has won a $1 billion contract to redevelop.
Commonwealth Bank already has 6,000 employees at the thriving Darling Quarter close to the city which was completed in 2011. Explains Commonwealth:
"Moving to the transformed Australian Technology Park (ATP) will put 10,000 of our people in the heart of a growing technology hub, providing us with a significant opportunity to partner and collaborate with universities, start-ups and other innovate companies.

In addition the proximity of ATP to our existing CBD offices will allow for better integration with these locations and enhance collaboration by bringing our people closer together.

As a result of leasing this new office space at ATP, we will not renew leases at existing offices in Parramatta, Sydney Olympic Park or Lidcombe.

The Commonwealth Bank will exit the locations and consolidate our Sydney workforce at our new CBD fringe campus and Sydney CBD precincts (Darling Park, Commonwealth Bank Place and Darling Square) by 2020."
Up Yours!
The move has enraged Western Sydney leaders who see it as an "up yours" statement to the western suburbs of the city.
David Borger, Western Sydney director of Sydney Business Chamber, said that "we can't have half a million people commuting from western Sydney to the city".Yet the Government's new train timetable has scrapped direct train services to the city from Olympic Park and Strathfield in the west.
The relocation mirrors almost precisely what was concluded in recent studies by the Grattan Institute and the Reserve Bank – that the capital cities are acting as self-sustaining jobs magnets, and within the capital cities business are believed to be more productive when they are located in the inner city hubs.

Subscribe & don't miss a single episode of michael yardney's podcast
Hear Michael & a select panel of guest experts discuss property investment, success & money related topics. Subscribe now, whether you're on an Apple or Android handset.
Need help listening to michael yardney's podcast from your phone or tablet?
We have created easy to follow instructions for you whether you're on iPhone / iPad or an Android device.

Prefer to subscribe via email?
Join Michael Yardney's inner circle of daily subscribers and get into the head of Australia's best property investment advisor and a wide team of leading property researchers and commentators.
---
---