---
Melbourne home values have risen at the second fastest pace of all capital cities over the past 12 months.
In this, the second part of an 8 part series from Core Logic's Quarterly Review of the Australian Residential Property Market and Economy we look at the Melbourne Housing Market.
Auction clearance rates have consistently been high and there has also been a lift in sales activity while discounting and time on market levels have fallen across the city.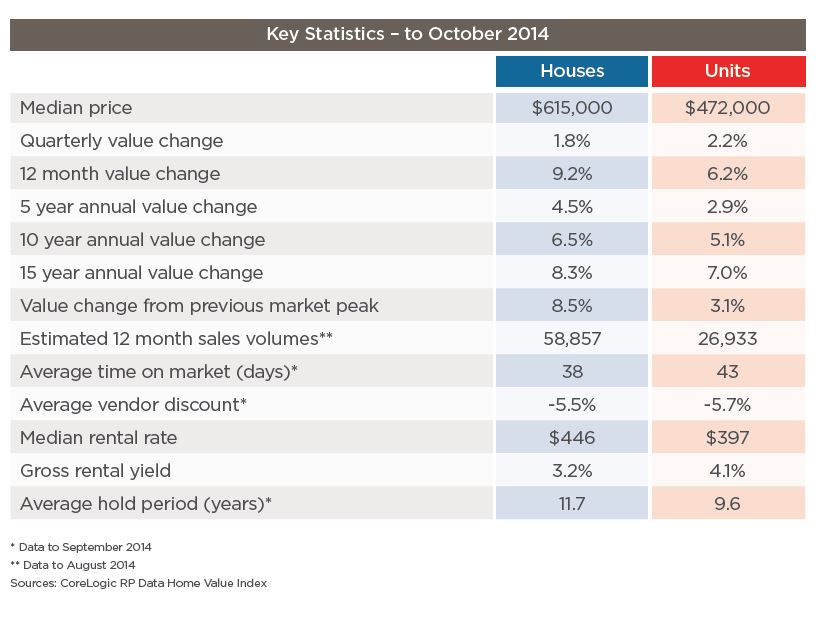 Values
+1.9% over the quarter
+8.9% past 12 months
+4.3%pa last five years
+6.3%pa last ten years
+8.1%pa last 15 years
+8.0% higher than previous peak
+20.7% over the current growth
Phase Annual sales volumes
85,791 over year to August 2014
+6.9% over the year
Sales down from a recent peak of 87,190 in May 2014
Rents
0.1% quarter
+2.5% over the year
+3.0%pa last five years
Yields
-0.1 percentage points over the quarter
-0.2 percentage points over the year
Selling time
-4 days over the quarter
-5 days over the year
Vendor discounting
-0.5 percentage points over the quarter
-0.7 percentage points over the year
---
---