---
The latest headline ANZ-Roy Morgan Australian Consumer Confidence index dropped sharply, falling 2.6% this week.
Of course wehn people re confident they are more likely to spend and when they're not, they're more likely to keep their hands in their pockets and this can affect our property markets
The index now sits at 109.4 – the lowest level since September 2015.
The four week moving average continued to trend lower, and is now 1.6% below its long run average.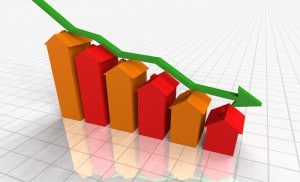 Four of the five indices registered sharp declines. Households' expectations towards their long term economic conditions posted the sharpest fall, down 5.5% over the week. This offset the previous two consecutive weekly gains. Views about current economic conditions fell by 3.9%, but remain slightly above April's low.
Households' views towards consumer's finances turned pessimistic, with the current conditions index dropping by 3.2% and the future conditions index down by 4.0% from the previous week. Both indices were below their long term trend last week. The four week moving average for confidence about current finances does, however, remain above the long run average.
The 'good time to buy a household item' was the only sub index to rise, up 2.5% and reversing losses from the previous four weeks.
ANZ's Senior Economist, Jo Masters, commented:

"This week's sharp fall in consumer sentiment follows two weeks of relatively stable readings. It is possible that the sharp falls in confidence around personal finances reflect last week's Commonwealth Budget. Some measures, such as schools funding and the First Home Super Saver Scheme went some way to addressing the issue of fairness; but consumers appear to be responding to the big changes in the budget that will hit their hip pockets, such as the proposed 0.5 percentage point increase in the Medicare levy in two years' time.

The latest Fairfax-Ipsos poll, taken late last week, showed that 50% of respondents felt they would be worse off as a result of Budget measures.

"Consumers may be more sensitive about their finances in an environment where house price growth is expected to moderate and low wage growth is viewed as increasingly endemic. We expect wage data tomorrow to show private sector wage growth of just 1.7% in the year to the March quarter, a record low."
Budget tax increases will always lead to a lower Consumer Confidence explains Gary Morgan, Executive Chairman, Roy Morgan Research.

"This week's drop in Consumer Confidence follows the Federal Budget considered by many conservatives to be "Labor-lite" and considered by those on the left to be unfair on low income earners. The Turnbull Government chose to increase taxes on consumers – by increasing the Medicare levy – rather than cutting spending; and to increase taxes on Australia's largest banks, which could lower their share prices and lead to the banks increasing interest rates on the loans they provide to consumers and businesses alike.

"The budget was followed by decreases in four out of the five indices that comprise Consumer Confidence. Household financial expectations compared to a year ago dropped a net 3.2ppts, expectations for the Australian economy over the next year dropped by a net 3.9ppts and expectations for the Australian economy over the next five years dropped a net 5.5ppts. The only increase recorded was in the number of people saying now is a good time to buy."
---
---