Historically, there's clearly no question that property prices have risen more quickly closer to the centre of Australia's capital cities as covered in several Reserve Bank research papers – for the reasons explained here.
Sure, that's the longer term data, but what about over more recent years?
Well, more of the same actually.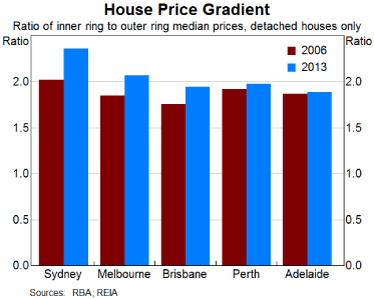 You can look at the data until you're blue in the face, but the conclusions are obvious.
And, moreover, the effects of frictions in housing production mean that we can expect yet more of the same in the future.
But what about the regions?
Of course you can torture any figures until they confess, and plenty do.
In Sydney lot prices have gone screaming higher by 19.7 per cent (HIA) over the past year, while regional lot prices have barely increased even in line with benign inflation.
[sam id=40 codes='true']
Any decent property in Sydney would have seen capital growth of ~50 per cent or more since 2009.
But very often the "growth" in regional property prices since peak household debt is trickery within the data whereby new construction of house and land packages skews median prices higher.
NSW south coast
Look at the south coast of New South Wales.
If you drive down to the south coast a bit for recreation as I do, you'll no doubt have raised your eyebrows at the number of turnkey homes sprouting up on greenfield sites.
This new building often skews median prices higher.
Take the example of Nowra which has allegedly "given property investors a solid capital gain of 20.4 per cent for the last year" (!) and 34 per cent (!!) over the past five years.
I'd be willing to take a bet that if you looked at a sample of like-for-like sales over any kind of meaningful time horizon that not a single one of those sampled properties has shown anything like that level of capital growth.
In fact, what the heck, I have access to a sales database so let's do exactly that and pick a sample of recent sales, excluding new builds.
There you have it, an average CAGR of 2 per cent per annum, with some properties recording 3 per cent compounding annual growth, before transaction costs.
We see this time and time again with regards to regional property market commentary.
Generally speaking "capital growth" was very solid post financial deregulation broadly from 1990 to 2006 when household debt peaked, and has done very little since.
No doubt the counter-argument is that property is a long-term investment and you should wait for the next boom.
But what's going to cause another boom?
High inflation? No. Yesterday's war.
Population growth shifting to regional Australia? The stats don't suggest so, with capital cities attracting the overwhelming bulk of the growth, and more of the same forecast.
The mining boom which will last "for generations"?
Another household debt binge? Doubt it!
To be blunt for many investors in regional property over the past 7 years or so would have fared much better – and with much less hassle – just by dropping money into bank shares and enjoying the tax-favoured dividend streams.
I'm not saying don't invest in property in regional areas (OK, I kind of am), but the expectations of many would-be investors need to be seriously moderated.

Subscribe & don't miss a single episode of michael yardney's podcast
Hear Michael & a select panel of guest experts discuss property investment, success & money related topics. Subscribe now, whether you're on an Apple or Android handset.
Need help listening to michael yardney's podcast from your phone or tablet?
We have created easy to follow instructions for you whether you're on iPhone / iPad or an Android device.

Prefer to subscribe via email?
Join Michael Yardney's inner circle of daily subscribers and get into the head of Australia's best property investment advisor and a wide team of leading property researchers and commentators.
---
---