You may have been misled.
You see…a rash of popular reality TV programs have highlighted the easy money to be made in property renovating, which may have led you to believe that renovating is an easy and surefire strategy to generate profits from property.
But the reality is, renovating won't always make you money.
In fact, sometimes a property upgrade can deplete your profits to the point where you would have been better off not even picking up a paintbrush in the first place.
These include:
1. Buying in a stagnant market
Or worse still, you buy when the local market is falling.
In this situation, renovations won't necessarily increase the value of your property, but they may boost its rental appeal and potentially allow you to lift the asking rent.
The problem is compounded when investors buy a property to renovate and flip.
This is hard enough to do profitably in a rising market and almost impossible to do in a stagnant market or if you bought in a "cheap" location where people aren't prepared to, or can't afford to, pay for more expensive properties.
2. When you over-capitalise
Browse the latest property listings on Domain or RealEstate.com.au and you'll find countless examples of properties that have been over-capitalised.
For instance, an owner might add a pool in a suburb where pools aren't highly sought-after, and therefore don't add much value.
Similarly installing high-end finishes to a low-end property is a move that rarely adds much of a premium to the property's value or asking rent.
One example of an area that can be a huge money pit is landscaping.
I know an investor who obtained quotes to replace a crumbling retaining wall that lined the driveway of her property.
The quote was almost $17,000, but when she engaged a valuer for his professional opinion, he reported back:
"There's no doubt that replacing the retaining wall will improve the function of your driveway, and it will look a lot neater as well," the valuer said.
"But it won't add much value to the property; I'd estimate around $5 -7,000."
3. When you spend on renovations that don't add visible value
Electrical work.
Plumbing.
Wiring and internal infrastructure.
These are essential components of a fully functioning property – but when you spend money in these areas, buyers are generally none the wiser.
Of course, if repairs are required to get your property back into good working condition, you should go right and replace the faulty wiring or leaky pipes, but don't expect them to add much value to your property or obtain a higher rental as potential purchasers or tenants would expect such services to be provided.
4. Structural renovations
These are the type of works that are sometimes necessary but can't be seen so they won't add much value to the property – things like plumbing works or re-stumping the property.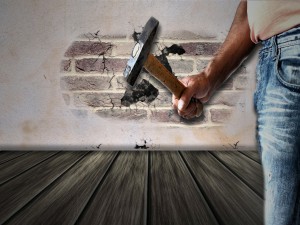 Sometimes larger structural renovations such as adding an extension could add significant value, but when you take into account the time delays including getting development approval through council, often your profits will disappear in holding costs.
That's why, in general, I recommend beginning investors stick to cosmetic rather than structural renovations.
Having now warned you about some of the potential issues, let me remind you that as our markets are likely to remain flat over the next few years adding value to your property through renovations is a great investment strategy.
Just make sure you own the right property (one that has significant owner occupier appeal) in the right location (where the demographic can afford to and are prepared to pay a premium to live) and that you undertake the appropriate renovations and don't over capitalise.

SUBSCRIBE & DON'T MISS A SINGLE EPISODE OF MICHAEL YARDNEY'S PODCAST
Hear Michael & a select panel of guest experts discuss property investment, success & money related topics. Subscribe now, whether you're on an Apple or Android handset.
NEED HELP LISTENING TO MICHAEL YARDNEY'S PODCAST FROM YOUR PHONE OR TABLET?
We have created easy to follow instructions for you whether you're on iPhone / iPad or an Android device.

PREFER TO SUBSCRIBE VIA EMAIL?
Join Michael Yardney's inner circle of daily subscribers and get into the head of Australia's best property investment advisor and a wide team of leading property researchers and commentators.
---
---