David Bassanese of the Australian Financial Review recently suggested that he believes the prices of established properties may jump by 10-15% by early 2014, and he's not the only economist who thinks so:
"As I've argued since last year, rising established house prices are exactly what we should be expecting at this stage.

After all, measures of home mortgage affordability are below long-run average levels. My call has been that a 10% to 15% pop higher in nationwide house prices is possible by early 2014."
Bassanese suggests that with the non-mining sectors of the economy picking up house price growth will be more pronounced in Sydney and Melbourne.
Today I'll take a brief look at why some economists hold this view.
The coming slide in GDP
Let's go right back to basics and look at what John Maynard Keynes felt to be the most useful equation in economics:
GDP = C + I + G + (X – M)
That is, Gross Domestic Product (GDP) is equal to (C)onsumer spending + (I)nvestment + (G)overnment spending + e(X)ports – i(M)ports.
With the structural shift to lower inflation and lower interest rates through the mid-1990s and beyond, we're now into what is perhaps uncharted territory for Australia.
On the one hand, we have a seemingly healthy GDP and yet on the other hand we have record low interest rates.
In the year to December 2012, Australia's GDP was a healthy-looking 3.1%.
With benign inflation, consumer spending improving in recent months and relatively low unemployment, what's the great worry all about?
Well, the worry is that Australia's GDP has been propped up to date by an unprecedented boom in mining capital (I)nvestment which we know is likely to fall sharply in the coming years.
Source: ABS
Something needs to step up and take the place of the mining construction activity, and relatively quickly.
(C)onsumer spending in the first quarter of 2013 has picked up from a low base, but the hope is that housing (I)nvestment and construction will step up to plug the gap (or crater, depending on your viewpoint) that will be left in GDP.
Dwelling construction certainly needs to ramp up as the population of Australia increased by a further 382,500 people in the 12 months to September 2012.
Bassanese:
"In terms of the housing sector, the upturn in home building demand remains reasonably modest and is not yet destined to provide major growth offset from the downturn in mining investment.
So far, it hasn't really eventuated.
The great fear
The fear for Australia is that as mining (I)nvestment begins to fall, unemployment may rise to 6% or above, which will in turn hamper (C)onsumer spending and GDP will spiral downwards towards…RECESSION.
At which point we may have to turn to (G)overnment spending together with (I)nvestment in the public sector to drag us back out of the quagmire.
Although the usual dismal commentators continue to chirp that they are "hoping for a recession", Australians have perhaps forgotten how painful unemployment and recession can be over the two decades since we last had one.
The plan
Bassanese's call is that unemployment will reach 6% by year end, which should be enough to "goad" the RBA into cutting interest rates again.
One problem with a blunt tool such as monetary policy is that it often must meet a range of conflicting needs.
The ASX cash rate futures implied yield curve certainly agrees with Bassanese, pricing in a 25bps cut (0.25%) and perhaps more, and Australia's longer-dated bond yields suggest that the interest next rate hike could yet be forever-and-a-day away.
Source: ASX
The Reserve Bank hopes that stimulatory interest rates will see the non-mining sectors of the economy gradually come to life.
Housing affordability
News article after news article discusses the unaffordability of Australian property, but the issue is not quite so clear-cut.
Australia has expensive housing in the inner suburbs of Sydney and Melbourne, but on a nationwide basis, the Reserve Bank believes that repayments on new housing loans are very comfortable at present levels: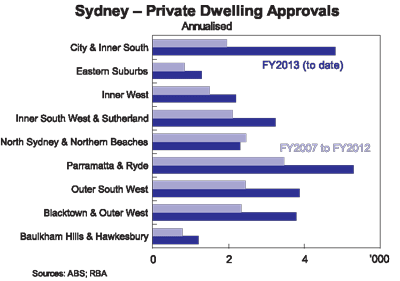 As alluded to by Bassanese above, affordability of property has improved to below its long-run levels at this point in the cycle because interest rates are at historic lows and appear likely to fall by 25bps or perhaps more.
Of course, any property price gains are unlikely to be uniform but with auction clearance rates at their highest levels since mid-2010, it looks likely that some established property types in areas of high demand and constrained supply will record gains over the next year.
[sam id=29 codes='false']

SUBSCRIBE & DON'T MISS A SINGLE EPISODE OF MICHAEL YARDNEY'S PODCAST
Hear Michael & a select panel of guest experts discuss property investment, success & money related topics. Subscribe now, whether you're on an Apple or Android handset.
NEED HELP LISTENING TO MICHAEL YARDNEY'S PODCAST FROM YOUR PHONE OR TABLET?
We have created easy to follow instructions for you whether you're on iPhone / iPad or an Android device.

PREFER TO SUBSCRIBE VIA EMAIL?
Join Michael Yardney's inner circle of daily subscribers and get into the head of Australia's best property investment advisor and a wide team of leading property researchers and commentators.
---
---