The markets have moved on a little in recent months so today seems to represent a good opportunity to have a re-cap on what the likely future direction of interest rates is telling us and what this could mean for property investment.
What is a yield curve?
Well, it's a curve, naturally…showing the yield or interest rates applying across a range of time periods for similar debt contracts.
An implied yield curve graph or chart can sometimes be useful as it may suggest to us where interest rates might be headed.
What does a yield curve usually look like?
Normally interest rates or yields for shorter-term debt contracts are lower as they represent a lower risk of default to the lender.
Therefore, a yield curve usually slopes upwards and is shaped asymptotically: the longer the time to maturity the higher the yield, with the curve tapering or levelling off over time.
So a typical yield curve tends to look something like this: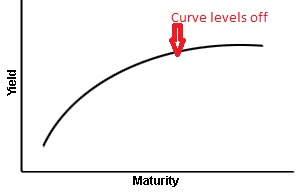 What does today's implied yield curve look like in Australia?
Today's implied yield curve instead is quite dramatically inverted.
It looks like this: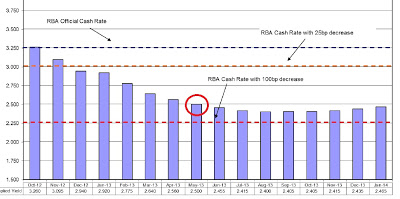 What does this mean?
An inverted yield curve is often an indicator of a pending recession, or in the best case scenario it suggests that 'things will get worse before they get better.'
In other words, the long-term outlook for the economy is far from ideal, and so interest rates are likely to be clipped yet further.
What does that mean for Australia's residential property markets?
In April 2009, the Reserve Bank dropped the cash rate to a historic low of just 3.00% and this stimulated a round of strong growth in Australia's residential property markets.
In Sydney, Perth and Canberra (and to a somewhat lesser extent Brisbane and Adelaide) a period of sharp capital appreciation eventuated. And in Melbourne a huge boom in prices was sparked through 2009 and 2010.
However, because the cash interest rate has again fallen so low in 2012 to just 3.25%, the deposit market for the banks has been largely uninspiring. The low yields returns just aren't attracting much business.
Therefore the major banks have not passed all of the recent interest rate cuts – and there have been several since November 2011 – on to mortgage holders.
Margin creep
A good example was seen in October. The Reserve Bank cut interest rates once again by 0.25% to just 3.25%, but the major banks again only passed on around four-fifths of this to mortgage holders in an attempt to claw back their margins and profits.
Remember that a bank's primary loyalty is to its owners (shareholders), the best interests of whom the bank is compelled to act in.
With only four major banks (the "four pillars") carving up a huge percentage of the mortgage market, for the oligopoly at this point in time this means stiffing mortgage holders in favour of fattening the NPAT (the bottom line).
Because of this, standard variable mortgage rates have not yet hit the super-stimulatory levels we saw in 2009.
It seems as though the cash rate would have to fall yet further to around 2.50% for this to eventuate. What the implied yield curve above shows is that this could happen by April or May 2013 (at the point which I have circled on the chart).
It is possible, therefore, that the property markets begin to see some accelerated growth from around that time.
A word of caution on countrified property views
After the sharp property price growth seen in 2009 and 2010, some property commentators fell into the recency bias trap in believing that a global financial crisis and consequent lower interest rates must always be good for Australian property (some naively and openly declaring that they are eagerly awaiting the next 'GFC').
Rather obviously, this jejune viewpoint is far from being accurate.
Australia was fortunate in 2009 in that we managed to avert recession thanks to the smart use of our material interest rate buffer and the support of a huge surge in mining capital investment.
With mining investment looking likely to peak in the times ahead, though, there is no guarantee that Australia would be so insulated again should the world sink further into crisis.
While lower interest rates are welcomed, unemployment and uncertainty can easily see real estate valuations moving south, particularly where prices are already high.
This is exactly what happened in the USA and the UK despite interest rates being smashed rapidly down to the nadir of the zero-bound range.
Therefore, it is always important in property to buy well – the right property at the right price. Think strong and growing demand, and property types which appeal to a broad range of buyers, which often means somewhere close to the median price for the area in which you are searching.

Subscribe & don't miss a single episode of Michael Yardney's podcast
Hear Michael & a select panel of guest experts discuss property investment, success & money related topics. Subscribe now, whether you're on an Apple or Android handset.
Need help listening to Michael Yardney's podcast from your phone or tablet?
We have created easy to follow instructions for you whether you're on iPhone / iPad or an Android device.

Prefer to subscribe via email?
Join Michael Yardney's inner circle of daily subscribers and get into the head of Australia's best property investment advisor and a wide team of leading property researchers and commentators.
---
---