---
Late last week the ABS released a very poor Labour Force report .
The unemployment rate was recorded as 5.8%, but at 5.845% it might just as well be rounded up to 5.9%.
But it was much more disappointing than that.

Source: ABS
Despite low interest rates (and a rapidly rising population) employment decreased 22,600 to 11,629,500 and full-time employment decreased 31,600 to 8,067,700.
Yes, of course, the samples are small and the data is volatile, but that is a really poor result, and especially so for the full-time gigs.
[sam id=35 codes='true']
This leaves the Reserve Bank with a real dilemma.
Futures markets had a fit and are now pricing in a rate cut to just 2.25% by the middle of the year as a 50:50 chance. Other data has been more promising but we can basically forget interest rate hikes while the jobs market is so weak.
The currency markets think they know what is coming and the Aussie dollar had a minor panic attack falling to a 3.5 year low and brushing just 88 US cents, well over 15% below where it was.
If you break down the data by state, the figures tell an interesting story. For example, here are the unemployment rates by state charted:
Source: ABS
South Australia continues to struggle.
I didn't include Tasmania on my chart, but the picture there is even worse with an unemployment rate of 7.7%. And here are the 12 months jobs growth figures charted:
Source: ABS
Even more lame news for South Australia there, the state actually shedding jobs over the past 12 months, in contrast to all of the major states. But the 12 months jobs growth only tells a part of the story – check out what has happened to employment by state since 2010: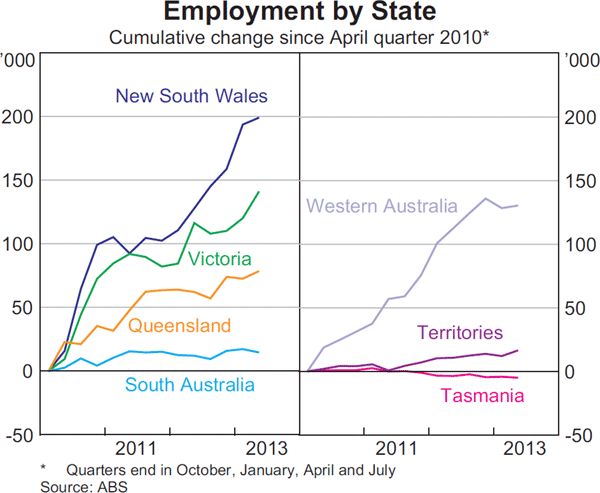 New South Wales is adding jobs at a rate of knots, but Tasmania and South Australia are going nowhere.
I'm aware that yield-focussed investors have been tipping Adelaide for property price growth for the last 5 years, but I'm afraid to say that they were badly wrong and the jobs market data continues to do them no favours.
Not only has Adelaide failed to add jobs, it also fails to attract investors.
If I had to pick one chart to explain why Sydney will be the gun property market performer this decade while other cities lag behind, it would be the one below from Westpac.
There is essentially no interest in investment in South Australia and Tasmania, but Western Australia (+27% by housing finance value from June 2012 to November 2013) and Victoria (+37%) have really been picking up, as yield-starved investors seek out returns.
As for New South Wales, at +74%…well, you can only expect the price of quality existing stock to boom in the inner and middle rind suburbs and they are doing just that.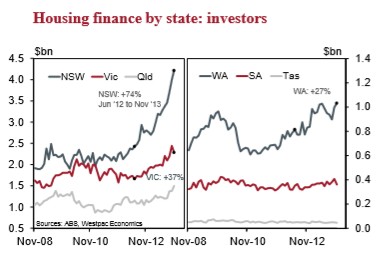 Source: Westpac
The Reserve Bank is now stuck between a rock and a hard place. It can't hike rates while the jobs data is so wretched, yet low interest rates will continue to fuel a boom in Sydney's housing market.
In theory, APRA could implement macroprudential measures to limit credit growth, but as I noted here, detailed research from BIS shows that such measures often tend to have very little (if any) discernible impact:
"None of the policies designed to affect either the supply of or the demand for credit has a discernible impact on house prices."

It's pretty much as you were for the property markets.
[post_ender]
SUBSCRIBE & DON'T MISS A SINGLE EPISODE OF MICHAEL YARDNEY'S PODCAST
Hear Michael & a select panel of guest experts discuss property investment, success & money related topics. Subscribe now, whether you're on an Apple or Android handset.
PREFER TO SUBSCRIBE VIA EMAIL?
Join Michael Yardney's inner circle of daily subscribers and get into the head of Australia's best property investment advisor and a wide team of leading property researchers and commentators.
---
---