---
There are more interesting articles, commentaries and analyst reports on the Web every week than anyone could read in a month.
Each Saturday morning I like to share some of the ones I've read during the week.
The weekend will be over before you know it, so enjoy some weekend reading…and please forward to your friends by clicking the social link buttons.
ELECTION 2016: How the leaders performed on social and mainstream media
Long gone are the days when our opinions towards political leaders were limited to conversations around the dinner table.
The mass affect of social media has now allowed individuals to voice their praise or dismay prior to election day, as published in this article from The Business Insider.
Prime minister and Liberal leader Malcolm Turnbull took an early lead and kept it throughout the election campaign, according to analysis of social and mainstream media by Meltwater.

Bill Shorten, the ALB leader and opposition leader, couldn't keep pace with Turnbull, especially on social media where the prime minister has a strong presence.

For example, Turnbull has 628,000 followers on Twitter to Shorten's 147,000.

But when it comes to parties, the ALP is the clear winner of news media mentions, gathering 49% to combined Liberal/Nationals 39%.

This is possibly due to the fact that the Coalition is very much hanging its campaign on the personality of Turnbull.

On social media, the roles are reversed with the combined Liberal/National mentions at 50% and the ALP at 40%.

This chart shows the combined total of mainstream media mentions since the start of the campaign.

Turnbull is well ahead.

Turnbull had a big boost at the start of the campaign when he announced the election.

His numbers then eased back and kept steady.
Find the full article here
Aussies overextend + What would your kids do with $20? + How the rich made their money
Another great Real Estate Talk show produced by Kevin Turner.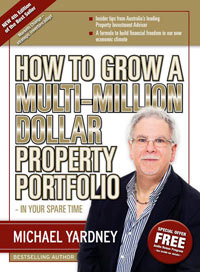 Michael Yardney shares his thoughts on how quarter of the BRW Rich 200 list made their money in property.
Bessie Hassan gives good advice on current low interest rates and discusses if we are borrowing too much.
Effie Zahos talks about her book written to help kids understand the importance and true value of money.
Eddie Fuller talks about how he is 'living the dream'.
John McGrath say that South East Queensland is the hottest place to invest right now.
Chris Moller host of Grand Design New Zealand takes us through how the Kiwis do it.
If you don't already subscribe to this excellent weekly internet based radio show do so now by clicking here.
Jobs and growth?
With unemployment rates at the top of everyone's mind – the age old question still stands, where are the jobs?
This blog by Pete Wargent highlights employment opportunities nationwide – though maybe not in the most expected locations.
Jobs!

The ABS released its Detailed Labour Force figures for May 2016 which showed that regional New South Wales has picked up the mantle from Greater Sydney in creating employment over the past 12 months.

Regional New South Wales (+79,300) outpaced Sydney (+63,700) for the first time in a long old while.

Jobs have been created in the Illawarra, Hunter Valley, and Newcastle, although nearly two thirds of jobs created in the state in the year to May were part time in nature, suggesting that plenty of slack remains in the labour force.

Greater Melbourne created +57,200 net new jobs, and Brisbane +20,000, but there's not been much doing elsewhere.
Read the full article here
RBA: Brexit has minimal impact on Asia, Australia
There's no doubt, unless you've been living under a rock, this week's headlines have been all about Brexit.
The number one questions on everyone's mind though is – does this have a negative affect on the rest of us?
Despite all the panic, an article in Your Mortgage Magazine suggests that the impact on Australia and Asia is not a severe as initially believed.
Despite the financial turmoil unleashed by the Brexit vote, officials from the Treasury and the Reserve Bank of Australia assured everyone that the economic impact is muted in Asia, where Australia's fortunes are more closely aligned.

However, officials acknowledged the risk of financial market contagion and the prospect of ongoing volatility.

"From our point of view, this is a much smaller shock than when Lehman's fell over," one source said.

The Reserve Bank is still seen to have the capacity to support the economy and household spending through additional official interest rate cuts.

But with fears of financial contagion, Australia's regulators have taken steps since the 2008 global financial crisis to bolster capital buffers at the big lenders, with the banks themselves having secured enough wholesale mortgage funding to weather the post-Brexit market turmoil.

According to Reserve Bank board member John Edwards, UK's decision would be borne largely by the British and not the rest of the world.
Click here for the full article
Auction Market to Retain Momentum Through Second Half Of 2016
With what seems like a blink of an eye, we've made it half way through the year – so where does the auction market stand?
Despite a looming election, world-wide economical change and property law changes in our own backyard, the first half of 2016 has finished strong, as reported in this article for Your Investment Magazine.
Australia's auction market looks set to finish the current financial year on a positive note, with excess of 2,000 auctions again scheduled this week.

Figures from CoreLogic show 2,110 auctions are scheduled for Australia's capital cities this week, relatively stable on last week's 2,183.

Last week's national clearance rate finished at 67.4%, up from 65.7% over the previous week.

In Melbourne, 982 homes are set to go under hammer this week as the city sets a record mark for auction activity in this time of the year.

Melbourne finished last week with a clearance rate of 68.3%.

While it has consistently been the busiest market in 2016, volumes are down on what has been seen in Melbourne in recent years and Melbourne based buyer's agent Cate Bakos said that has resulted in strong buyer competition, even with an election looming.
Click here for the full article
Weekend Video: The 4-Minute Trick For Massive Productivity
SUBSCRIBE & DON'T MISS A SINGLE EPISODE OF MICHAEL YARDNEY'S PODCAST
Hear Michael & a select panel of guest experts discuss property investment, success & money related topics. Subscribe now, whether you're on an Apple or Android handset.
PREFER TO SUBSCRIBE VIA EMAIL?
Join Michael Yardney's inner circle of daily subscribers and get into the head of Australia's best property investment advisor and a wide team of leading property researchers and commentators.
---
---