There are more interesting articles, commentaries and analyst reports on the Web every week than anyone could read in a month.
Each Saturday morning I like to share some of the ones I've read during the week.
The long weekend will be over before you know it, so enjoy some weekend reading…and please forward to your friends by clicking the social link buttons.
Property prices to continue to rise over the next four years
Wouldn't it be nice to have a crystal ball that determines the future of the Property market?
While we may not have access to magic, it would seem that a group of experts have been able to paint a picture of the future in terms of property prices.
An articles in Your Mortgage Magazine has reported findings of a expert survey, that predicts property prices are set to continue rising.
Despite fears of an apartment glut in the coming years, a new survey from The Finder showed that most property experts expect property prices to continue to rise over the next four years.

Around 35 per cent of 20 economists and experts believe that property prices would rise by 10 per cent by 2020, while 30 per cent of the respondents expects a more conservative increase of close to five per cent.

"It's typical of the cyclical nature of the property market," said Finder spokeswoman Bessie Hassan.

"In fact, a 5 to 10 per cent increase is somewhat conservative—it's a common belief that property value doubles every seven to 10 years."

Hassan also pointed out that the current drop in prices could only be an indication that the market is entering a correction phase.

"While there was concern about a 'housing bubble' or unsustained growth for some time, we've now seen a correction phase where the property market has softened yet is likely to go up again in the future," she said.
Find the full article here
Negative Gearing fact and fiction + Affordability vs serviceability
Another great Real Estate Talk show produced by Kevin Turner.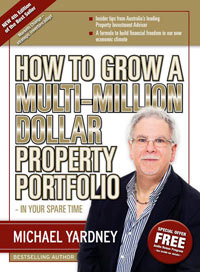 Michael Yardney tells us about a little known fact that will deal another shock for Australian property markets.
Jamie Alcock Associate Professor of Finance at the university of Sydney, sorts the fact from the fiction of negative gearing.
Andrew Mirams answers a question from listener Jie, about affordability and serviceability and the gap that is emerging.
Rich Harvey explains why this is the time to zig, when others zag before the election.
Nerida Conisbee REA's Chief Economist, talks about the results of NationalPortalRealEstate.com.au.
If you don't already subscribe to this excellent weekly Internet based radio show do so now by clicking here.
Towering concerno
The sky's the limit in Brisbane thanks to a new apartment building, a blog by Pete Wargent describes the project to be the tallest apartment tower in Brisbane.
Buy shares in cement!

Brisbane's tallest apartment tower is under construction at 222 Margaret, the street being mostly blocked off yesterday with cement mixers.

The main tower will be 270 square metres tall when completed, which is just about as high as the current building height restrictions rules allow, give or take 4 metres.

Brisbane's City Council has previously held discussions with the city's international airport in order to propose a relaxation of the rules.

Earlier plans for Vision Brisbane had, erm, envisioned one monster building incorporating retail and residential space, but current plans instead allow for a hotel to be constructed separately.
Read the full article here
Too Early To Hail APRA Moves A Success: Moody's
It would seem that despite recent results indicating a stronger market – the bigger picture tells a different story.
According to an article in Your Investment Magazine, the future predictions from Moody's Investors Service are far more grim that what it may seem.
A global credit rating firm believes signs of renewed capital growth in Australian real estate could bring danger for the country's banking sector and broader economy.

While investors and home owner were likely buoyed by recent market analysis that showed stronger than expected price growth in a number of Australian markets over recent months, Moody's Investors Service said that combined with rising household debt to income ratios could spell trouble.

"These trends are unfolding against a backdrop of already high levels of household indebtedness, and elevated overall leverage in the economy," Daniel Yu, a Moody's vice president and senior analyst said as the rating firm released a new report, House Price Growth is Increasing Tail Risks for Australian Banks.

"The current trends are therefore credit negative for Australian banks, particularly in the context of the banks' high ratings, because these trends raise the banks' sensitivity to any potential deterioration in the housing market," Yu said.

Moody's said some of the risks associated with continued strong price growth had been mitigated by Australian Prudential Regulation Authority's (APRA0 push to slow investor lending, however it is too early to label those moves a complete success.
Click here for the full article
Top baby names revealed
Despite names like Apple, North and Rocket taking over media headlines over the last few years, it would seem the classic names are still the way to go.
An article on mccrindle.com.au has revealed the top baby names for boys and girls, with no fruit is sight.
Around 1 in 10 Australian babies last year were given one of the Top 10 baby names; a total of 28,640 out of the total Australian annual births of 298,200.

There were 2,283 boys named Oliver and 1,737 girls named Charlotte last year.

Charlotte takes top spot after Olivia's 3 year reign

Charlotte, with 1,737 occurrences is the top girl baby name in Australia for 2015, taking the top spot from Olivia which is now in 2nd place.

Olivia was the most popular girls' name in 2014 but has now fallen behind by 67 occurrences.

Charlotte was the most popular baby girls' name in almost every state while Olivia was top in VIC and WA.

Oliver most popular in the states but Jack more popular in the territories

Keeping the top spot from 2014 is Oliver, the top boy baby name in Australia for 2015 having overtaken Jack and William which were 1st in 2011 and 2012 respectively.

Oliver was the top boys' name in all 6 states (NSW, VIC, QLD, SA, WA, TAS) while Jack was the top boy baby name in the Northern Territory.

There were 421 more instances of Oliver than William, an increase on the margin of 191 from 2014.

In 2015, there were 2,283 boys named Oliver, 1,862 named William and 1,802 named Jack which is a decrease for both William and Jack on 2014.
Click here for the full article
Weekend video: 10 Amazing Bets You Will Always Win

Subscribe & don't miss a single episode of Michael Yardney's podcast
Hear Michael & a select panel of guest experts discuss property investment, success & money related topics. Subscribe now, whether you're on an Apple or Android handset.
Need help listening to Michael Yardney's podcast from your phone or tablet?
We have created easy to follow instructions for you whether you're on iPhone / iPad or an Android device.

Prefer to subscribe via email?
Join Michael Yardney's inner circle of daily subscribers and get into the head of Australia's best property investment advisor and a wide team of leading property researchers and commentators.
---
---