---
There are more interesting articles, commentaries and analyst reports on the Web every week than anyone could read in a month.
Each Saturday morning I like to share some of the ones I've read during the week.
The weekend will be over before you know it, so enjoy some weekend reading…and please forward to your friends by clicking the social link buttons.
Property Club investors in Australia are facing losses of as much as $300,000
We all want to be part of an exclusive club, especially one that promises a big return on our investment, but often what seems to good to be true, often is.
An article in The Daily Telegraph has revealed that The Property Club has left many of it's members in great financial strife.

IT claims to be Australia's largest wealth creation organisation, but some investors facing losses of as much as $300,000 on buys made via the Property Club claim its mantra — "we alone protect buyers" — is a lie.

The club promotes itself as having made 10 times more millionaires than Oz Lotto by screening out 90 per cent of the real-estate market then negotiating lower prices and special protections, with risks further minimised through expert help from the "world's best property brains".

However, today News Corp Australia reveals claims of a starkly different experience of negative equity and next to no help, as people from across Australia who were drawn in by the spin speak out.

The investors, who are from Queensland, NSW, the ACT and South Australia, also say they are going to fight for compensation.
Find the full article here
BIG investment winners and losers + Brisbane suburb set for a big boost.
Another great Real Estate Talk show produced by Kevin Turner.
Michael Yardney looks at eight strategies to make sure an invisible serviceability ceiling doesn't stop you from growing your property portfolio.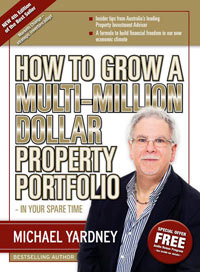 Tim Lawless tells us where there have been spectacular gains based on CoreLogic's latest Pain and Gain Property Report.
Nerida Conisbee discusses three criteria that put a suburb at risk, and these are detailed.
Rich Harvey & Dr Andrew Wilson discuss how many properties you need in your portfolio to retire.
George Vlahakis a solicitor with Kydon Segal Lawyers talks about a recent case about an abandoned house in Redfern in Sydney.
Nando Pellicano of the Pellicano Group discusses a an exciting new propject – South City Square, right in the heart of Woolloongabba
If you don't already subscribe to this excellent weekly internet based radio show do so now by clicking here.
Yes, it's boom time for Sydney CBD
Sydney has always been known for its amazing architecture, and now it would seem the city is adding a monument to its list.
According to this Blog by Pete Wargent, Sydney is in line for for an amazing transformation, adding both beauty and employment opportunities.
The sky's the limit!
The latest planning proposals for the City of Sydney, some three years in the making, suggest a tremendous transformation for the city's famous skyline through the promotion of huge "tower clusters" for commercial use (though specifically curbing the construction of apartments).

The biggest shift in Central Sydney planning in the 45 years since 1971 is set to boost the central Sydney economy and employment.

Subject to federal airport approvals, building heights of up to and even above 300 metres are set to be allowed under the new plans, unlocking up to 2.9 million square metres of commercial and office space, about a 30 per cent increase on the existing 8.3 million square metres of floor space in the city.

The proposals will still allow light to flow to Town Hall, Prince Alfred Park, Circular Quay, Hyde Park, the Royal Botanical Gardens, Wynyard Park, and Martin Place, but aim to put Sydney firmly on the map as a global city of opportunity over the next two decades.

As you can see in the above graphic, new tower clusters will be permitted along the western edge of the Central Business District (CBD) at Barangaroo, to the north by Circular Quay (not too close to the Opera House, of course!), as well as around The Rocks, and Haymarket.
Read the full article here
World Map of Political Regimes 1816-2011
It seems that you can't turn on the television without seeing a political segment.
But do you know the history behind political regimes.
This interactive map from nyudri.org allows us to take a look back in time and brush up on our political history.
Click here for the full article
Millennials might never retire, but that's not necessarily a bad thing
As life expectancy grown so is the amount of years we will need to work – but is that really a bad thing?
An article from theglobeandmail.com suggests that there is much more opportunity than dismay in working longer, allowing us to have several careers, better education and an overall more fulfilled life.
Is living to 100 years old a good thing?

The co-author of a new book called The 100-Year Life has a reassuring answer.

"It's not that you're old for longer; it's that you're young for longer," Lynda Gratton, a management professor at the London Business School, said in a recent interview.

The negative take on long lives can be seen in this headline: "Retirement is making people more miserable than ever before."

The 100-Year Life argues that we should think of our extra years as additional time spread throughout our lifetimes, and not just a 35-year retirement.

You might, for example, go back to school in your 50s and work well into your 70s.

In fact, some Nordic countries are debating the idea of sending senior citizens back to school to keep up with the times.
Click here for the full article
Weekend Video:
Baby Animals – A Cute Animal Videos Compilation
---
---