There are more interesting articles, commentaries and analyst reports on the Web every week than anyone could read in a month.
Each Saturday morning I like to share some of the ones I've read during the week.
The weekend will be over before you know it, so enjoy some weekend reading…and please forward to your friends by clicking the social link buttons.
Why Chinese investors keep buying Australian property: it's cheap
It would seem that almost every day we are bombarded with conflicting headlines – 'The market is up, it's down, property price are through the roof etc.'
Yes despite all of this – this article from ABC News has reported that Chinese investors keep buying Australian property.
It is said real estate is all about "position, position, position".

Perspective could equally be thrown into the equation as well, and from the perspective of China's rapidly growing millionaire class, Australian capital city properties are not only cheap, but high-yielding as well.

Detailed analysis from the big broking house Credit Suisse has found that despite the hurdles to Chinese investment in Australian property constantly being raised, it is still seen as good value.

Perhaps the starkest statistic from the perspective of value is the fact that the median price for a two-bedroom apartment in Shanghai is around $900,000, which is 25 per cent more than the median apartment price in Sydney.

Then there is the issue of rental yield.

In Shanghai, rental yields average around 1.5 per cent, half what a landlord of an equivalent property in Sydney would get.

"Yes, our property is expensive when we compare it to our own history, but it is cheap when compared to Chinese property," Credit Suisse strategist Hasan Tevfik noted.

PHOTO Property price and yields: China vs Australia

China accounts for 80pc of foreign demand


Based on house-price-to-income ratios, Sydney is now the second most expensive city in the western world and Melbourne the sixth most expensive, according to Demographia's 2017 Housing Affordability survey.

In absolute terms, Sydney house prices have risen 106 per cent since 2009, with Melbourne not that far behind, up 89 per cent.

Mr Tevfik said with housing demand outstripping supply in Australia, the major component of the strong demand comes from abroad — and principally, China.
Read the full article here
Margaret Lomas on housing affordability + Where renovators go wrong when buying a property + Why capital growth wins out over cash flow
Another great Real Estate Talk show produced by Kevin Turner.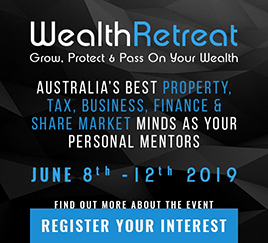 Michael Yardney discusses the pros anf cons of cash flow vs capital growth.
Cherie Barber discusses the wrong things to look at when buying a property to renovate
Bill Malouf present an excellent opportunity to go and intern with him for a three-month period, find out the befit of learning from a pro.
Margaret Lomas talks about the hidden key to housing affordability
If you don't already subscribe to this excellent weekly internet based radio show do so now by clicking here.
Victorian jobs boom
It would seem things are looking up for jobs in Victoria – it fact, it seems to be booming.
This Blog by Pete Wargent shows the statistics behind the results.
Sydney's labour force has previously been on a blistering run, with total employment across the state growing by a walloping 4.4 per cent in trend terms over the calendar year 2015.

This was not sustainable, and employment growth has now slowed to a crawl.

Victoria (and particularly Melbourne) has now taken up the mantle, with employment growth peaking at 3.8 per cent in trend terms in October 2016.

In truth, there's not been too much happening elsewhere…

When looking at the actual number of net new jobs created we see that Melbourne and Victoria have created…well, nearly all of the net growth in employment over the past year.

There is a veritable slew of new data out today, so there's plenty to look at, including among other things new figures on migration and regional population growth for 2016.

I expect to see regional population growth having slowed further, with capital cities accounting for a near-record share of population growth.

Moreover, we can expect to see the strength in Victoria's labour market sucking more people in to Greater Melbourne.

Stay tuned.
Read the full article here
Ready, set, sell: Agents' top tips for styling your home to sell… and make a profit
There's all kinds of theories when it come to selling your home – baking cookies, inviting colour pallets, stylized kitchens…etc.
But what really works?
An article from Domain.com.au has gathered a list from agents of the top tips to make your home – sale ready.
Picture this: your real estate agent is on his knees, ripping up the carpet in your house.

He's uncovered a unique lino underneath and wants it to feature in the photos.

Over the weekend his mates painted the hallway white.

To finish, he'll swap the light fitting with one he's sourced from an antique dealer.

He's doing it for free.

He knows your drab terrace will sell once he finds its colour.

It's a rare, but true, story.

This now-former agent knew the best way to score a buyer (and broke a sales record in the process), but do you?

First, give yourself six months for the process, and stop thinking there's only one time to sell.

"Spring? That is very, very outdated," says Sara Chamberlain, director of The Real Estate Stylist (TRES) – which is already taking bookings for the popular selling season.

RT Edgar Hawthorn director Glen Coutinho agrees.

"In this climate it doesn't really matter. The market's all year round."

Next: presentation. Good street appeal will immediately put would-be buyers in the right frame of mind.

"Curb appeal sets the lens for which they look through the rest of the property with," says Jellis Craig Northcote director Sam Rigopoulos.

Think green lawns, put colour in the garden and replace broken decking.

Inside, things get personal. Just hearing Coutinho list how vendors can maximise the chance of selling makes one wonder if a counsellor should be involved, too.

"Taking out half the furniture because the room's cluttered, taking all the pictures off the walls, stripping the fridge of magnets, says Coutinho.

Oh, and de-pet.

"Lots of families have dogs, that doesn't help sell a house," he says.

Over-sized furniture is out.
Read the full article here
A CEO and Google alum shares the questions she likes to ask job candidates
Wouldn't it be great to get into the mind of an exectuive before an interview?
Now you can!
CEO of WayUp shared her interview insights in an article for Business Insider.
WayUp CEO and Google alum Liz Wessel has a lot of experience finding talent.

Here are the 2 interview questions she asks to help get to know a candidate.

Sometimes you get really nasty answers and that's when you know the person might have an ego.

It depends on the interview.

I definitely change it up sometimes based on what the person's interviewing for.

My company, WayUp, we have these 7 company values and one of them is "Be a master of your craft, but know you are not the master."

Which means be really good at what you do, but know there are other people out there who are way better at each of the skills, and so go out and find as much information as you can.

One of the questions I like to ask is, "Tell me about a time when you had to learn something on your own in the workplace or for a class or for a club that was not required but you did it on your own and you used that for leverage."

I sometimes hear some really fascinating stories and it's a great way to learn more about a candidate.

I definitely have some more trick ones, like, "If I found someone who didn't like you why would they say they don't like you?"

Sometimes you get really nasty answers and that's when you know the person might have an ego.
Click here for the full article
Weekend Video: Speed Reading

Subscribe & don't miss a single episode of Michael Yardney's podcast
Hear Michael & a select panel of guest experts discuss property investment, success & money related topics. Subscribe now, whether you're on an Apple or Android handset.
Need help listening to Michael Yardney's podcast from your phone or tablet?
We have created easy to follow instructions for you whether you're on iPhone / iPad or an Android device.

Prefer to subscribe via email?
Join Michael Yardney's inner circle of daily subscribers and get into the head of Australia's best property investment advisor and a wide team of leading property researchers and commentators.
---
---