There are more interesting articles, commentaries and analyst reports on the Web every week than anyone could read in a month.
Each Saturday morning I like to share some of the ones I've read during the week.
The weekend will be over before you know it, so enjoy some weekend reading…and please forward to your friends by clicking the social link buttons.
Many Australian parents fear their children will never move out of home
It's the hot topic that doesn't seem to be cooling down – housing affordability versus the smashed avocado.
But when it comes to the younger generation's inability to purchase a home, it is really as simple as the price of brunch? Or do the statistics show otherwise?
Following much debate from a recent story on 60 minutes, this article on Domain.com.au looks at the real reasons kids may be staying home longer.
Australian parents no longer fear getting the empty-nester blues when their children leave home, but are instead afraid their progeny won't fly the coop soon enough.

The majority of Australian parents with children aged under 17 surveyed last month said they feared their children would live at home well into their adulthood, while just under two-thirds thought young people spent "everything they earned", which stopped them getting financially ahead in life.

It follows comments made by BRW Rich List-er Tim Gurner on 60 Minutes Sunday night, which inferred young people needed to curb their spending habits if they wanted to ever own property, like him.

​"When I was trying to buy my first home I wasn't buying smashed avocado for 19 bucks, and four coffees at $4 each," Mr Gurner said on the program.

Rich-lister Tim Gurner suggested young people curb their spending to get into the market.

The interview spawned the ire of many on Twitter, who thought the millionaire's advice was a bit rich, given he had inherited $34,000 from his grandfather to step on the real estate ladder.

With wages growth at record lows and rocketing property prices in Sydney and Melbourne, many have argued there's plenty more than smashed avocado keeping young people out of the housing market.

The survey, conducted by Galaxy for digital investment adviser Stockspot, showed nine in 10 parents (94 per cent) were concerned about their children's future financial independence.

The majority (74 per cent) of 1005 Australian parents feared their children would not leave home and 62 per cent thought young people's spending habits stopped them getting ahead.

Eighty five per cent of parents were worried their children would not be able to afford their own home, with younger parents (those aged 18-34) were more concerned about the financial future of their children than their older counterparts.

The report suggests this is potentially because they have they are already experiencing being locked out of buying a home and low wage growth, they fear it will only get worse.

"Parents are squeezed in every direction and they're not sure if they'll have the funds to help their adult children," Stockspot chief and founder Chris Brycki said.

"I believe future generations won't be able to rely so strongly on the bank of mum and dad."

Meanwhile, further research released this week has suggested the huge disparity between what first home buyers defined as 'affordable' and the median price in both Sydney and Melbourne.
Read the full article here
Moderate growth but still tough times ahead + What is ahead for the SEQ market + Areas set to boom – why and when
Another great Real Estate Talk show produced by Kevin Turner.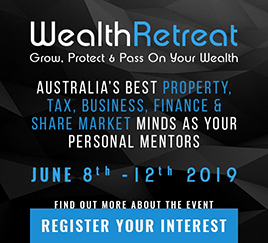 Michael Yardney says when it comes to claims that the property market has topped – property experts could have called it too soon
Martin Grunstein explains why agent commissions are falling
John Lindeman discusses why regional areas are becoming more attractive
Brett Warren looks at the reasons why Brisbane can't match the growth happening in Sydney and Melbourne
Cate Bakos explains what many investors overlook in a buy and hold strategy
If you don't already subscribe to this excellent weekly internet based radio show do so now by clicking here.
Housing finance steady pre-APRA
What is really going on when it comes to our housing finance?
This Blog by Pete Wargent shows the statistics behind the results.
Steadying before curbs

The seasonally adjusted number of home loans ticked down moderately by 0.5 per cent to 54,468 in March 2017.

However the average loan size increased solidly, so combined with a modest 0.8 per cent increase in investment lending to $13 billion total housing finance increased by 0.9 per cent to $32 billion in the month.

Headlines variously and confusingly described the result as stronger, growing, dropping, and on the slide.

But at the national level at least, the trend has been pretty flat.

APRA only announced its latest round of curbs on interest-only lending at the end of the month of March, so the true impacts thereof will only be seen in the coming months.

However, the figures do suggest that lenders were already applying the brakes to investor loans to some extent before the regulatory announcement.
Read the full article here
Sydneysiders Blame Foreigners For Rise In House Prices
When it comes to prices in the Sydney housing market – the number don't lie, they are high and there's now show of a slowdown.
But the real question on the mind of Sydneysiders is – who's fault is it?
According to this article on Your Investment Property Magazine, many Sydneysiders believe foreign investors are to blame for the continuous boom.
More than 64% of respondents cited foreign investors as the main reason for rising house prices in Australia, according to a newly released study published in the Journal of the Australian Geographer.

The study makes it clear that Australians have a deep-seated fear that property prices are being driven skywards by foreign investors.

Australians also assume that large portions of available property are being acquired by foreign investors, mostly the Chinese.

More than half of Sydneysiders believe government regulation of foreign investment is ineffective, and that rich Chinese investors disproportionately influence the market.

Dallas Rogers—senior lecturer within the Faculty of Architecture, Design, and Planning at the University of Sydney—said this is the first time individual opinions of Australians have been recorded about the impact they believe foreign investment is having on their communities.

"The recent federal budget saw the government come down hard on foreign investors, which demonstrates the dilemma that the government is facing as it attempts to manage foreign investment alongside a disenchanted Australian public," Rogers said.

"Historically there has always been cultural tension over land and home ownership in this country that began with the arrival of British settlers in the late 1700s, the Chinese gold rush in the 1850s, and the White Australia policy in the early 1900s."

The 2000s saw "significant societal change" in Australia due to economic, political, and social forces from the Asia-Pacific region, said Rogers.

Home prices surged nearly 20% in Sydney and 15.5% in Melbourne over the last year, according to CoreLogic.
Read the full article here
5 THINGS SUCCESSFUL BUSINESS LEADERS DO EACH DAY
Have you ever wondered what some of the most successful leaders in business do each day?
Perhaps you have more in common with them than you think – or maybe you could learn a trait?
An article on Switzer.com.au gives an insight into 5 of these daily habits – and they're simpler than you think.
What makes successful CEOs tick?

What's the secret to their success?

Well, there's nothing magical or especially mysterious about most of the qualities successful people possess, like intelligence, a strong work ethic and resilience, but some of the most successful CEOs of our time have particular daily habits that push them ahead of the pack.

The Oracle of Omaha's voracious reading habit

Most successful people keep up-to-date on world events and business news.

They might even read a couple of books a month to feed and nurture their knowledge and curiosity.

"Read 500 pages like this every day (Buffett points to a stack of books).

That's how knowledge works. It builds up, like compound interest.

All of you can do it, but I guarantee not many of you will do it," Buffett says.

Jeff Bezos and the power of sleep

We're used to hearing stories about successful people who seem to survive on a measly amount of sleep each night.

However, Amazon founder and CEO Jeff Bezos has managed to build one of the biggest companies in the world without joining the 'you snooze, you lose' club. Instead, Bezos says getting a solid eight hours of sleep each night is vital for his functioning.

"I just feel so much better all day long if I've had eight hours," Bezos once told the Wall Street Journal.

Branson's always on the move

Richard Branson exudes passion and vitality.

Branson is fit, taut and terrific at the age of 66 and he credits much of this to his daily exercise regime, which includes cycling and running.

"I definitely can achieve twice as much by keeping fit," Branson tells FourHourBodyPress.

"It keeps the brain functioning well."

Branson always has a bounce in his step that tells people he is ready to go and passionate about what he's doing.

Of course he would …

It really should come as no surprise the first thing Mark Zuckerberg does when he wakes up is checks his Facebook feed.

Many of us now wake up, roll over, and check in to see what has been happening in our social media world overnight.

It makes sense for Zuckerberg to get his FB fix first thing in the morning, just like millions of others do.

It keys him into the daily routine of his customers and is a surefire sign that he's really living his product.

As he told Jerry Seinfeld on a Facebook Live Q&A, "I like at Facebook to see what's going on in the world.

Then I check my messages, I look at Messenger and WhatsApp."

Call your Mum!

Plenty of entrepreneurs and executives talk about the importance of making time for family.

The CEO of medical imaging firm DICOM Grid, Morris Panner, does just that by calling his Mum for a chat once a day.

Panner says that aside from keeping in touch with his Mum, the phone chat provides him with some grounding in his busy day.
Click here for the full article
Weekend Video: 6 Ways To Appear Smarter Than You Are ft. Lilly Singh

Subscribe & don't miss a single episode of Michael Yardney's podcast
Hear Michael & a select panel of guest experts discuss property investment, success & money related topics. Subscribe now, whether you're on an Apple or Android handset.
Need help listening to Michael Yardney's podcast from your phone or tablet?
We have created easy to follow instructions for you whether you're on iPhone / iPad or an Android device.

Prefer to subscribe via email?
Join Michael Yardney's inner circle of daily subscribers and get into the head of Australia's best property investment advisor and a wide team of leading property researchers and commentators.
---
---