There are more interesting articles, commentaries and analyst reports on the Web every week than anyone could read in a month.
Each Saturday morning I like to share some of the ones I've read during the week.
So pour yourself a mug of strong brew and get ready for some weekend reading ….and please forward to your friends by clicking a social link buttons on the left.
The REIWA tells it like it is
David Airey, president of the REIWA explained that the institute prides itself in 'telling it like it is', contrary to the cynical perception that many members of the public often have towards agents.
The fact is the Western Australian property market is very cyclical (usually counter-cyclical to the east coast), and very closely linked to the fortunes of the mining and resources sector. That has taken a dive, with as many as 25,000 jobs having gone in the last year.

After solid market growth through 2005 – 2007, market correction and the global financial crisis in 2008, followed by full market recovery in 2009, the WA housing market has bumped along for the last five years with modest growth and patchy sub-markets. First home buyers have been very active.

However, we are now facing a year in which our population growth rate is slowing, consumer sentiment is weak, job losses continue, people are moving house less often and a significant number of new dwellings are coming to market or planned for next year.
What's a hipster suburb? | Huge apartment oversupply looming for Melbourne | Supercharge your portfolio's growth | 5 tips that could trim years of your mortgage
Another great Real Estate Talk show produced by Kevin Turner. If you don't already subscribe to this excellent weekly Internet based radio show do so now by clicking here.
According to Bernard Salt, demographer and partner at KPMG, hipsters are market leaders. Keiran Clair sets out to describe the hipster with Bernard's help.
Michael Yardney reveals the outcome of some research he has conducted on the projected unit supply in Melbourne. The figures will astound you.
Frank Valentic, who's a judge in the current series of the Block , talks about fast-tracking a portfolio and gives us some "super charge ideas" to manufacture growth.
In a 2 part series in this weeks show, Andrew Mirams gives us some tips on taking advantage of the low interest rates. 5 tips that could save you thousands and trim years of your mortgage.
In another success story, Paul Simpson tells us about the trial and tribulations of splitting a block in Townsville and making a tidy profit.
Is the RBA preparing us for the next round of price rises
The RBA has changed the way it presents it's house price charts writes regular Property Update Blogger Pete Wargent in his blog.
Yesterday the Reserve Bank's Monetary Policy Decision Statement noted that "further easing of policy may be appropriate in the period ahead."
Today, the RBA released its Chart Packs updated to 2 April 2015 which revealed another insight into the lines of thinking at Martin Place.
Previously the "Housing Prices" chart in the Reserve Bank's Chart Packs have been presented using a linear or arithmetic scale, with prices spaced equidistantly.
On a linear scale, housing prices in Sydney were seen to be galloping towards the top of the chart.
Log scale
In this month's Chart Packs, however, the Reserve Bank has shifted seamlessly to a log scale, whereby equal percentage changes in housing prices are plotted as the same vertical distance on the scale.
On such a logarithmic price scale, therefore, the vertical distance between $750,000 and $850,000 (approximately a 14 per cent increase) is more than 50 per cent shorter than the distance between $450,000 and $550,000 (approximately a 22 per cent increase).
Naturally enough, this has the effect of appearing to dampen the line on the chart which denotes housing prices in Sydney.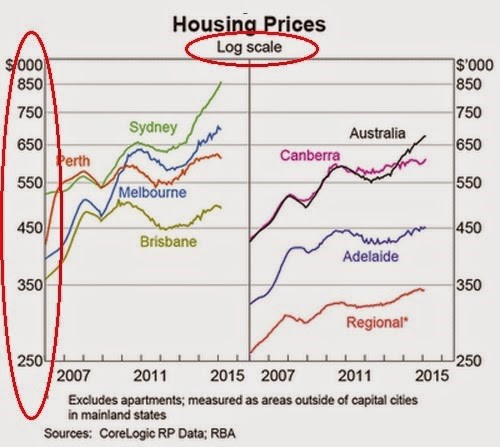 Clearly this is not accidental.
Property investors pinched by diminishing law of rental returns
The Australian reports that investor activity in property ­markets across major cities is ­expected to slow as rental returns are squeezed and capital gains slow.
The Reserve Bank of Australia is widely tipped to cut rates at least one more time in the coming months.

The lower interest rate is pushing more buyers into the market, according to CoreLogic RP Data, keeping Sydney auction clearance levels at record highs above 80 per cent. CoreLogic senior analyst Tim Lawless said the demand for Sydney property by investors was understandable considering the strong price growth.

Investor housing credit grew in February at its slowest rate in 12 months.

Figures prepared by CoreLogic for The Weekend Australian show that, excluding mortgage refin­ancing, investors now account for 59.9 per cent of lending in the Sydney market, where prices have risen 5.8 per cent since the start of the year. Five years ago, investors accounted for 41.7 per cent.

Investors remain less active in other capital cities, accounting for 47.5 per cent of lending activity in Melbourne, 43.6 per cent in Brisbane and 40 per cent in Adelaide
The Sydney Boom-o-meter: does your house earn more than you?
Sydney's booming property market has led to many homes increasing in value by a larger amount than the annual pay packets of those living inside them.
Median household income is around $90,000 and Domain has created an interactive calculator so just click here and enter your suburb name to see how much property prices have grown relative to how much you earn per year, month, week and day.
8 top tips to buy a home at auction
Buying a property at auction can be daunting, so Enzo Raimondo offers follow these top tips to prepare for the big day.
1. There's no such thing as too much research
When it comes to property auctions it's essential to be prepared.
Know the market value inside out for the property type and location you are interested in to avoid overpaying for any one property.
2. Attend lots of Auctions
Going to auctions can be tedious, but it's essential to attend as many as possible to get a feel for the process.
3. Inspect before bidding
[sam id=57 codes='true']
Once the gavel slams down on a successful bid there's no going back, so make sure any inspections are completed before the auction.
In addition, try to view the property several times before bidding and chat to the agent as much as possible to gain any insights.
4. Legalities
Don't try to save hundreds of dollars by risking thousands – Have a conveyancer inspect the contract before bidding and know exactly what is included in the sale.
There isn't a 'cooling off period' when purchasing at auction, so you have to be sure.
5. Money Matters
The money must all be in place before placing a bid as around 10% of the purchase price is immediately payable.
By placing the winning bid you are entering into a binding contract, so make sure all your finances are in place before raising a hand.
6. Register early, then wait
Don't forget your identification documents if you intend to bid or you may miss out on the property (unless in VIC).
Try to arrive a little early so there's no rush to register, and then take a good spot in the room so you can keep an eye on the action.
7. Keep calm and carry on
If there's a chance you might get carried away and bid more than you can afford, or be too nervous to bid at all, consider having someone attend the auction on your behalf.
8. Stick to the budget, but keep it quiet
Make sure you have a strict limit (especially if you're on a tight budget) before attending the auction.
Auctions are designed to draw you in, so be careful. Never reveal your top price as auctioneers are paid a percentage of the sale price, so it's in their interest for the property to sell at the highest price.
Weekend video: ‪ This Human Hamster Wheel is One Crazy Ride!
Ever wonder what it's like to be a hamster? 周本都長 uses his wheel to perform on the streets and at different kinds of events. This was filmed in Taipei, Taiwan over the span of 2 days.
Blogs you may have missed this week:
If you didn't have a chance to read my daily blog, here's a list of some of the blogs you missed this week:
Understanding the property development process
The top 10 innovations we could have by 2050
Plan better so you can invest well in 2015
Understand your role in the property game
You receive notification from the ATO about a tax audit – what now?

Subscribe & don't miss a single episode of michael yardney's podcast
Hear Michael & a select panel of guest experts discuss property investment, success & money related topics. Subscribe now, whether you're on an Apple or Android handset.
Need help listening to michael yardney's podcast from your phone or tablet?
We have created easy to follow instructions for you whether you're on iPhone / iPad or an Android device.

Prefer to subscribe via email?
Join Michael Yardney's inner circle of daily subscribers and get into the head of Australia's best property investment advisor and a wide team of leading property researchers and commentators.
---
---