It seems simple enough in theory.
You respond to a brochure or on-line ad for a new property development which promises excellent growth prospects.
You pay a small deposit bond, sometimes before construction has even started and settlement could be years away.
As time passes, you wait for the price of your investment property to rise and then you sell, walking away with a tidy profit, maybe even before you have actually settled.
This is called flipping, and it's one of the most commonly relied on investment strategies for investors who buy properties off the plan.
Developers also offer incentives to those investors who intend to hold on to their properties after settlement, such as generous rental guarantees that ensure your investment generates positive cash flow, paying for itself while the guarantee is in place.
It seems foolproof, but there are pitfalls in buying off the plan that you need to be aware of.
Incentives only add to the cost of a property, not its value
You may think that you have paid a fair market price, but your purchase price covers far more than the cost of construction.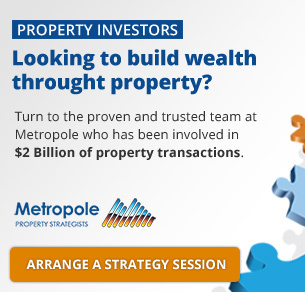 It includes commissions, knock ons, kickbacks and finder fees paid to sellers' agents, project marketers and the like, plus incentives such as the potential cost of a rental guarantee.
All of these add to the cost of an off the plan property, but they are not part of its value.
Remember that the value of your investment is not what the seller's agent has assured you it is worth, but what someone else will be prepared to pay you for it.
The solution is to always compare the purchase price of an off the plan opportunity to the sale price of similar existing properties that have recently been sold in the neighbourhood.
Rental guarantees only add to investor demand, not renter demand
You trust that rental demand will be high when the rental guarantee runs out, but rental guarantees can often disguise the fact that there is a rental surplus in the ar
ea which only becomes apparent when they expire.
Remember that rental guarantees increase investor demand, not rental demand.
In other words, they can lead to an oversupply of investor owned properties which is hidden by the rental guarantee.
If this occurs, investor owners are left with no choice other than to compete for tenants by reducing asking rents.
To avoid this, always assess real rental demand in the area by talking to some local property managers to check that they have a waiting list of prospective tenants for the type of property you are considering to buy in the area, rather than a waiting list of investors with similar properties which are empty.
Never rely purely on past performance as an indication of future performance
Even though it is tempting to do so, never rely purely on past market movements as an indicator of future price growth potential, because suburb prices can move far more dramatically than we might expect and often in ways that we don't anticipate.
According to Australian Property Monitors (API October 2016 Issue), the best performing suburb in Sydney over the last year for units was Kurraba Point, with 53% median price growth, while unit prices just across Sydney Harbour in Barangaroo fell by 26% over the same period of time.
These movements may have come about because the units that were being sold a year ago in those suburbs were different to those being sold now, but there is no way of knowing which way they will move just by looking at past performance.
Properly planned developments can transform whole precincts into attractive living, renting and investing opportunities, but past market movements, attractive incentives or slick seller agent assurances won't help you find them.
Instead, always check that you are paying the right price for an off the plan property and that the potential for future development is less than that for expected rental demand.
Buying a property off the plan is often about hope, but although hope is a great breakfast, it makes a miserable dinner.

Subscribe & don't miss a single episode of Michael Yardney's podcast
Hear Michael & a select panel of guest experts discuss property investment, success & money related topics. Subscribe now, whether you're on an Apple or Android handset.
Need help listening to Michael Yardney's podcast from your phone or tablet?
We have created easy to follow instructions for you whether you're on iPhone / iPad or an Android device.

Prefer to subscribe via email?
Join Michael Yardney's inner circle of daily subscribers and get into the head of Australia's best property investment advisor and a wide team of leading property researchers and commentators.
---
---