For a couple of years now we've been suggesting that low interest rates will keep property investors hammering the Sydney property market, and it's certainly been the case that interest rate cuts have had a marked effect on market activity through recent cycles.
The chart below shows the correlation between the first rate cut of the most recent easing cycles and auction clearance rates.
Through September and October 2008 the official cash rate was cut from 7.25 percent to 6 percent.
And then, on my birthday in November 2011 the cash rate was cut to 4.50 percent, heralding the beginning of the latest cycle.
You can see below the reaction of Australia's major property markets.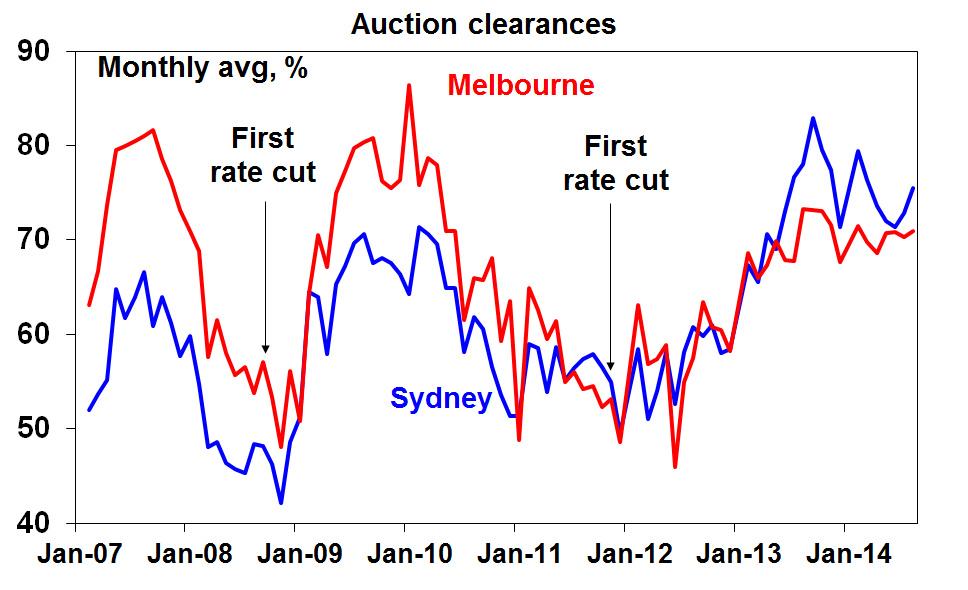 For months commentators have been suggesting that the market is fading, but we have had to agree to disagree.
Au contraire, with the cash rate now at only 2.50 percent, demand from investors in particular is exceptionally strong and rising.
If you have been following the data, you will know that investor finance in New South Wales is going through the roof.
There is also a theory that investors in the Sydney market have been "pulled forward" and therefore the market has been overdue to reverse.
Perhaps yes to some extent, but in reality rising dwelling prices in Sydney have created more equity for redraw, low interest rates have led household savings higher allowing potential investors to employ more leverage…and if the Aussie dollar slides further then more foreign capital may find its way into the Sydney and Melbourne markets too.
Weekend – auctions booming
Anyways, it was an absolutely rip-snorter of a weekend of auctions despite the rain.
Australian Property Monitors recorded a thumping preliminary auction clearance rate of 83.4 percent for Sydney, with the trend over the past five weeks one of a strengthening market as we move towards spring.
RP Data, which typically records a lower result, came in at 75.8 percent.
No slowdown there.
As for where the market is really firing…one of our favourite suburbs of the past five years just keeps on going, recording a perfect 100 percent clearance rate this weekend…
SUBSCRIBE & DON'T MISS A SINGLE EPISODE OF MICHAEL YARDNEY'S PODCAST
Hear Michael & a select panel of guest experts discuss property investment, success & money related topics. Subscribe now, whether you're on an Apple or Android handset.
PREFER TO SUBSCRIBE VIA EMAIL?
Join Michael Yardney's inner circle of daily subscribers and get into the head of Australia's best property investment advisor and a wide team of leading property researchers and commentators.
---
---