---
Some years ago I raised the point that Sydney's housing market would eventually tee off for the simple reason that immigration was soaring yet we were building very little in response.
Although following an uplift in prices building approvals have finally picked up in 2014, as things stand supply will still not keep pace with demand in Sydney over the next decade and as a result rents will likely continue to rise.
Here's why:
Population growth in New South Wales is hugely strong, currently tracking at more than 109,000 per annum.
The Greater Sydney population growth figure for 2014 looks likely to be very, very strong.
Even in the five years preceding this, Greater Sydney's population expanded by 326,568.
That is a lot of new demand for housing.
For the best part of a decade, Sydney got away with not building a great deal, in part because 20,000-30,000 people per annum were departing the state for cheaper and sunnier climes.
But then they stopped leaving.
As Sydney now appears to have the most robust economy in Australia – and thus is creating job opportunities – net interstate migration from New South Wales has fallen to its
lowest level on record
across three full decades of data.
However, major developers have indicated that they are planning to have their apartment stock off their books by Q4 2016, which in turn implies that the cyclical peak in residential construction will likely be upon us sooner than we think.
As for detached dwellings, Sydney has also approved an absolutely pathetic number of houses over the past dozen years.
Although today's ABS Construction Work Done release will probably confirm record Australian housing starts in 2014, that the construction boom will soon pass its cyclical peak was affirmed this week by the latest HIA forecasts.
Although housing starts in New South Wales are forecast to increase by 11.6 percent to an impressive 51,624 in 2014/15, the figures will then fade again to 45,000 in subsequent years.
Summarily in the absence of new strategies, Sydney's housing shortage will remain unaddressed.
Sydney housing shortfall of 190,000 over the next decade
On a similar note, here's the Daily Telegraph:
"SYDNEY is facing a housing crisis with a staggering 190,000 shortfall in homes needed to house the growing population over the next 10 years.
An exclusive report obtained by The Daily Telegraph has revealed Sydney councils have failed to approve new dwellings fast enough to meet demand, and were now partly responsible for the sharp rise in up home prices in Sydney.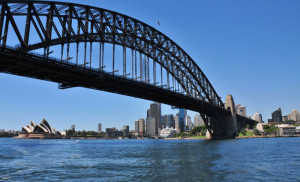 More alarming was the finding that over the next decade, families would struggle to find anywhere to live, with an estimated shortfall of almost 20,000 homes a year being ­approved at current rates.
The research report commissioned by the Property Council of Australia and based partly on data from the Australian Bureau of Statistics, revealed an average of 17,002 homes have been approved by Sydney's 43 councils each year for the last 10 years.
But that in itself represented a shortfall of 51,000 homes since 2004, based on long-term government targets.
The Property Council's Missing the Mark report concedes approval rates have improved in the last three years, assisted by "lower borrowing costs, smarter policy settings and ideal market settings".
But far more homes and higher approval rates are needed to keep pace with projected population growth across the metropolitan region and, on current trend, the city will be 190,000 homes short by 2024, the ­report says.
[sam id=40 codes='true']
"Sydney councils need to turbocharge housing supply because right now homebuyers and our economy are paying the price," NSW Property Council executive director Glenn Byres said.
"Home building is critical to the state's economy — and supports tens of thousands of tradespeople and other workers.
"If we fail to keep pace with demand, we drive up prices and make housing less affordable for the next generation of homebuyers."
The greatest shortfalls have occurred in central Sydney, the city's north east, inner west and central west, the Property Council report said.
NSW Planning Minister Pru Goward agreed more homes needed to be built.
"The Greater Sydney Sydney Commission is being ­established to bring local councils together to plan for ­Sydney's growth," she said.
"The days of 'not in my backyard' have to be behind us.
We all need to work together to plan sensibly so Sydney's newest families can have the roads, parks and daycare centres they need.
Sensible urban renewal is the only way we are going to be able to deliver homes near jobs, reduce commute times, and improve access to green space."
SUBSCRIBE & DON'T MISS A SINGLE EPISODE OF MICHAEL YARDNEY'S PODCAST
Hear Michael & a select panel of guest experts discuss property investment, success & money related topics. Subscribe now, whether you're on an Apple or Android handset.
PREFER TO SUBSCRIBE VIA EMAIL?
Join Michael Yardney's inner circle of daily subscribers and get into the head of Australia's best property investment advisor and a wide team of leading property researchers and commentators.
---
---