Experts in housing economics have demonstrated how a new supply of dwellings tends to have a far less significant impact on dwelling prices in large cities than commentators expect.
At a time when other commentators were predicting a crash in the London markets, Michael Oxley concluded:
"With only 6 percent of all houses in London being newly built, the idea that house prices in London would fall in the event if there being an increase [in the building of new houses], even a massive increase, is highly implausible".
And absolutely right he proved to be, even when others were predicting an inevitable meltdown.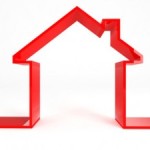 On the other hand, by way of an example, take a look at the south coast of New South Wales where there might only be 10,000 households in a regional town – a new supply of turnkey package housing packages can materially alter the balance of supply against demand, and this can also cap dwelling price growth in the established stock.
A glance at the number of owner occupier loans written by purpose in Australia on a rolling annual basis shows two things.
Firstly, only a relatively small percentage of the housing stock ever transacts in any given year. And secondly, most of the activity relates to the buying and selling of the established housing stock, rather than new dwellings.
What about investors? Well, the chart below is the one which is getting everyone hot under the collar right now, because the level of investor activity is rising strongly just as it did during the last major property boom in around a decade ago.
And, in fact, thanks to tempting low interest rates investor demand rising more strongly than the demand for owner occupied loans at this point in time.
It is clear that in some areas are more investors in the market than is healthy and this will lead to some pretty unbalanced markets on a micro level.
However, despite popular belief on a macro level Sydney is not heading for a massive oversupply of property. Let's take a look at precisely why in three short parts.
Part 1 – Vacancy rates
One handy (although not foolproof) indicator to look at is rental vacancy rates, which shows that vacancy rates are much lower than they have been historically.
This is particularly the case in Sydney where rental vacancies were well above four percent during the last property boom which "ended" in early 2004.
If we take a look at New South Wales vacancy rates on a regional level you will find that the real risk of oversupply is is regional areas, not in metro Sydney itself.
In the inner suburbs (0-10km ring) vacancy rates in Sydney have long been well under 2 percent, and in some inner western suburbs vacancy rates have tracked at around only 1 percent for a decade now. More supply is to be welcomed.
Part 2 – Approvals by capital city
What about approvals in the pipeline? If you look at the chart below for the whole of Australia some key points immediately become clear.
Building approvals are in total are tracking at close to their highest ever level on a rolling 12 monthly basis at just over 195,000.
If all of these properties are eventually built they will add a little over 2 percent to the total established housing stock of 9,300,700 dwellings.
The type of property which is more likely to see oversupply in this cycle is clearly the attached dwelling – units and apartments – with approvals breaking record highs.
Melbourne has approved many thousands of houses over the last half decade, but Sydney most definitely has not.
There is little oversupply risk here for the harbour city in aggregate, although there may well be in some fringe estates where demand for housing can initially be very low.
On a rolling annual basis Sydney has approved only 12,463 houses as you can see above, but many more units at 28,602 as recorded in the chart below.
Will this lead to a massive oversupply? On a city wide basis – no – for two reasons. Firstly, because population growth has exploded higher in New South Wales with the state adding 114,500 persons in the year to March 2014 as I analysed here.
We don't yet know what precisely what proportion of that population growth took place in Greater Sydney, but the answer is probably somewhere close to 90,000 (in FY13 the comparative figures were 80,300 for Greater Sydney and 105,400 for New South Wales, the city metropolitan area accounting for 78 percent of the growth).
And secondly, because in all likelihood apartment approvals in Sydney are already a couple of months past their peak as has been indicated by the plans of major developers, although we will need to see another month of two of data to confirm the downtrend (approvals could certainly have a second wind if prices continue to rise strongly, and the strongest part of the year for apartment approvals is coming right up).
Part 3 – Commencements
Approvals are one thing, but what are we actually building? At the state level in New South Wales we saw 20,225 house and 25,129 unit commencements in the year to March 2014.
Yes there are still a healthy level of approvals in the pipeline, but the vital point to note that here is that even if these commencements are perfectly allocated against demand (and there is zero chance of that) this number of commencements is barely enough new stock to keep pace with population growth, let alone address the issues of stock obsolescence and half a decade of chronic oversupply.
It is possible that the number of persons per dwelling could shift around a bit and the forecast decline to below 2.5 persons per dwelling may not play out, but even if every single one of the ~41,000 approved dwellings over the past year are built, this hardly represents a significant oversupply risk given the unbridled pace of population growth.
Summary
In short, the risk of an imminent city-wide oversupply in Sydney has been widely, and in some cases wildly, overstated.
Of course, as in any construction cycle there will be pockets of oversupply, and in this cycle there will be a glut of apartments in certain suburbs.
[sam id=40 codes='true']
The sectors where a temporary oversupply will likely eventuate include the Central Business District itself where new Chinese-funded tower blocks will appear on the skyline, in certain parts of the inner south and around the airport (there are thousands of new apartments sprouting up in some of these suburbs – far too many), and within a number of the Urban Activation Precincts (UAPs).
We would not recommend buying a new apartment in potentially oversupplied locations, that much is certain. In particular, there is likely to be risk in buying apartments off the plan for a number of reasons.
It is hard to know exactly what you are buying when you go off-plan, there will be dozens of properties almost exactly like yours which applies downwards pressure to that market as and when you want to sell, there is a greater risk of oversupply of units than there is of an oversupply of houses, and new apartments are often painfully expensive when compared to established stock.
Yes, some investors will buy new apartments and then see the values fall as the perceived value of those shiny new units depreciate.
But as for a risk of a huge oversupply of property in Sydney? That appears very doubtful over the near term. Investors would likely be better served to stick to quality established stock in supply-constrained suburbs with good transport access to the city.

Subscribe & don't miss a single episode of michael yardney's podcast
Hear Michael & a select panel of guest experts discuss property investment, success & money related topics. Subscribe now, whether you're on an Apple or Android handset.
Need help listening to michael yardney's podcast from your phone or tablet?
We have created easy to follow instructions for you whether you're on iPhone / iPad or an Android device.

Prefer to subscribe via email?
Join Michael Yardney's inner circle of daily subscribers and get into the head of Australia's best property investment advisor and a wide team of leading property researchers and commentators.
---
---