Our markets remain patchy with Sydney remaining the pace setter.
Its comparable growth in the last 12 months in dollar terms is now the largest in recorded history.
In determining this outcome we have adjusted past dollar growth period amounts by inflation. In the following table we present some interesting statistics.
Table 1 – Boom Periods
*Figures are rounded to the nearest whole percentage point.
There can be little doubt that Sydney residents are currently in the middle of a property 'boom period'.
I am bringing this to the attention of all, as each time we have had excessive growth, there has been a period of price adjustment following the boom.
The position this time round could potentially be more difficult than we have previously seen.
Table 2 – Monthly Statistics
In the Financial Review of the 11 March, 2015, an article headed 'Housing Reform vital to retain NSW boom' started with the following remark:
The New South Wales economy wouldn't be firing ahead of the other states if it was not for growth in the housing market and the flow-on to recovery in the construction market, the Housing Industry Association says.
HIA Chief Economist Harley Dale said the NSW housing construction market was gearing up to the fastest pace recorded in 15 years…"
The fact that we are in a boom, and the comments made above, suggest that we are in the middle of a housing shortage, and the construction industry is about to address the problem. So let's look at some actual hard numbers.
In Graph 1, the change in immigration numbers and natural increases are presented.
Graph 1 – NSW Population Trends
The graphed data clearly points to a few issues:
The Net Change in the population in the last quarter, when compared to the five year median, is low. Net Change presents as if it is now in decline. In fact, one might suggest that as the current 'housing boom' got underway and property became increasingly difficult to afford, the rate of growth in our population slowed. It is interesting to note that the Natural Increases are falling away, suggesting that young people are exiting the state. Interstate migration is negative, but until recently it was improving;
It is possible that the construction industry is reacting a little late to the prior period of population growth; and
The majority of growth was occurring as a consequence of International Immigration.
In July 2014, Minister for Planning Pru Goward, and NSW Treasurer Andrew Constance said:
"Today, levels of new residential construction in NSW have hit a 10 year high according to latest Australian Bureau of Statistics figures.

Figures released today [July 2014] revealed yet another strong housing performance for the State: Residential construction commencements for the last 12 months hit 46,035, the highest level since September 2003, [this is almost double the low of 24,166 recorded in September 2009 under the previous Labor government]; Residential commencements from the March Quarter 2014 have now reached levels not seen since 2002."
More recent numbers (January 2015 ABS Cat 8731) suggest that dwelling commencements had reached 52,000.
Based on the population growth numbers, how many houses do we actually need?
This is a difficult question because it is not possible to identify accurately the number of people who go into actually forming a home.
The answer in my view is probably in the order of about 2.8 people.
[sam id=50 codes='true']
This is because the people who are in essence coming to Australia come from places where it is normal to live in relatively high density situations.
Equally, the current cost of both rental accommodation and purchases are such that it will be incentivising people to live in relatively high density situations.
On this basis, given the number of people who came to New South Wales in the last 12 months, how many houses did we need? Well there were 66,443 new people excluding natural increases.
This suggests that the number of dwellings needed was in the order of 23,729 which is significantly lower than the commencements.
So how many people per new dwelling would absorb the new stock coming onto the market? A low 1.27 people per dwelling.
So even if my estimate of 2.8 people per dwelling is out significantly, it is clear we are potentially producing too many properties.
So if there is potentially a housing surplus, which I suspect there is, then why the boom in property prices?
We have a problem, and that is the 'boom' is being driven by a shortage of existing housing stock being brought to the market and that stock is the property which is desired by many given its location and quality.
That stock is not being brought to the market.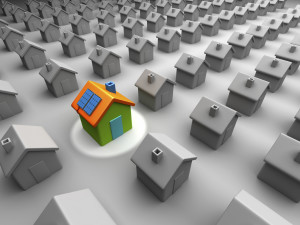 The reason for that is existing home owners are cautious given current economic forecasts.
They also recognise that they have to replace their place of residence and the chance of finding an equally well located property for an acceptable price is difficult.
However, these same people also recognise that they have very significant equity in their home and have a need to generate higher wealth for retirement and hence are leveraging that equity and being active investors in our lower cost rental housing stock.
They are buying the stock that our first home owners potentially can afford, being existing and new units.
The property which is being built (units) is expensive and generally is not as the majority want.
We do have to ask:
Is the population really wanting to live in a unit or would they rather have a front garden and a backyard?
I suspect the latter.
Housing corrections are caused by excessive price growth (which we are witnessing) and a subsequent over supply (which we are in my view moving to).
All state politicians who are betting on housing construction to restore their economies to growth are, in all likelihood, simply trading a short term benefit for a longer term, and very difficult, economic outcome.
I would have loved to be able to finish my commenting on our housing markets in a very positive way, but I suspect that the largest favour I can do for our readers is to issue a note of caution and, as I have demonstrated in the past, tell it as I see it.

Subscribe & don't miss a single episode of Michael Yardney's podcast
Hear Michael & a select panel of guest experts discuss property investment, success & money related topics. Subscribe now, whether you're on an Apple or Android handset.
Need help listening to Michael Yardney's podcast from your phone or tablet?
We have created easy to follow instructions for you whether you're on iPhone / iPad or an Android device.

Prefer to subscribe via email?
Join Michael Yardney's inner circle of daily subscribers and get into the head of Australia's best property investment advisor and a wide team of leading property researchers and commentators.
---
---