The preliminary clearance rate rose this week, up from last week's 67.9 per cent to 73.9 per cent.
The level of activity across the capital city auction market also increased this week, with 1,585 auctions held compared to 1,329 auctions last week.
Despite the week-on-week rise in activity, the number of auctions held this week continues to track lower than the corresponding week last year when 1,903 auctions were held, however, the difference in clearance rate (74.6 per cent) was minimal.
In general, winter is typically a quieter season for auctions prior to the ramp up in Spring, and over the past nine weeks, the volume of auctions held across the combined capitals has been around 20 per cent lower than what was seen over the comparable time frame last year, largely driven by less properties being taken to auction across the Sydney market, despite the ongoing strength in the clearance rate.
The Melbourne market preliminary clearance rate was 75.6 per cent this week up from 71.6 per cent last week.
This week, there were 749 auctions held in Melbourne, up from 572 last week, and representing a similar level when compared to one year ago (787).
The Inner Melbourne sub-region saw the most auction activity this week, with 141 auctions held.
So far, 131 results across the sub-region have been reported to CoreLogic, with a preliminary clearance rate of 77.1 per cent.
In terms of clearance rate, the best performing sub-regions this week were Outer East (83.6 per cent) and Inner South (80.0 per cent).
This week, there were 494 auctions held in Sydney, holding steady on a weekly basis, up slightly from 473 last week, but significantly lower compared to one year ago (825).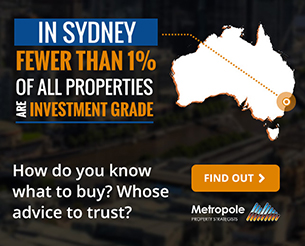 Preliminary results show that 80.4 per cent cleared this week, representing the strongest clearance rate for the city so far this year, and a steep increase from 71.5 per cent last week and also higher than last year's clearance rate of 76.0 per cent.
While CoreLogic's final results, released on Thursday, may see Sydney's success rate revise lower, the overall strength in the Sydney market has been maintained over the past few months, with week-on-week results showing over 70 per cent of auctions across the city as being successful since the last week in April.
This week, the strength in Sydney's result has largely been driven by North Sydney and Hornsby (95.4 per cent), Ryde (94.4 per cent) and the Northern Beaches (92.9 per cent).
In Brisbane 152 auctions were held this week, compared to 144 auctions last year and 139 last week.
Preliminary results show 55.4 per cent of auctions were sold this week, up from 51.7 per cent last week and lower compared to last year, when 57.9 per cent of Brisbane auctions were successful.
There were 74 Gold Coast auctions this week with a preliminary clearance rate of 43.9 per cent.
Adelaide was host to 106 auctions this week, with a preliminary clearance rate of 71.6 per cent, representing a sharp rise in both the number of auctions held (68) and the clearance rate (56.3 per cent) when compared to last week.
Despite an overall fall in auction volumes across the capitals for winter so far this year, Adelaide's auction activity has been reflective of the same conditions seen one year ago.
There were 33 Perth auctions held this week, 22 last week and 23 at the same time last year.
This week's preliminary clearance rate was 42.9 per cent, up from 33.3 per cent last week and higher than one year ago (40.0 per cent).
The preliminary results show 75.0 per cent of the auctions reported for Canberra this week sold, compared to 68.9 per cent last week and 72.2 per cent last year.
There were 44 auctions held across the city this week, down from 52 last week and similar to the 41 held at the same time last year.
5 Tasmanian auctions have been reported so far, however no successful sales are yet to be reported.

Subscribe & don't miss a single episode of Michael Yardney's podcast
Hear Michael & a select panel of guest experts discuss property investment, success & money related topics. Subscribe now, whether you're on an Apple or Android handset.
Need help listening to Michael Yardney's podcast from your phone or tablet?
We have created easy to follow instructions for you whether you're on iPhone / iPad or an Android device.

Prefer to subscribe via email?
Join Michael Yardney's inner circle of daily subscribers and get into the head of Australia's best property investment advisor and a wide team of leading property researchers and commentators.
---
---