An interesting release from the Australian Bureau of Statistic showed that after revisions, the Australian population growth eased a little to +1.7% in 2013, or 396,200 persons.
Of course, this is still a huge annual population increase.
But, it's nevertheless a little less than had been implied by previous releases, adding to the case that net overseas migration has passed its peak for this cycle:
By state
As always, the devil is in the detail. Some things were broadly as expected. For example, South Australia's population growth was very weak at just +0.9%, hindered by a slow economy, negative jobs growth and interstate migration.
And the Tasmanian population was verging on static in 2013 at just +1500 (+0.3%).
The most notable point was that while population growth rates eased back across many areas, New South Wales (+110,300) now has the largest absolute population growth of any state or territory in Australia, with the overwhelming majority of that growth taking place in Greater Sydney:
Driven by immigration
Interestingly, natural increase only accounted for 40% of the Australian population growth in 2013, with the remaining 60% being derived from net overseas migration:
–Natural increase contributed 160,400 people, that consisted of 308,100 births and 147,700 deaths; but
–Net overseas migration contributed a stunning 235,800 to the population over the same period, being the majority (60%) of the population growth.
Follow immigration
To me as a property investor, that says: follow the immigration patterns.
Of the whopping +110,300 of growth in New South Wales a massive 71,400 was due to net overseas migration.
The population of New South Wales saw its fastest population growth in four years – since June 2009, in fact – and its highest growth rate since September 2009, when Australia last experienced record growth from net overseas migration.
Movements interstate
[sam id=37 codes='true']In terms of net interstate migration, Victoria (+7,500), Queensland (+6,900) and Western Australia (+4,800) all benefited at the expense of New South Wales (-11,900), but South Australia continues to lose headcount interstate (-3,000), as indeed did the other small states and territories.
Note with care the trends that are clearly unfolding here.
The inner suburbs of the largest metropolitan centres – Sydney and Melbourne in particular – are becoming "self-sustaining job magnets", and as warned by Luci Ellis of the Reserve Bank of Australia recently, with the exception of only two regional centres (Geelong and Newcastle, with the possible addition of "the B cities" Bendigo and Ballarat), the regions are struggling to attract an equivalent level of jobs growth or corporate headquarters.
In terms of percentage population growth, Western Australia still leads the way +2.9%, but this rate of growth is well down on its recent peak of 3.7% as the mining construction boom unwinds.
Summary
In summary, it was another year of very strong population growth in Australia in 2013 of 396,200, but it was heavily focused on a few capital cities and the trend is for a heavily increasing focus on the inner suburbs of the capital cities rather than less.
Sydney, in particular, has a huge strain on its infrastructure and a shortage of housing stock (some 50,000 dwellings, as estimated by BIS Shrapnel), and another 110,000 people per annum in New South Wales is doing little to alter the imbalance.
Many of the smaller states and regional centres, however, are struggling, and the population growth and employment data could not be any clearer on this point:
"I also can't help noticing how difficult it seems to grow the smaller cities in this country relative to the bigger cities. With the possible exceptions of Newcastle, Geelong and maybe Bendigo and Ballarat, few centres outside the state capitals have many corporate headquarters or other job magnets.
These self-sustaining job magnets seem to be necessary to create the variety of job opportunities that would attract large numbers of former city dwellers.
Over recent years at least, these smaller centres had rates of employment growth and changes in employment-to-population ratios that were similar to or a little below those in the big cities, and a bit below those of inner-city areas.
At this rate, it will be hard for the smaller centres to start catching up with the bigger cities, relatively speaking. That means that if big-city housing prices should rise too high for some residents, smaller cities cannot provide alternative locations that are any more viable than they are today."
Ah, I don't have time today to dissect Luci's speech in full – read it with all its implications here.
In short house prices in inner suburbs are comfortably outpacing those in the outer in all major capital cities, and particularly the largest of them: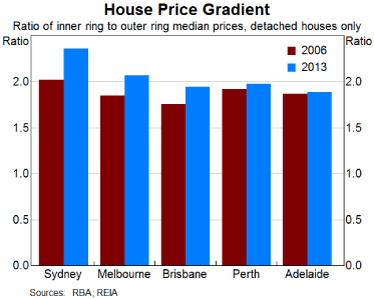 And population density is also focused massively on the inner- and middle ring suburbs of only four capital cities (the three below, plus Brisbane). Very conclusive.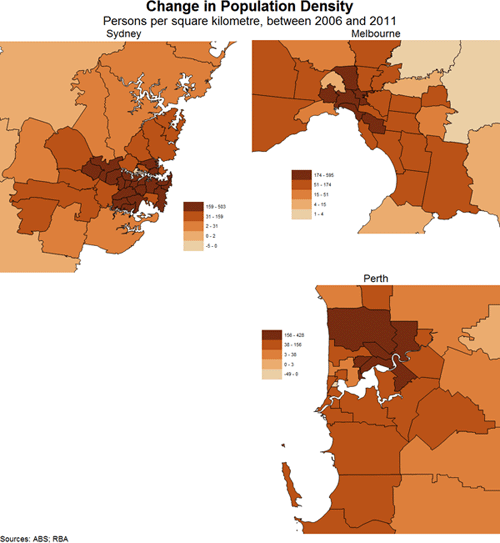 Subscribe & don't miss a single episode of Michael Yardney's podcast
Hear Michael & a select panel of guest experts discuss property investment, success & money related topics. Subscribe now, whether you're on an Apple or Android handset.
Need help listening to Michael Yardney's podcast from your phone or tablet?
We have created easy to follow instructions for you whether you're on iPhone / iPad or an Android device.

Prefer to subscribe via email?
Join Michael Yardney's inner circle of daily subscribers and get into the head of Australia's best property investment advisor and a wide team of leading property researchers and commentators.
---
---