---
As the mining boom continues to slow and the housing construction boom looks to have peaked, tourism looks set to be the next sector to pick-up the slack with short-term arrivals to Australia now at record highs.
The Australian tourism sector is reaping the benefits of the lower dollar with annual short-term arrivals to Australia rising by 8.6% over the past year.
The 8.6% rise in short-term arrivals is the largest annual increase since November 2014 and has resulted in 7,685,300 short-term arrivals over the past year.
Annual short-term arrivals have doubled since March 1996.
Furthermore, annual short-term arrivals have increased by 1 million since June 2014.
Between June 2014 and April 2016 the Australian dollar has shifted from buying 94.2 US cents to 76.6 US cents which highlights how the lower exchange rate is assisting the tourism sector.
Annual short-term arrivals (less than 12 months) to Australia
The economic narrative around the mining boom was consistently that China was so important to the Australian economy because they were purchasing our resources.
If we take a look at short-term arrivals to Australia, China is currently equally important.
In fact, annual Chinese short-term arrivals to Australia have increased by 23.7% over the past year and have doubled since March 2012.
Looking at the top 6 countries for short-term arrivals to Australia shows that arrivals from New Zealand are starting to trend lower while UK arrivals are fairly flat.
Growth is largely coming from China while short-term arrivals from Singapore, Japan and America are recording moderate increases.
In terms of the countries to record the greatest growth in arrivals to Australia over the year they were: China (23.7%), Philippines (20.7%), Poland (19.0%), Vietnam (17.4%) and Taiwan (17.1%).
Top 6 countries for annual short-term arrivals to Australia
Over the past 12 months, 49.1% of short-term arrivals to Australia were for holidays.
This represents the highest proportion of short-term arrivals being for holidays since June 2008 and indicates a rising prevalence of holiday-makers coming to Australia.
Chart 3 shows that holidays are the major reason for a short-term trip to Australia.
Over recent years there has been a large surge in holiday arrivals to the country, culminating in 3,793,000 holiday arrivals over the past year.
This represents an annual increase in holiday arrivals of 17.4% which is the largest annual growth in holiday arrivals since March 2005.
Major reasons for short-term arrivals to Australia
The final chart shows the length of stays in Australia by those arriving for a short-term.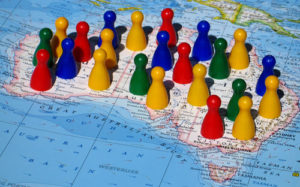 Most short-term arrivals to Australia are for less than a week while travellers are more likely to stay in Australia for more than a month than they are to stay for between 2 weeks and a month.
Over the past year, the number of short-term arrivals for less than a week has increased by 10.3% compared to an 11.9% increase in arrivals for 1 to 2 weeks, a 7.7% increase in arrivals for 2 weeks to a month and a 5.6% increase in arrivals for longer than a month.
Although it is encouraging to see that so many people are prepared to come to Australia for just a short length of time, the growth in stays for between 1 and 2 weeks is encouraging.
If travellers stay longer in Australia, ultimately they are also more likely to end up spending more in Australia which provides a boost to the local economy.
Short-term arrivals to Australia,
length of stay
The rise in short-term arrivals to Australia is a very encouraging development.
The longer-term benefits can't be overlooked, potentially encouraging some of these travellers to return for longer holidays in the future or even to immigrate to the country in the future.
The benefits of word-of-mouth from positive travel experiences to Australia of course can't be overlooked either.
China is the key source of the growth in short-term arrivals and is clearly a very important market.
Understanding these travellers' wants and needs is imperative to ensure growth in the sector can continue as the Chinese middle-class continues to expand and travel.
Recent data from Tourism Research Australia showed that on average, Chinese tourists spent an average of $8,734 during their stay which was much higher than the second highest average expenditure of $7,163 by Italian visitors.
SUBSCRIBE & DON'T MISS A SINGLE EPISODE OF MICHAEL YARDNEY'S PODCAST
Hear Michael & a select panel of guest experts discuss property investment, success & money related topics. Subscribe now, whether you're on an Apple or Android handset.
PREFER TO SUBSCRIBE VIA EMAIL?
Join Michael Yardney's inner circle of daily subscribers and get into the head of Australia's best property investment advisor and a wide team of leading property researchers and commentators.
---
---