There are more property investment articles, commentaries and analyst reports on the Web every week than anyone could read in a month. Each Saturday morning I like to share some of the interesting ones I've read during the week.
Enjoy your weekend…and please forward to your friends by clicking a social link buttons on the left.
Housing market helping to make people wealthier again: RBA
An article in Property Observer explains how the revival of the housing market is once again helping Australians become wealthier, according to the RBA's latest Financial Stability Review
"Households' net wealth has been rising recently due to the recovery in housing and other asset markets as well as continued higher saving and borrowing restraint,"
The paper also notes the continued preference for households to reduce their debt and make extra mortgage repayments to create a buffer and a reduction in overall financial stress.
"Many households still prefer to repay existing debt rather than take on new debt, which has contributed to the slower pace of household credit growth and an increase in mortgage prepayment buffers.

"Debt-servicing capacity has also been boosted by lower interest rates.

"Despite the unemployment rate having drifted up a bit over the past year, housing loan arrears and other aggregate measures of financial stress in the household sector remain low.

"Household indebtedness and gearing are nonetheless still at historically high levels, and hence continuation of the household sector's more prudent approach to borrowing would assist in strengthening the sector's financial resilience,"
——————————
Exposing property scams!
Another great Real Estate Talk show produced by Kevin Turner. If you don't already subscribe to this excellent weekly Internet based radio show.
Details of this week's show:
Margaret Lomas from Destiny Financial Solutions is on a mission to expose property scams
Rolf Schaefer from Metropole Finance has some excellent suggestions about developing a finance strategy
Cherie Barber explains how to get started in property development
Jane Slack-Smith tells us where many investors go wrong financing their properties
Terry Ryder answers listeners questions
You should definitely subscribe to this weekly audio program. Click Here It's free and you can listen on the go on your smartphone, iPad etc.
——————————
Now may be the best time to get into property
Housing is at its most affordable level since the depths of the 2009 global financial crisis says Simon Johanson, property editor of The Age.
The latest HIA-CBA Housing Affordability Index, which tracks the relationship between household income, mortgage costs and home prices, shows conditions have improved dramatically for would-be buyers trying to enter the property market.
A combination of rising wages, interest rate cuts and minimal house price growth have seen measures of affordability rise for the past eight quarters – ever since house prices peaked in mid-2010 and started to decline.
——————————
If something looks too good to be true…challenge it
Regular Property Update blogger Pete Wargent wrote another excellent blog in his Escape the Rat Race Blog on the risk of owing Australian investment property
He warns:
I also know only too well that if you manipulate statistics (especially from small sample sizes) hard enough and often enough, you can prove just about anything by "torturing the figures until they confess". Nowhere are statistics manipulated harder or tortured more often than in residential real estate.

Always challenge what you are told, and remember this key rule of investment…

If something looks too good to be true, it probably is"
Pete then goes on and explodes a number of real estate myths. Read the full blog here.
——————————
Brisbane residential market tipped for recovery: John McGrath
Brisbane is on track for a property market recovery in 2013 driven by strong employment and population growth coupled with a supply shortage and rising rents, according to John McGrath's autumn property report.
You can read John's thoughts in this article in Property Observer
——————————
Good news and the bad news for Australia's labor force.
There's been a lot of talk about our employment figures, but unemployment ahsn't shot up like some pessimists expected.
RPData's Tim Lawless shares some good news – 71,500 jobs were created over the month of February and some bad news: 75% of them were part time roles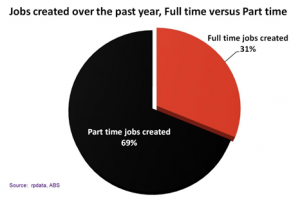 Overall, despite some of the labour market softness the recent jobs data should be seen as a positive for our economy and the property markets.
Read more and find out all the stats here.
——————————
Blogs you may have missed this week:
If you didn't have a chance to read my daily blog, here's a list of the blogs you missed this week:
The latest stats are the final nail in the property doomsayers' coffin

The roles of fear and greed in our property investment markets

We don't have a property bubble: US expert. Property News Video


Subscribe & don't miss a single episode of Michael Yardney's podcast
Hear Michael & a select panel of guest experts discuss property investment, success & money related topics. Subscribe now, whether you're on an Apple or Android handset.
Need help listening to Michael Yardney's podcast from your phone or tablet?
We have created easy to follow instructions for you whether you're on iPhone / iPad or an Android device.

Prefer to subscribe via email?
Join Michael Yardney's inner circle of daily subscribers and get into the head of Australia's best property investment advisor and a wide team of leading property researchers and commentators.
---
---