There are more property investment articles, commentaries and analyst reports on the Web every week than anyone could read in a month. Each Saturday morning I like to share some of the interesting ones I've read during the week.
Enjoy your weekend…and please forward to your friends by clicking a social link buttons on the left.
Property price gains over the March quarter the highest since May 2010
This week RPData released their house price index for the end of March 2013 which showed that dwelling values across the capital cities of Australia recorded a 2.8% rise over the March quarter, taking the cumulative capital gain to 4.7% since the market bottomed out in May last year as shown in the table below.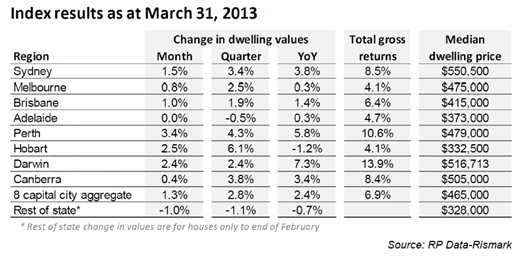 Rismark International CEO Ben Skilbeck commented:
"The March 2013 result is one of the strongest we've seen over the 3 years since March 2010. Not only were there no value falls recorded across the capital cities, but, over the past 3 years, the all dwellings result of +1.32 per cent for the month was second only to the +1.40 per cent increase observed in September 2012. Further, it was the strongest quarterly growth seen since the 3 month period ending May 2010."
RP Data research director Tim Lawless said:
"Since the capital city housing market bottomed out at the end of May last year we have seen dwelling values rise by 4.7 per cent after falling by 7.4 per cent from their market peak back in late 2010. The most significant recoveries have been recorded across Darwin where values have risen 13.9 per cent since bottoming out in January last year, and Perth where values are up 9.4 per cent since the market trough in November 2011."
Read the rest of their report here.
———————————–
9 experts reveal what's really happening around our property markets!
Another great Real Estate Talk show produced by Kevin Turner. If you don't already subscribe to this excellent weekly Internet based radio show.
We have a huge line up of guests this week!
Michael Yardney in Victoria
George Raptis in New South Wales
Damian Collins in W.A.
Michael Kumm in the ACT
Rob Zubin in Tasmania
Chris Waterman in South Australia
Tod Peterson in the Northern Territory
Zoran Solano in Queensland
and Olly Newland in New Zealand.
You should definitely subscribe to this weekly audio program. Click Here It's free and you can listen on the go on your smartphone, iPad etc.
———————————–
Taxpayers face ATO "data-matching" crackdown over residential and commercial property sales
Around 10.4 million taxpayers will face scrutiny over their property dealings according to an article in Property Observer. They say:
The ATO's high tech computer systems will be gathering real property transaction details from state revenue offices and relevant state government land and property departments.

The ATO will be keen to get maximum value out of the data-matching technology, which cost $800 million to implement over a seven year period.

"No one should underestimate the sheer volume of data the ATO now collects and with the ever-increasing sophistication of techniques to analyse and 'slice-and-dice' that data, the tax affairs of Australians will come under closer scrutiny," wrote tax writer Terry Hayes in January.

Last year the technology was used to match more than 649 million transactions, the Australian Financial Review reported.
———————————–
China forecast to overtake US by 2016
China is on track for a fourth consecutive decade of rapid growth and will overtake the US as the world's biggest economy in 2016 according to a new report by the Organisation for Economic Cooperation and Development reported in the Financial Times.
Of course this is great for Australia's economy and in turn our general wealth and therefore our property markets as we continue to ride the Asian wave.
I'm sure you've heard the doomsayers who say our free ride is over, but it is forecast that China would average 8 per cent growth during the current decade, provided Beijing can implement a series of economic, financial and regulatory reforms, many of which are already in train.
The OECD noted that growth would gradually ebb as China catches up to more advanced economies, but its forecast is well ahead of Beijing's official target of 7 per cent average growth in the five years to the end of 2015.
The Chinese economy is set to become as large as that of the US by around 2016 when assessed in purchasing power parity terms, which factor in price differences between countries, it added.
The OECD highlighted multiple risks to its outlook: a weak global economy, rising inflation, a rickety financial system, inequality and an ageing population.
But it noted that China already had made strides in cutting its reliance on external demand and that domestic rebalancing was also under way, with consumption a bigger driver of growth than investment since 2011.
Among a broad range of recommended reforms, the OECD drew particular attention to China's urbanisation push, saying the government needed to focus on building larger, more productive cities.
Although Chinese cities have expanded quickly, the country's urbanisation rate of 52.6 per cent is still below that of countries at similar levels of development. Transportation problems have also become severe. Average daily commuting times in Beijing – which boasts one of the country's larger subway networks – are 79 minutes, roughly double the OECD average.
Read the rest of the article here in the Financial Times

———————————–
Cyprus crisis: What it means for us
Little mentioned EU member Cyprus stole the headlines a few weeks ago after it was revealed the country is bordering on bust and begging for a bailout.
It seems that this country's problems have been sorted out for now, but David Koch reminds us how our economy is not immune to overseas events in this article on Yahoo. He says:
As we've seen over the course of the last four years, the global participation of the local economy means Australia is not immune to calamities offshore.
The impact on Australia of depositors and lenders pulling money out of Europe is the same as we contemplated for a possible Greek exit last year – increasing interest rates, slowing trade, increased migration and a volatile dollar.
The slowdown in trade will mainly hit us through China, whose economy still has a massive reliance on European markets for its products, and increased skilled migration will come as jobs dry up in Europe.
Read more here
———————————–
Be Happier: 10 Things to Stop Doing Right Now
Happiness–in your business life and your personal life–is often a matter of subtraction, not addition according to an article on Inc.com
If you want to be happier Jeff Haden suggests you stop doing the following 10 things:
1. Blaming.
Taking responsibility when things go wrong instead of blaming others isn't masochistic, it's empowering–because then you focus on doing things better or smarter next time.
2. Impressing.
No one likes you for your clothes, your car, your possessions, your title, or your accomplishments. Those are all "things." People may like your things–but that doesn't mean they like you.
3. Clinging.
When you're afraid or insecure, you hold on tightly to what you know, even if what you know isn't particularly good for you. An absence of fear or insecurity isn't happiness: It's just an absence of fear or insecurity.
4. Interrupting.
Interrupting isn't just rude. When you interrupt someone, what you're really saying is, "I'm not listening to you so I can understand what you're saying; I'm listening to you so I can decide what I want to say."
5. Whining.
Your words have power, especially over you. Whining about your problems makes you feel worse, not better.
6. Controlling.
Control is short term at best, because it often requires force, or fear, or authority, or some form of pressure–none of those let you feel good about yourself.
7. Criticizing.
Everyone is different: not better, not worse, just different. Appreciate the differences instead of the shortcomings and you'll see people–and yourself–in a better light.
8. Preaching.
Criticizing has a brother. His name is Preaching. They share the same father: Judging.
9. Dwelling.
The past is valuable. Learn from your mistakes. Learn from the mistakes of others. Then let it go.
10. Fearing.
We're all afraid: of what might or might not happen, of what we can't change, or what we won't be able to do, or how other people might perceive us.
So it's easier to hesitate, to wait for the right moment, to decide we need to think a little longer or do some more research or explore a few more alternatives.
Meanwhile days, weeks, months, and even years pass us by. And so do our dreams. Don't let your fears hold you back. Put your fears aside and get started. Do something. Do anything.
Otherwise, today is gone. Once tomorrow comes, today is lost forever.
Today is the most precious asset you own–and is the one thing you should truly fear wasting.
Read the full article here.
———————————–
Blogs you may have missed this week:
If you didn't have a chance to read my daily blog, here's a list of the blogs you missed this week:
Australian housing is expensive, but is it really unaffaordable?
Home values jump +2.8% in March quarter
Australia's strong population growth is good for property
The monopoly approach to property investment
Our property markets are reaping what we have sown

SUBSCRIBE & DON'T MISS A SINGLE EPISODE OF MICHAEL YARDNEY'S PODCAST
Hear Michael & a select panel of guest experts discuss property investment, success & money related topics. Subscribe now, whether you're on an Apple or Android handset.
NEED HELP LISTENING TO MICHAEL YARDNEY'S PODCAST FROM YOUR PHONE OR TABLET?
We have created easy to follow instructions for you whether you're on iPhone / iPad or an Android device.

PREFER TO SUBSCRIBE VIA EMAIL?
Join Michael Yardney's inner circle of daily subscribers and get into the head of Australia's best property investment advisor and a wide team of leading property researchers and commentators.
---
---