There are more property investment articles, commentaries and analyst reports on the Web every week than anyone could read in a month. Each Saturday morning I like to share some of the interesting ones I've read during the week.
Enjoy your weekend…and please forward to your friends by clicking a social link buttons on the left.
Interest Rates will be on hold for some time – Pete Wargent
Regular Property Update Blogger Pete Wargent writes in his blog that the Reserve Bank released its Board Minutes for April this week and rates are going to stay on hold for a while.
He also summarizes some of their comments:
Firstly, all fairly sanguine on housing markets:

"Housing market conditions remained strong, with housing prices rising in March to be 10½ per cent higher over the year on a nationwide basis. Members noted that dwelling investment had increased moderately in the December quarter, with a pick-up in renovation activity, and that the high level of dwelling approvals in recent months foreshadowed a strong expansion in dwelling investment."

On strengthening retail:

"Members observed that more recent economic indicators had generally been positive. Retail sales had increased by 1.2 per cent in January, continuing the pick-up in momentum that began in mid 2013."

On wages and inflation:

"Information on wages pointed to moderate growth, which was expected to help contain domestic inflationary pressures."

This is good as it relieves pressure to hike rates sooner than the bank might want.

And on the wider economy and booming exports:

"Members recalled that the national accounts reported that GDP rose by 0.8 per cent in the December quarter and by 2.8 per cent over the year, which was a little stronger than had been expected. In the quarter, there had been further strong growth of resource exports, while growth in consumption and dwelling investment picked up a little and business investment declined."

And it is steady as she goes for interest rates:

"At recent meetings, the Board had judged that it was prudent to leave the cash rate unchanged and members noted that the cash rate could remain at its current level for some time if the economy was to evolve broadly as expected. Developments over the past month had not changed that assessment."
Doing property renovations for a living | 4 Steps to financial freedom | Finding areas with good capital growth prospects
Another great Real Estate Talk show produced by Kevin Turner. If you don't already subscribe to this excellent weekly Internet based radio show.
In this week's show:
Cherie Barber tells us it is possible to earn a healthy living from doing full time renovations in any market but there are some strict guidelines
Rob Balanda has some great advice on how to avoid being gazumped when buying property
Details of Terry Ryder's new infrastructure report
Ken Raiss from Chan & Naylor joins us to answer some of your questions
You should definitely subscribe to this weekly audio program. Click Here It's free and you can listen on the go on your smartphone, iPad etc.
Rents rise in Sydney and Melbourne
Domain report that rents around Australia are either static or have slid backwards in every capital city except Sydney and Melbourne, a new report has found.
The APM Rental Report for the March quarter says that Melbourne house rents went up 1.3 per cent with apartments up 4.3 per cent.

And Sydney's apartment rents went up 1 per cent over the quarter.

The rest of the country had no rental growth or falling rents.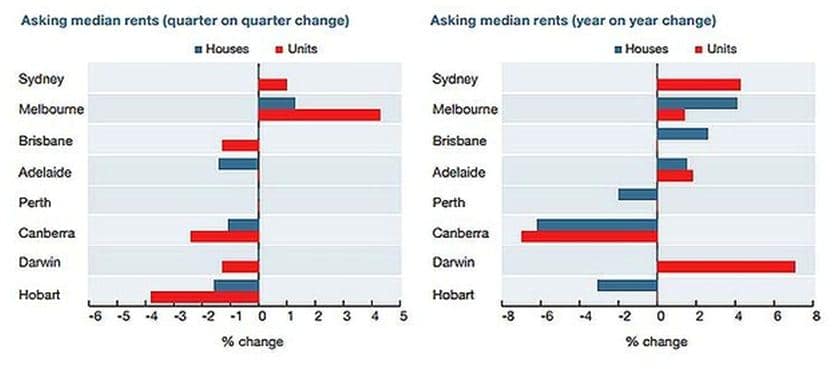 What does $1million buy you in Sydney?
The Sydney Morning Herald explains that $1million dollars does not buy you much in Sydney anymore.
Based on land value, it would get you an eighth of a house in Point Piper, a double garage in Vaucluse, the lower floor of a grand Paddington terrace and a super small semi in Mosman.

A city that once embraced the quarter-acre dream is fast becoming the home of the million-dollar shoebox.

An analysis of 2013 sales data reveals just how many square metres you get for $1 million in Sydney's million-dollar suburbs.

It shows that for many buyers, ''bang for your buck'' is no longer defined by land size.

Research by Australian Property Monitors and Domain indicates that buyers are paying a premium for proximity, even if it means they end up in tiny houses.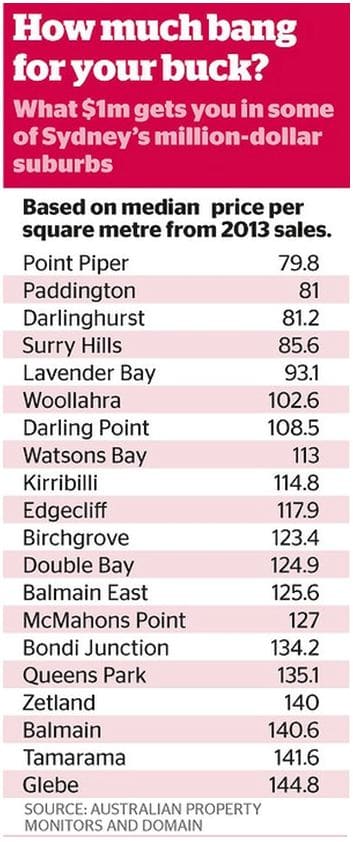 10 Jobs That Make People Most Happy
Clearly there's more to life than money and properties – So which jobs offer the most satisfaction. PsyBlog tells us:
New research has revealed that being a member of the clergy is associated with the highest levels of life satisfaction. Here are the top 10 occupations:
1. Clergy
2. Chief executives and senior officials
3. Managers and proprietors in agriculture and horticulture
4. Company secretaries
5. Quality assurance and regulatory professionals
6. Health care practice managers
7. Medical practitioners
8. Farmers
9. Hotel and accommodation managers and proprietors
10. Skilled metal, electrical and electronic trades supervisors
In descending order of life satisfaction, here are the 10 occupations in which people are least satisfied.
1. Plastics process operatives
2. Bar staff
3. Care escorts
4. Sports and leisure assistants
5. Telephone salespersons
6. Floorers and wall tilers
7. Industrial cleaning process occupations
8. Debt, rent and other cash collectors
9. Elementary construction occupations
10. Publicans and managers of licensed premises
Game of Thrones Goat Style
Like millions of other people around the world I've recently become addicted to Game of Thrones. If like me you enjoy it, then you're in for a treat. Here's the opening theme, with a bunch of goats and sheep singing along.
Blogs you may have missed this week:
If you didn't have a chance to read my daily blog, here's a list of some of the blogs you missed this week:
This Week's Summary Of Property News- Michael Matusik
Did you know 1.56 million Australians keep their credit cards a secret?
Where next for interest rates? – Pete Wargent
Auction volumes high across the capital cities- Tim Lawless
February's housing finance data- Cameron Kusher
How To Get The Family Having Fun When Selling Your Property- Jhai Mitchell

SUBSCRIBE & DON'T MISS A SINGLE EPISODE OF MICHAEL YARDNEY'S PODCAST
Hear Michael & a select panel of guest experts discuss property investment, success & money related topics. Subscribe now, whether you're on an Apple or Android handset.
NEED HELP LISTENING TO MICHAEL YARDNEY'S PODCAST FROM YOUR PHONE OR TABLET?
We have created easy to follow instructions for you whether you're on iPhone / iPad or an Android device.

PREFER TO SUBSCRIBE VIA EMAIL?
Join Michael Yardney's inner circle of daily subscribers and get into the head of Australia's best property investment advisor and a wide team of leading property researchers and commentators.
---
---