There are more property investment articles, commentaries and analyst reports on the Web every week than anyone could read in a month. Each Saturday morning I like to share some of the interesting ones I've read during the week.
Enjoy your weekend…and please forward to your friends by clicking a social link buttons on the left.
Brisbane property hotspots see homes bought within a day of listing
News.com.au report the changing conditions in the Brisbane property market where market sentiment has turned the corner and it's spun from a buyer's market to a seller's market where:
Homes in real estate hot pockets are being snapped up in barely a day as the property market hits its best stride in at least five years.

New figures have revealed a buying frenzy in Stafford Heights, the north Brisbane suburb topping the list for where more buyers are looking per sales listing than any other area in the state.

Top 10 seller's markets:

1. Stafford Heights
2. Holland Park
3. Spring Hill
4. Wilston
5. Newmarket
6. Red Hill
7. Camp Hill
8. Grange
9. Mount Gravatt
10. Graceville
Warren Buffet's Secrets to Wealth Creation | Getting ahead of the crowd for capital growth | Is John McGrath wrong?
Another great Real Estate Talk show produced by Kevin Turner. If you don't already subscribe to this excellent weekly Internet based radio show.
Details of this week's show:
Terry Ryder tells us about his price indicator index
I shares 7 key points I'm sure you'll find interesting
Rob Balanda answers some of your questions this week
Property management expert Corina Bailey shares her secrets to success
You should definitely subscribe to this weekly audio program. Click Here It's free and you can listen on the go on your smartphone, iPad etc.
We're getting even richer – Pete Wargent
Regular Property Update expert Pete Wargent explains in his blog that Australian household wealth has reached a new record high as share markets (and therefore super balances) as well as dwelling prices continued to rise in 2013.
However as in all capitalist societies, however, the wealth continues to be distributed unevenly.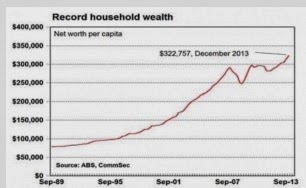 Investors Continue To Drive Australia's
Property

Market

Your Investment Property Magazine report that nearly 40% of all mortgages processed in March were for investors – which proves just how much investors are currently driving the market.
"Not surprisingly, the investment activity differed across the country:

Victoria and Queensland: 37% of all new home loans went to investors.
South Australia and Western Australia: 32% of all new home loans went to investors.
NSW: 49% of all new home loans went to investors

Just 10.7% of new home loans went to FHBs in March but, historically, around 20% of loans went to FHBs.

It is getting more difficult for FHBs, and people who are not already established in the market, to enter the market. The longer this continued, and the lower the levels of FHBs got, the more the rest of the market will slow down, he said.

Although this situation leaves investors, especially established investors, in a very strong buying position."
10 Things You Can Do Every Day To Benefit Your Brain
Lifehack says your mind is your most valuable asset. You need to take care of it. So here's a list of 10 things you can do every day to benefit your brain:
1. Take a nap.
Refreshing your body can also help you improve brain function, increase memory, and improve your mood.
2. Do something creative just before going to bed.
When you're tired, your brain can be more creative.
3. Focus on one task at a time.
Did you know that it's literally impossible for your brain to multitask? By focusing on one task at a time, you can keep your brain working at maximum capability and accomplish more than you imagined.
4. Do cardio. And exercise.
Find 15-30 minutes a day and get moving!
5. Write. Like on a real piece of paper.
Research suggests handwriting makes you smarter.
6. Take a multi-vitamin daily.
A daily multi-vitamin will ensure that you get your body what it needs.
7. Learn a new language.
It forces your brain to adapt.
8. Play Words With Friends.
Research has found that Scrabble or other word games help increase your IQ and improve your brain power.
9. Meditate.
Meditation is one of the best, oldest forms of relaxation. But it also helps your body and mind!
10. Be optimistic.
Being optimistic not only helps you enjoy life, it also does wonders for your brain. When you think positively, research suggests that your brain can be a huge beneficiary. So start taking life with the glass half full approach and help your attitude and your brain.
Blogs you may have missed this week:
If you didn't have a chance to read my daily blog, here's a list of some of the blogs you missed this week:
– Dr. Andrew Wilson" href="https://propertyupdate.com.au/property-market-interest-rate-update-video/" rel="bookmark">Property Market & Interest Rate Update
– Dr. Andrew Wilson
Our property market finished the first quarter strong- Tim Lawless
Are you thinking like a successful property investor
Auction clearance rates starting to slip- Cameron Kusher
Going Once, Going Twice, Sold!- Rob Balanda
Even More Inspirational Quotes From Jim Rohn

Subscribe & don't miss a single episode of Michael Yardney's podcast
Hear Michael & a select panel of guest experts discuss property investment, success & money related topics. Subscribe now, whether you're on an Apple or Android handset.
Need help listening to Michael Yardney's podcast from your phone or tablet?
We have created easy to follow instructions for you whether you're on iPhone / iPad or an Android device.

Prefer to subscribe via email?
Join Michael Yardney's inner circle of daily subscribers and get into the head of Australia's best property investment advisor and a wide team of leading property researchers and commentators.
---
---