There are more interesting articles, commentaries and analyst reports on the Web every week than anyone could read in a month.
Each Saturday morning I like to share some of the ones I've read during the week.
Enjoy your weekend…and please forward to your friends by clicking a social link buttons on the left.
China overtakes US as world's largest economy
In his blog regular Property Update blogger Pete Wargent explained that according to the IMF, China has now overtaken the US to become the world's largest economy.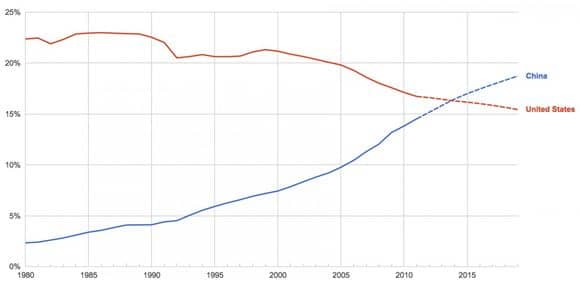 Measuring GDP on a Purchasing Power Parity (PPP) basis China clocks in at $17.6 trillion as compared to $17.4 trillion for the US reports the Financial Times.
Of course, the US remains the "richer" country based on the more traditional measures, including GDP per capita.
But nevertheless the astronomic rise of China's economy has been an amazing story, and the IMF estimates that China's output could soon be 20 percent greater than that of the US.
To underscore the point, in 1980 China's output was just a tenth of the size of that of America.
Aussies will certainly be hoping that China's impressive rate of economic growth continues, since with every passing month our dependence on the China story is gathering pace.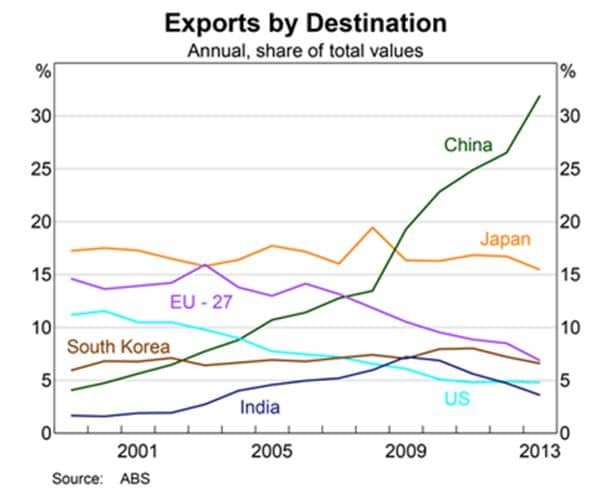 The Rules of Property | The formula for successful renovations | Are subprime loans a problem? | Choosing the best selling agent
Another great Real Estate Talk show produced by Kevin Turner. If you don't already subscribe to this excellent weekly Internet based radio show.
Details of this week's show:
Cherie Barber shares her formula for successful renovations
Al Campbell shares a story that will inspire you
We learn the 5 simple steps to getting the best agent

and more!
Property price Growth To Continue – For Now
Growth will continue over the next year, with increases becoming more balanced across capital cities, according to the latest QBE Australian Housing Outlook 2014-2017.
Your Investment Property Magazine report QBE CEO Jenny Boddington saying:

Interestingly, the report has forecast a dampening of growth before prices begin to stagnate as early as next year."

A combination of further price growth, an easing of housing undersupply and likely changes to interest rate policy will cause price growth to slow across most cities from 2015/16.

Brisbane is forecast to have the strongest price growth (+17%) over the next three years. This is largely due to an undersupply of stock set to continue over the period.

Sydney (+9%), Melbourne (+5%), Adelaide (+6%) and Hobart (+5%) will experience some price growth, but they will all experience rising supply issues through to 2016/17.

Weak price growth is forecast for Perth (–2%), Canberra (+1%) and Darwin (+2%). This is due to declining resource sector investment in Perth and Darwin and public sector cuts combined with an oversupply in Canberra.

"It is projected affordability at current interest rates can accommodate further price growth."

The report also noted that strong population growth has been one of the major drivers of demand.

However, net overseas migration flows weakened in the year to December 2013 and this trend is forecast to accelerate over the next three years.
We are living longer than ever before
Yahoo reports that we are living longer than ever – well at least that's the case in America and I assume it's much the same here:
— U.S. life expectancy for a child born in 2012 was 78 years and 9½ months, up about six weeks from life expectancy in 2010 and 2011. That's a record.

— For someone 65, the CDC estimates that men have about 18 years of life left and women about 20½ years. The gaps between men and women grew slightly, compared to 2011.

— There were 2.5 million deaths in 2012, or about 28,000 more than the year before. The increase was expected, reflecting the nation's growing and aging population, Anderson said.
7 measures for better investment analysis
In a recent Matusik Missive, property analyst Michael Matusik shared seven things that a property buyer should do or know when looking to purchase an investment property.
Question the time period being used. Best to look at the last cycle – i.e. seven years & the last year too.
Try to understand where the local market is in the property cycle.

Ask for resale evidence – the same property, without major improvements, selling over time. Not median prices.
Median or middle values work as broad indicators & only when used across big areas, like a city or municipality.

Ask who is buying; the proportion of investors v. owner residents; and where the buyers are coming from.

Request rental evidence, and from at least two independent sources. Ring the sources up & ask them about what they wrote.
Ask who will manage the property & the intentions regarding tenant tenure – long or short-term stays.

Quiz the developer, selling agency & local council about the immediate development plans around the subject development.
Will the view be blocked out? Overshadowing? Little space between buildings? More competition?

Ask for a 'current market assessment' or 'spot' valuation. Valuers often lowball; they can get things wrong, but to their defence, they carry a lot of professional risk & don't get paid enough.
That being said, don't pay more than 5% above the valuation price, unless you believe the area has some real upside (i.e. new hospital being build nearby or major university about to open in the area).

Make sure your property has the potential to be bought or rented by three out of six key housing demographic segments.
The Law of Incremental Improvement
Author Thomas Corley says:
Successful people become rich because they follow the Law of Incremental Improvement.

Every day they do certain things that advance them further in achieving their goals, improve their skills and increase their knowledge. Successful people improve themselves bit by bit every day.

They become the type of person they need to become to earn greater financial rewards in life. They make self-improvement a daily habit.
Weekend video: iPad Tattoos
Magician Simon demonstrates some amazing tattoos he can create with his iPad.
Blogs you may have missed this week:
If you didn't have a chance to read my daily blog, here's a list of some of the blogs you missed this week:
10 things to consider when buying an investment property
Mindset Crimes | Louise Bedford
Home loan limits and buffers won't stop a housing bubble
10 interesting ways to make your first million
Do you understand the changes to the Victorian Property Laws | Mira Stammers
The world has an economic growth problem, and more G20 spending won't fix it

Subscribe & don't miss a single episode of michael yardney's podcast
Hear Michael & a select panel of guest experts discuss property investment, success & money related topics. Subscribe now, whether you're on an Apple or Android handset.
Need help listening to michael yardney's podcast from your phone or tablet?
We have created easy to follow instructions for you whether you're on iPhone / iPad or an Android device.

Prefer to subscribe via email?
Join Michael Yardney's inner circle of daily subscribers and get into the head of Australia's best property investment advisor and a wide team of leading property researchers and commentators.
---
---