---
There are more interesting articles, commentaries and analyst reports on the Web every week than anyone could read in a month.
Each Saturday morning I like to share some of the ones I've read during the week.
Enjoy your weekend…and please forward this to your friends by clicking on a social link button on the left.
The shifting sands of immigration – Pete Wargent
In his blog, regular Property Update Blogger Pete Wargent discusses the changing nature of Australia's immigration. He summarises:
Population growth in 2014 looks set to be driven more by China and India than ever before, as well as a number of other south-east Asian and far-east Asian countries.

However, the absolute Australian population growth figure looks to have peaked for this cycle and perhaps may be closer to 300,000 than 400,000 in this calendar year.

On the face of it this ongoing strong population growth is all great news for property investors.

However, some alarm bells are starting to ring in a number of areas as higher prices and lower interest rates are driving a glut of new supply in some regions.

In particular, certain parts of Melbourne and regional Victoria appear to have worryingly high vacancy rates, as do some parts of regional New South Wales and Queensland.

Moreover, there has been plenty of questionable advice over the last couple of years about investing for high yields in overpriced mining towns.

Yet in some mining locations we now we have the prospect of a potentially devastating trifecta of declining commodity prices, a crunching drop-off in mining construction and a jumping in unemployment in the resources sector.

Each to their own, but personally I'd be giving the one-trick mining towns a very wide berth.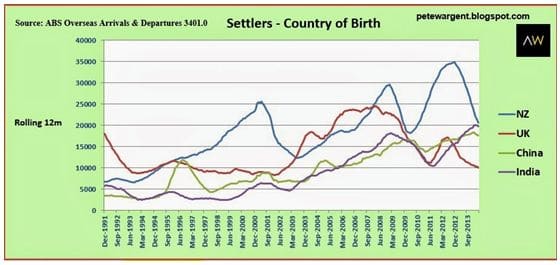 6 Reasons most people will never get rich & how to make sure you do | Dispelling a big property myth | Designing your property portfolio
Another great Real Estate Talk show produced by Kevin Turner. If you haven't already, subscribe to this excellent weekly Internet based radio show.
Details of this week's show:
I look at six simple reasons most people will never get rich and tell you how to make sure you do
Michael Matusik joins us again to dispel one of the all time great real estate myths
Ben Kingsley shares with us the process he takes potential investors through when he is designing their portfolio
Nhan Nguyen shares another one of his development success stories with us
We talk to Josh Masters about what he believes is the best way to be on top of your game in this market
You should definitely subscribe to this weekly audio program. Click here. It's free and you can listen on the go on your smartphone, iPad etc.
Melbourne is winning the tower race
Domain reports that Sydney is losing the tower race: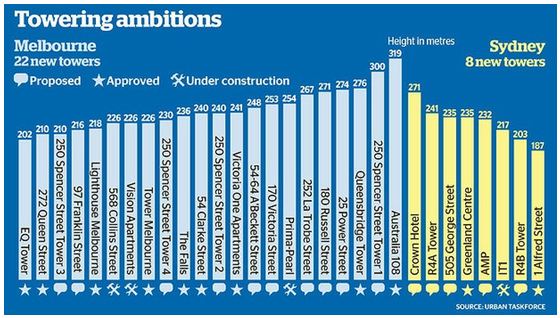 According to figures from the developer lobby group the Urban Taskforce, Melbourne has 22 towers with a height of more than 200 metres in the pipeline while Sydney has eight.

And the head of the taskforce, former NSW government architect Chris Johnson, says the approval of three residential skyscrapers for central Melbourne is a sign of just how different the cities are becoming.

"By 2030 Sydney's skyline will become more uniform, like a crewcut, with all buildings controlled by the 235-metre height limit," he said.

"Melbourne will be more dynamic with peaks and troughs. The skyline will have very high buildings above 100 storeys and then dip down in heritage areas."
6 risks of buying investment property
Nila Sweeney writes in Your Investment Property Magazine that whether you're new to investing or a seasoned expert, you must keep in mind what can go wrong to have any hope of long-term success.
Here are just a few issues to be aware of and prepare for.

1. It takes a long time to transact properties
2. It's expensive to get in and out of property
3. The cash flow crunch if your property becomes vacant
4. When interest rate increases, your repayments also increases and this could put a strain on your cash flow.
5. You could buy the wrong property If you didn't do enough due diligence and bought the 'wrong' property in the wrong area at the wrong time, you could face years of slow or no growth or worst, no income due to high vacancy in the area.
6. You could lose your job and be unable to meet your mortgage repayments
She suggests that before you take the plunge into property investing, ask yourself the following questions:
1. Are you sure property is the best way to invest your money?
2. Do you understand the risks of investing in property?
3. Are you ready to become an investor – financially and emotionally?
4. Do you know what you want to achieve?
5. Do you know how to achieve your goal?
6. Are your financials in order?
7. Do you know how to manage your budget once you purchase the property?
8. Do you have people to support you if things get rough?
Fun weekend video: Amazing Domino Trick
This domino video is worth watching! There are between 20,000-25,000 dominoes total. Enjoy watching the neat effects, but note: This style of domino video is called a "screenlink." Each clip is separate then edited together to make it look like one long setup.
9 things all great leaders share
What makes a great leader? How can you be a great leader?
Lifehack shared 9 impressive characteristics great leaders have:
1. Great Leaders Are Persistent
A great leader maintains persistence in the face of adversary, and always knows how to use self discipline in order to get ahead.
2. Great Leaders Motivate Others
All great leaders know how to inspire action, and sometimes a positive attitude is all it takes to get the ball rolling..
3. Great Leaders Work Well With Others
Great leaders recognise the value of synchronicity, and moreover, the power inclusivity. They surround themselves with highly skilled people who complement their own skills and emulate their ambitions and personal values.
4. Great Leaders Ask Questions
Great leaders are always prepared to acknowledge room for improvement. What can be done better? How do I improve? The capacity for acquired knowledge is infinite.
5. Great Leaders Make Decisions
Great leaders commit to decisions and are always prepared take the appropriate risks at the right time.
6. Great Leaders Master The Art Of Communication
A great leader is articulate and succinct in the delivery of his/her message. They generate activity, not through the issuing of commands, but by offering guidance and support.
7.Great Leaders Share What They Know
Knowledge is not a private prerogative. People respect a leader who doesn't keep them in the dark. Collective awareness is the key to social justice and respect.
8. Great Leaders Share Their Power
Power is not a badge or a medal, and cannot be identified as a tangible entity. True power lies within the act of compassion, and the equal distribution of opportunities amongst others. Great leaders share their power and celebrate their influence by using it to help those in need, rather than those in want.
9. Great Leaders Share Their Time
They spend time listening to feedback and are always responsive to the group's needs, and ready to offer support and assistance. Good leaders will always express sincere care and concern for all members of their group.
Blogs you may have missed this week:
If you didn't have a chance to read my daily blog, here's a list of some of the blogs you missed this week:
The rich think very differently to the poor
This week's property market trends | RPData
Buying Property in a Self Managed Super Fund – Part 2 – Top 9 Mistakes
Home Prices Continue to Rise as Consumer Sentiment Remains Stable
It's no bubble – Sydney's real estate market is just playing catch up | ANZ Bank
SUBSCRIBE & DON'T MISS A SINGLE EPISODE OF MICHAEL YARDNEY'S PODCAST
Hear Michael & a select panel of guest experts discuss property investment, success & money related topics. Subscribe now, whether you're on an Apple or Android handset.
PREFER TO SUBSCRIBE VIA EMAIL?
Join Michael Yardney's inner circle of daily subscribers and get into the head of Australia's best property investment advisor and a wide team of leading property researchers and commentators.
---
---