As our real estate markets reach new highs, more people are talking of an impending property crash, so today let's examine what could cause this to happen.
It's traditionally said that property crash risks are heightened by:-
very high interest rates causing homeowners to default on mortgages;
severe recession;
very high unemployment; or
a significant oversupply of properties.
Personally, I would probably add to that list:
5 – credit market illiquidity or seizure.
So which Australian capital cities are exposed to the highest risk of a crash?
I won't add a great deal of commentary today. Interpret for yourself.
1. Very high interest rates?
Not now. Generational lows in fact.
As for where rates are headed? Probably up eventually, but probably not for a while, and certainly not to very high levels any time soon.
2. Severe recession?
An external shock such as a major slowdown in China could impact Australia's economic outlook across the board, but presently moderate economic growth is forecast by the Reserve Bank to continue through 2014 and then pick up again towards trend in the years ahead.[sam id=40 codes='true']
As for how to measure this by state…well, we could use monthly merchandise exports or trade balance by state, perhaps?
But of course, Western Australia would always be streets ahead in terms of exports as our main exporter, with Queensland and South Australia tending to pay their way in terms of monthly trade balances.
Equally, as you might expect, Victoria and New South Wales would always show as being very heavily in deficit, as they have been for decades.
Such is the nature of a mining and resources focused country.
The mining states are the engine room and the main capital cities are the…erm…oh, I don't how the analogy goes…the captains on the bridge?Whatever.
The obvious alternatives could include Gross State Product or State Final Demand which are figures from the detailed GDP release, but that still might still be a 'clunky' approach.
The best alternative proxy I can think of for recession risk at this moment is the trend in jobs growth, for the most important factor in economics is employment.At a state level the trend in jobs are being added is as follows:
In South Australia's case I should have said negative jobs growth, with the economy looking particularly soft there.
New South Wales is coasting and Queensland is not looking too shabby either.
3. Very high unemployment
In terms of unemployment rate by state, the southern states are clearly the standouts with Tasmania (7.5%) and South Australia (7.1%) having unemployment rates well above the national average (5.8%).Victoria isn't looking too smart at the moment, but whether this proves to be temporary or not remains to be seen.
Western Australia has the lowest unemployment rate of any state, but the trend is rising gently as the mining construction boom recedes. This is one to keep an eye on.
New South Wales is evidently the economic powerhouse right now with Queensland also looking reasonably tidy.
4. Oversupply
Darwin's decade long property boom is well explained by this chart of vacancy rates, since its property markets have remained wretchedly tight for years now.
We've been discussing Melbourne's oversupply risk for ages, but nothing has come home to roost yet, presumably partly due to the oversupply being focused in certain pockets of the city.
Sydney has a high level of building approvals in the pipeline, but with a vacancy rate of only 1.6% oversupply risk appears unlikely on a city-wide basis.
Instead, as has occurred in Melbourne, certain specific areas in Sydney will likely become oversupplied.
By way of comparison, Sydney had a vacancy rate per the REIA of 4.3% in 2003 (and as high as 5.3% in the outer suburbs) and, notably, there was no property crash then.
It used to be said in days gone by that a "market in equilibrium" had a vacancy rate of 3.00% so a rate of just 1.6% must by definition by considered to be very tight.
As for the oversupply risk…in fact, I'll just tell you where some of the specific risk areas could be located in my opinion: Sydney's Central Business Districts (note plural), Zetland, Mascot, Waterloo, Chippendale (Central Park) and Chatswood would areas that I'd watch out for.
I don't know enough about Green Square to comment, but if it's anything like Mascot Square that I visited a fortnight ago…look out.
Stick to the supply-constrained leafy suburbs where building approvals are height-restricted and the demand is fuelled by population growth to sidestep oversupply risk.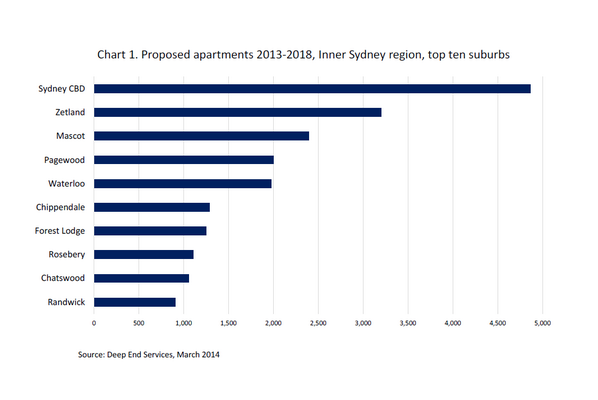 Other areas will remain tighter due to the booming population growth in the city.
5. Credit market seizure
A large percentage of Australia's mortgage market is carved up by the four major banks (Commonwealth, ANZ, Westpac and National Australia Bank), and being valued by markets at hundreds of billions of dollars in aggregate, are seen as too big to fail.
The Reserve Bank acts as a lender of last resort and ensures the liquidity of the banks.
Based upon what we've seen elsewhere, the more significant risk here would appear to be that bank lending dries up due to a major property market correction getting underway (in other words, potentially caused by one of the four listed factors above).
Do your own research.
Subscribe & don't miss a single episode of Michael Yardney's podcast
Hear Michael & a select panel of guest experts discuss property investment, success & money related topics. Subscribe now, whether you're on an Apple or Android handset.
Need help listening to Michael Yardney's podcast from your phone or tablet?
We have created easy to follow instructions for you whether you're on iPhone / iPad or an Android device.
Prefer to subscribe via email?
Join Michael Yardney's inner circle of daily subscribers and get into the head of Australia's best property investment advisor and a wide team of leading property researchers and commentators.
---
---