Reserve Bank's Assistant Governor Christoper Kent gave a surprising speech recently.
Gone were the warnings about the dangers of rapid house price inflation, and instead the dovish RBA dismisses affordability as a non-issue and emphasises the need to stimulate construction.
Let's take a quick look at what we can learn from the speech…
Firstly the RBA quickly skips over property affordability as an issue in noting that, except for a small blip during the financial crisis, home loan payments are the lowest they have been in a decade thanks to 175bps of interest rate cuts.
There is no mention of what might happen when interest rates revert upwards…
The speech then moves on to housing prices and, while acknowledging that prices have been increasing since May 2012, chooses to emphasise that in some cities prices (e.g. Brisbane, Melbourne) are still some way below where they were at their peak in 2010.
Prices in the regions and Adelaide, says the RBA, have been flat for some years now. Sydney's property prices, however, have cruised to all-time highs and are climbing.
On sentiment, the speech notes that auction clearance rates have picked up sharply in Sydney and in the Melbourne property market, but refers to a possible over-supply of apartments in inner-city areas of Melbourne. Turnover of stock remains historically low.
The great leveraging up seen by households due to lower interest rates and availability of debt stopped rising in 2006.
Since that time, households have instead increased their savings rate notes the RBA approvingly…
Housing credit growth is expected to be lower in the future, but the RBA observes that the availability of credit does not seem to be a constraint at present for home buyers or real estate investors.
Credit growth remains subdued, and homeowners have resolved to pay down debt in recent times (investors have not, as the incentive to do so is diminished for these owners).
Dwelling approvals have picked up in recent quarters, but the central bank remains uncertain as to how construction will pick up from here forward.
Indeed, dwelling investment as a share of the economy remains at decade lows.
Building approvals by state have not really been responsive in aggregate, but have been improving in NSW.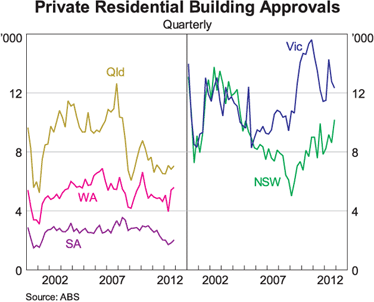 Supply-side constraints have played a significant role in the housing sector, particularly as average household sizes have plummeted and the population has boomed over a period of many decades, increasing the required number of dwellings dramatically.
House price to household disposable income ratios eased somewhat through 2011 and the first half of 2012 after the great increase in leverage in previous decades.
Vacancy rates are very tight in parts of some cities including Perth, Sydney and Darwin, and yields have increased.
Summing up
A mixed bag of news overall. The RBA notes once again in summing up that dwelling prices are below their peak, but acknowledges that they are moving higher in some cities. It is hoped that dwelling construction will pick up which reinforces what we already suspected, that interest rates are not moving up any time soon.
The key section of the speech for me comes right at the end where it is briefly noted that demand for new housing, while possibly improving in recent months, is at very depressed levels.
Let's take the example of New South Wales where the population grew by a non-trivial 78,900 people in the 12 months to 30 June 2012.
Rolling annual new house sales reached a 16.5 year low in December, falling to close to 10,000 sales (Queensland, Victoria and South Australia are experiencing similar problems with new house sales and the population in two of those states is growing very rapidly).
Buyers and investors are finding better value in existing stock than in expensive and sometimes poorly-located newer developments.
In turn this means that homebuyers and investors are scrambling for a choked supply of existing quality dwellings which forces prices of those existing properties up. Sydney's vacancy rate fell to just 1.9% in February with warnings of "dire consequences" if the planning, supply and incentive issues are not addressed.
The population of Sydney increased by ~60,000 persons in the year to June 2012. Over the longer term there are plans to build high-rise tower blocks in some areas around Sydney to combat the supply issue, although Councils are already displaying the usual NIMBYism and zoning approvals will doubtless prove troublesome. Moreover it is questionable whether buyers want to live or invest in new high-rise tower blocks.
As the article says: "If this doesn't work, we're really stuck as a city".

Subscribe & don't miss a single episode of Michael Yardney's podcast
Hear Michael & a select panel of guest experts discuss property investment, success & money related topics. Subscribe now, whether you're on an Apple or Android handset.
Need help listening to Michael Yardney's podcast from your phone or tablet?
We have created easy to follow instructions for you whether you're on iPhone / iPad or an Android device.

Prefer to subscribe via email?
Join Michael Yardney's inner circle of daily subscribers and get into the head of Australia's best property investment advisor and a wide team of leading property researchers and commentators.
---
---