Each month the RBA offers its perspective on how Australia Inc. is tracking when it releases its Chart Pack.
I know that charts aren't everyone's cup of tea, but I review these each month as part of my regular research.
So here's a stack of charts and my thoughts on some of the factors that will impact our economy and the property markets:
THE WORLD ECONOMY
Of course Australia doesn't operate in a vacuum, so it's important to start with the international context…
While global economic growth is slowing, our major trading partners – in particular China (which is slowing down) and India (which is growing strongly) – are generally outperforming and that's important for Australia's economic health.
At the same time the USA economy is picking up and in anticipation of this the US stock market has gained almost $3 trillion in value since Donald Trump's election in November.
Currently world inflation is low…
And unemployment is falling in the 3 biggest economic regions, meaning their economies are slowly improving:
In short the world's economy is "behaving itself."
While many of the previous concerns of a world recession have faded, we're in a low growth, low inflationary environment which is likley to remain that way for some time.
Most central banks have been trying to stimulate their individual economies with low interest rates, but in general this has been to no avail.
AUSTRALIA'S ECONOMY
Our economy is now growing at a much slower pace than the long run averages, more in line with the lower growth environment the rest of the developed world has experienced since the GFC.
But we are performing better than most with uninterrupted economic growth for over quarter of a century.
And like the rest of the world, Australia is in a low inflationary environment which is of course one of the reasons the RBA can keep official interest rates so low.
HOUSEHOLD SECTOR
Australian household wealth is strong and now, after a period of stashing our cash following the GFC, we're spending a little more and that's good for our economy.
Australian households are amongst the wealthiest in the world, with our assets (primarily in real estate) increasing in value faster than our liabilities.
The graph below shows the interesting effect of our current low interest rate environment.
Despite record high levels of household debt, falling interest rates means that this debt is more affordable than ever with average household debt as a percentage of disposable income being at an affordable level.
OUR HOUSING MARKETS
As our mining boom slowed down the government facilitated the current property boom by encouraging the non-mining economic sector, in particular the building industry, to take up the slack.
This has mostly come through the high-rise apartment building boom, which now seems to be coming off the boil.
This is a good thing as supply of new apartments is currently running ahead of demand, particularly in the Melbourne and Brisbane CBD's.
Some of our property markets are booming.
Capital city dwelling values moved 1.4% higher over the last month according to Core Logic, taking the combined capital city index to an annual growth rate of 12.9%; the highest annual rate of growth since the twelve months ending May 2010.

Four of Australia's eight capital cities are now showing an annual growth rate in dwelling values higher than 10%, while Perth and Darwin values continue to trend lower on an annual basis.
The March results highlight the continued resurgence in the pace of capital gains.
This became evident through the second half of 2016, fuelled largely by lower mortgage rates and a rebound in investment activity.
At the same time loan approvals for investors are again on the rise, which has resulted in more macro prudential controls from APRA to slow down particularly interest only and higher risk lending to investors.
TWO OF THE MAJOR DRIVERS FOR OUR HOUSING MARKETS:
Our housing markets are very dependent on consumer confidence.
There is a direct link between consumer confidence and housing turnover and rising prices.
Consumer sentiment has fluctuated widely recently, and has slumped recently as more us us have become pessimistic.
Currently we're creating jobs and the unemployment rate is holding steady dropping, but this statistic is a little misleading since it understates the degree of labour market slack due to the large number of part time jobs that have been created with many Australians working fewer hours than they would like, while others have been discouraged from looking at work at all.
This has created a situation where wages growth remains low and unemployment varies considerably between states.
Of course the states with highest job growth and lowest unemployment have the better performing property markets.
The following graph clearly shows how the service sector is where the jobs growth is occurring.
In turn this is where wages growth will occur enabling people to upgrade their homes, pushing up property prices
THE BOTTOM LINE:
All in all, our economy is sound and we're now in a period of low economic growth with low inflation, low wages growth and low interest rates.
By the way…the rest of the world has been operating in this environment since the GFC
We were sheltered from this by an extraordinary mining boom and our economy's resilience to transition from this has been surprisingly impressive.
Of course there are still risks out there – and we could go into recession – in fact we had one quarter of negative economic growth at the end of last year.
This means the RBA is unlikely to increase interest rates for a while but the banks, under pressure from APRA, are raising their rates and at the same time causing a "credit squeeze" in an attempt to slow down the Melbourne and Sydney property markets.
This means as property investors for the foreseeable future we can't expect the type of strong capital growth in property prices we experienced recently.
By the way…this doesn't mean it's the wrong time to invest in property.
What it does mean is that careful property selection is critical as you can't count on the market to do the heavy lifting.
It also means a more stable property environment with out the booms and busts.
WHAT DOES THIS MEAN FOR YOU?
Clearly owning property – your own home and investment properties is the way to wealth in Australia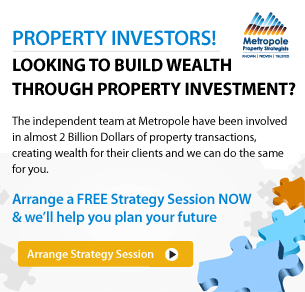 If you're looking for independent advice about property no one can help you quite like the independent property investment strategists at Metropole.
Remember the multi award winning team of property investment strategists at Metropole have no properties to sell, so their advice is unbiased.
Whether you are home buyer or a beginner or a seasoned property investor, we would love to help you formulate an investment strategy or do a review of your existing portfolio, and help you take your property investment to the next level.
Please click here to organise a time for a chat. Or call us on 1300 20 30 30.
When you attend our offices in Melbourne, Sydney or Brisbane you will receive a free copy of my latest 2 x DVD program Building Wealth through Property Investment in the new Economy valued at $49.

Subscribe & don't miss a single episode of Michael Yardney's podcast
Hear Michael & a select panel of guest experts discuss property investment, success & money related topics. Subscribe now, whether you're on an Apple or Android handset.
Need help listening to Michael Yardney's podcast from your phone or tablet?
We have created easy to follow instructions for you whether you're on iPhone / iPad or an Android device.

Prefer to subscribe via email?
Join Michael Yardney's inner circle of daily subscribers and get into the head of Australia's best property investment advisor and a wide team of leading property researchers and commentators.
---
---