---
It looks like rates will remain unchanged at next Tuesday's RBA meeting, according to 78% of experts in the Reserve Bank Survey.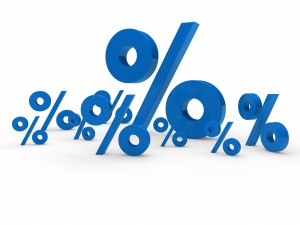 The official cash rate is expected to remain on hold at 2 percent at the Reserve Bank meeting this Tuesday (September 1, 2015), but experts are divided on what we can expect for properties that go under the hammer this mortgage season, according to the latest Reserve Bank Survey conducted by comparison website finder.com.au.
The finder.com.au Reserve Bank Survey of 32 leading economists and experts found that 31 experts expect the cash rate to remain on hold, while just one respondent – Mark Brimble of Griffith University – believes it will fall.
Many experts cited the Reserve Bank is still assessing the impact of the latest two rate cuts in February and May
In addition, an improving labour market and a lower Australian Dollar are factors that may contribute to the Reserve Bank's decision to keep rates on hold on Tuesday, they said.
In fact, 25 experts (78 percent) do not expect the cash rate to move again this year, while 5 (16 percent) tip it to cut by the end of the year.
Just one expert – Mark Crosby of Melbourne Business School – believes it will rise by year end.
More than half (53 percent) of the experts expect the cash rate to start rising in 2016, with the fourth quarter of the year the most likely period for this to happen.
However, more than two in five experts (44 percent) surveyed – including Shane Oliver of AMP Capital, David Bassanese of BetaShares, and Dr Andrew Wilson of the Domain Group – believe, while a rate rise is on the cards, this is likely to occur beyond 2016.
Source: finder.com.au Reserve Bank Survey
Michelle Hutchison, Money Expert at finder.com.au, said that while the record low rates have been welcomed by many borrowers, they're not here to stay.
"The finder.com.au Reserve Bank Survey has found that it's not a matter of 'if' the cash rate will rise but, rather, 'when'.

However, there's no need to panic and borrowers should use this time to do their research and scan the market to ensure they're getting the best rate possible.
Also, now's the time to prepare for future rate hikes by making extra repayments while you can.

"With the national average auction clearance rate increasing by approximately 10 percent over the past 12 months and the start of mortgage season is just days away, we can expect the property market to remain competitive in the coming months.
The Survey found that 19 experts (59 percent) expect auction clearance rates to stabilise at the current level, while one expert – Peter Boehm of onthehouse.com.au – believes auction clearance rates will boost even higher this mortgage season.

"However, more than one in three experts (11 experts or 34 percent) expect auction clearance rates to fall, despite mortgage season being traditionally billed as the hottest time to buy and sell."
Mrs Hutchison said that buyers who are planning to wait until the property market settles may want to think again.
"Almost three in five experts (59 percent) said that next mortgage season (September-November 2016) will not necessarily be a better time to buy than this coming mortgage season, but rather is likely to be the same as this season.

"Five experts (16 percent) said it will not be a better time to buy in 12 months' time, while seven experts (22 percent) disagreed, believing buyers should hold out and buy next mortgage season rather than this coming one.

"My message to buyers: Regardless of when you're buying, ditch emotion and consider what the future holds for the cash rate.
When doing your calculations, allow a 2-3 percent buffer for future rate rises.
Remember, these record lows won't stick around forever."
What our experts had to say in the finder.com.au Reserve Bank Survey:
Garry Shilson-Josling, AAP: "The Reserve Bank is confident that the economy's transition away from dependence on mining investment is under way.
It's also formed a tentative view that slower population growth, thanks to low immigration levels, means less economic growth is needed to stop unemployment from rising, so there's no need for more cuts right now. On the other hand, there's plenty of slack in the economy, notably a large pool of unemployed and underemployed, and many more out of the labour force who might easily be drawn back into the jobs market.
So there's no even to need to think about rate rises for a while…
The potential for the Aussie dollar to drop into the low 60s against US dollar shouldn't be underestimated. If it did fall that low and stayed there the RBA might be inclined to nudge the cash rate up."
Shane Oliver, AMP Capital: "Not much has changed since the last meeting and the Statement of Monetary Policy when the Reserve Bank seemed reasonably comfortable with current monetary settings…
While on balance I think the Reserve Bank will need to cut interest rates again , I also think it's a very close call as there is evidence that the economy is rebalancing and of course rates are already very low."
Peter Munckton, Bank of Queensland: "The Reserve Bank is happy with the current level of interest rates"
Steven Pambris, Bank Of Sydney: "The economy continues to be soft, however some improvement is evident."
David Bassanese, BetaShares: "We're experiencing a steady unemployment rate, which will contribute to the decision to hold the cash rate."
Richard Robinson, BIS Shrapnel: "Although Reserve Bank would still like to see a lower Australian Dollar, continuing increases in housing prices and a stabilisation in the labour market means they will hold rates steady"'
Chris Caton, BT Financial Group: "The Reserve Bank is still assessing the effect of previous cuts and the lower Australian Dollar"
Michael Blythe, CBA: "Further stimulus is not required and Australian Dollar is the the Reserve Bank's 'comfort zone'"
Dr Andrew Wilson, Domain Group: "The Reserve Bank is continuing with their 'wait and see' approach – but weakening data may be changing that bias."
Mark Brimble, Griffith University: "The economy remains weak with low confidence, low investment, weakness in key trading partners and deteriorating equity markets with a less than pleasing reporting season.
These factors, together with the move by China to weaken its currency and APRA's interventions in the credit markets provide scope for the Reserve Bank to cut rates to give the economy the stimulus it needs."
Shane Garrett, Housing Industry Association: "The two rate reductions this year have sufficed in terms of moving the exchange rate in the right direction and boosting activity in some parts of the economy."
Paul Bloxham, HSBC: "the labour market improving is one of the reasons we anticipate the Reserve Bank will hold the cash rate at the September meeting."
Michael Witts, ING Bank: "The economy is trending in the right direction for the Reserve Bank, and they will watch and wait as the economy progresses."
Grant Harrod, LJ Hooker: "The Reserve Bank has indicated that it is now comfortable with where the Australian dollar sits and thinks the unemployment rate has now peaked.
Combined with the implementation of lending restrictions to property investors from the banks we expect the Reserve Bank to continue their 'wait and see' approach and maintain the cash rate at its current level."
Peter Jones, Master Builders: "Current rates seem appropriate in terms of stimulus without risking speculative property behaviour."
Mark Crosby, Melbourne Business School: "International conditions are still uncertain, and domestic conditions are not inflationary, so no strong reason to move either way."
Katrina Ell, Moody's Analytics: "The Reserve Bank is relying on the lower Australian Dollar and earlier monetary stimulus to do the heavy lifting and get the economy back on track."
Lisa Montgomery, Mortgage & Consumer Finance Specialist: "While it is likely that the Reserve Bank will leave rates on hold for September, certain events may have them considering an additional cut in the official cash rate before the end of the year.
That said, if the Reserve Bank do cut rates, will it be passed on to borrowers? This possibility is very real, and could dilute any real impact of a further cut."
Jessica Darnbrough, Mortgage Choice: "The Reserve Bank has no reason to change the monetary policy setting at this point in time, as most parts of the economy are performing relatively well."
Ken Sayer, Mortgage House: "Up until now there have been lacklustre indicators in the market."
Chris Schade, MyState Bank: "In our view, we have reached the bottom of this interest rate cycle and it would require further economic deterioration for another cut to be delivered. Whilst this cannot be ruled out, we have not seen any evidence of such occurring since the Reserve Bank last met.
Domestic financial conditions remain highly accommodative and the Reserve Bank will wait comfortably on hold as it takes further time to see how the economy develops over the coming months."
Alan Oster, Nab: "It's too early to move the cash rate. The Reserve Bank is waiting to see impact of past cuts."
Peter Boehm, onthehouse.com.au: "The Reserve Bank has hinted a possible further reduction is still on the table but there doesn't appear to be anything compelling for this to happen at the moment.
Action by APRA to quell investment loan growth may help to take some heat out of the Melbourne and Sydney property markets while other economic and financial indicators like the $A dollar exchange rate, inflation and unemployment indicates steady as she goes as far as the Cash Rate is concerned, at least for now."
Linda Phillips, Propell: "A tricky decision this month. The depreciation of the yuan adversely affects our mining exports and the Reserve Bank may wish to see the Australian Dollar exchange rate fall to maintain parity against the yuan.
But the US Fed may commence raising rates in September which will pressure the Reserve Bank to raise rates in Australia.
So we have opposing forces lined up, the proverbial rock and a hard place.
On balance, the Reserve Bank is likely to leave rates on hold, in anticipation of having to raise rates next year."
Jonathan Chancellor, Property Observer: "It's all about the wait and see policy the Reserve Bank adopts."
Matthew Peter, QIC: "Lower exchange rate and revised view on amount of slack in the economy will keep. Reserve Bank currently on hold."
Noel Whittaker, QUT: "There are mixed signals in the market, which we anticipate will be a factor in the cash rate holding at the upcoming meeting"
Angus Raine, Raine & Horne: "The latest Australian economic data proved to be a mixed bag with consumer confidence up and business confidence down.
Property continues to be the flavour of the month in Sydney and Melbourne but the Reserve Bank in its latest minutes has noted that trends are more varied in other capital cities.
These factors will prompt another hold decision."
Janu Chan, St.George Bank: "The Reserve Bank is a little bit more comfortable with recent developments, including a stronger-than-expected labour market, the weaker Australian dollar and improved business confidence and conditions.
The rate cut door however, hasn't closed completely as there remains a risk that the economy will not pick up as the Reserve Bank expects.
However, the tentative signs of improvement in the domestic economy are enough to leave the Reserve Bank in wait and see mode for a while longer."
Neville Norman, University of Melbourne: "The market is currently a 'catch 22'…
There has been a high level of unsatisfied young house buyers at continued absurdly low interest rates."
Nicki Hutley, Urbis: "The economy now has sufficient momentum to keep the Reserve Bank satisfied for some months yet."
Bill Evans, Westpac: "It is reasonable that a key explanation for markets pricing in around a 60% probability of a rate cut by November is the expectation that the Bank would continue to openly discuss the possibility of rate cuts…
The Bank remains confident that inflation will remain consistent with the target over the next one or two years and also notes that the economy is likely to be operating with a degree of spare capacity for some time yet… there is nothing in this statement that would motivate us to move away from our call that rates will remain on hold in 2015 and through the course of 2016."
---
---