When you read many of the media articles you would think that housing is booming across the board.
The reality however is vastly different to what's been reported.
When you read many of the media articles you would think that housing is booming across the board.
The reality is that Sydney and Melbourne are booming but in other cities values are falling and it has happened in our two largest cities before and will happen again.
Investment in the Australian housing market has generally been a very successful and largely one-way bet over many years.
Although this has been the case, home values have fallen in the past, are currently falling in some capital cities and will almost certainly fall again in the future,.
The first chart shows the change in values across the combined capital cities according to the CoreLogic RP Data Home Value Index.
The chart highlights that in most instances the Index has been rising, in fact from December 1995 to November 2015 combined capital city home values have increased by a cumulative 330.5%.
The chart also shows that values fell in 2008 and they fell again between 2011 and 2012.
During 2008, combined capital city home values fell by -6.1% between March and December. Home values fell by -6.5% between March 2011 and May 2012.
CoreLogic RP Data Home Value Index, Dec-95 to Nov-15
While the Index shows a certain set of trends, its important to remember that it is largely influenced by Sydney and Melbourne.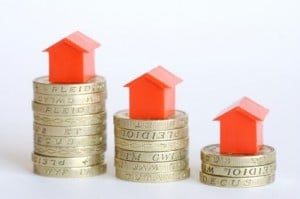 In fact, combined capital city home values have increased by 8.7% over the 12 months to November 2015 however, only Sydney and Melbourne have recorded value growth stronger than that level. In fact, values have already been declining over the past year in both Perth and Darwin.
Over the period from December 1995 to November 1995, all capital cities have seen values increase while each city has seen periods where values fall.
Across the cities, the cumulative value increases have been recorded at: 330.1% in Sydney, 421.4% in Melbourne, 259.4% in Brisbane, 261.2% in Adelaide, 293.0% in Perth, 208.0% in Hobart (from Sep-97), 180.1% in Darwin (from Apr-99) and 258.7% in Canberra.
The Melbourne property market has seen by far the strongest rate of growth over the period followed by the Sydney property market.
Growth has been stronger in Perth than in Brisbane, Adelaide and Canberra where cumulative growth has been remarkably similar.
Change in capital city home values Dec-95 to Nov-15*
While home values have risen significantly in each city, each city has also seen values fall although some have experienced larger falls more often than other cities.
There have also been periods where values are falling in a particular city but not others.
For example, from mid 2004 Sydney values started falling while the rate of growth just slowed across other cities.
Sydney home values fell by -8.2% between March 2004 and December 2005.
They then took until March 2009 to eclipse and remain above March 2004 levels.
The table provided looks at the two most recent periods of decline across the combined capital cities: the financial crisis in 2008 and as the RBA started to lift interest rates in 2011.
The data shows the financial crisis saw a short, sharp fall in values and a fairly rapid recovery.
The second period saw, in most instances, a much larger decline and a much longer period for recovery.
Magnitude of recent declines and recoveries across individual capital cities*
Over the past few months we have seen early signs of value falls in the Sydney and Melbourne housing markets.
We can see that falls have happened before and will no doubt happen again, the question is how large?
Of course no one knows but given that investor activity has been at a record high, building approvals have also hit record highs and record high levels of household leverage there is a possibility that falls could be larger than what we have seen in the past.

SUBSCRIBE & DON'T MISS A SINGLE EPISODE OF MICHAEL YARDNEY'S PODCAST
Hear Michael & a select panel of guest experts discuss property investment, success & money related topics. Subscribe now, whether you're on an Apple or Android handset.
NEED HELP LISTENING TO MICHAEL YARDNEY'S PODCAST FROM YOUR PHONE OR TABLET?
We have created easy to follow instructions for you whether you're on iPhone / iPad or an Android device.

PREFER TO SUBSCRIBE VIA EMAIL?
Join Michael Yardney's inner circle of daily subscribers and get into the head of Australia's best property investment advisor and a wide team of leading property researchers and commentators.
---
---