Immigration rising again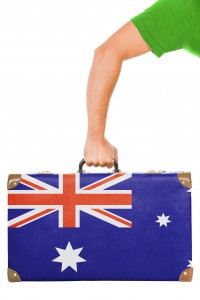 It's lucky you read this blog and not what you'd have heard elsewhere about Australia's population growth collapsing or dropping off a cliff.
Popular perception is often 12-18 months behind the reality.
The figures to March 2016 showed that population growth was actually accelerating, the reasons for which have been discussed here often (including that so many so-termed 'permanent' departures return to Australia within a year).
Personally I think that in the wash-up even the official figures will prove to be under-cooked when the full and eventual impact of international students is accounted for, but for now let's take a look at the Australian Demographic Statistics for the March 2016 quarter.
Components of growth
Net overseas migration of 66,043 in Q1 2016 was a solid +6 per cent increase on the prior year., taking the annual total back above +180,000.
As the population ages and the annual number of deaths creeps higher, policy makers will continue to target the demographic dividend of bringing in young migrant workers, which helps to raise the participation rate and slow the impact of the ageing incumbent population.
The natural increase of the population of +146,763 was comparatively lower than that of net overseas migration.
Totting it up, it's no real surprise to see total population growth in the March quarter accelerating to +107,497.
Annual growth accelerates
Annual population growth increased to +327,610, up from +322,843 in the December 2015 quarter.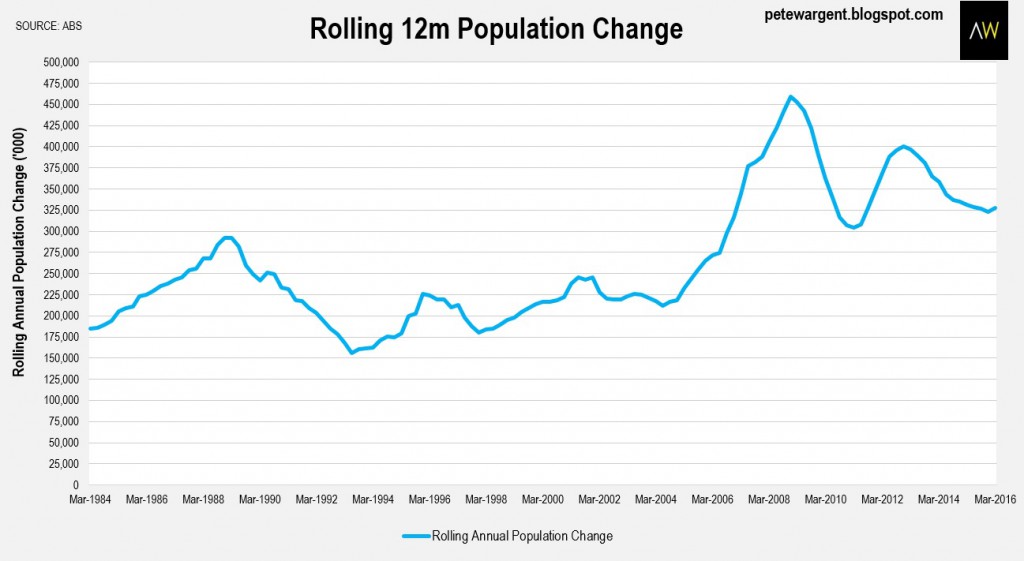 Perhaps it's little wonder that Australia's cities ended up with an infrastructure deficit as the population blazed past 24.05 million in the first quarter of this year.
The official forecasts released in 1999 expected today's population to be 2.7 million lower!
What is true is that population growth in regional Australia has dropped substantially as the mining boom ended.
Next up a look at the population growth at the state level, where we'll see that increasingly the largest three cities have grabbed an increasing share of the pie.
SUBSCRIBE & DON'T MISS A SINGLE EPISODE OF MICHAEL YARDNEY'S PODCAST
Hear Michael & a select panel of guest experts discuss property investment, success & money related topics. Subscribe now, whether you're on an Apple or Android handset.
PREFER TO SUBSCRIBE VIA EMAIL?
Join Michael Yardney's inner circle of daily subscribers and get into the head of Australia's best property investment advisor and a wide team of leading property researchers and commentators.
---
---