It was reported by Cameron Kusher of RP Data on Property Observer here that dwelling values when adjusted for inflation are well below their previous peaks, implying that this housing market cycle may have a way to run yet.
Source: RP Data
Clearly the so-termed "property boom" has largely been a Sydney affair.
Mortgage serviceability improved by a third
It's clear that the low cost of borrowing has made life relatively easy for homeowners with a huge drop in the percentage of household disposable income required to service interest repayments from above 13 percent to below 9 percent.
Contrary to anecdotal reports of mortgage stress, due to a unique system of repayment scheduling in Australia (where loan repayment amounts do not necessarily shift in response to lower variable rates) we would expect to see the average mortgage in exceptionally good shape for those remaining in full-employment.
And so it is.
In some excellent news, NAB confirmed this week that the the overwhelming majority of its mortgage customers are miles ahead on their repayments, with those ahead on average being more than a year ahead of schedule.
Another enlightening article here from the excellent Business Spectator:
[sam id=40 codes='true']
"Record low interest rates continue to have a strong impact on the housing market, with National Australia Bank reporting 85 per cent of its mortgage customers have forged ahead of minimum repayments.

In an emailed statement, the lender revealed those home loan accounts are ahead on repayments by an average of 13 months, an improvement on 12 months in 2012.

Victoria was the best performing state with 32 per cent of customers in the state ahead on mortgage repayments, while New South Wales was close behind on 31 per cent.

Credit card customers are also paying down their debt faster, with NAB reporting a 6 per cent increase in the number of credit card accounts paid in full.

The development follows news last week of the 'big four' banks slicing their home loan rates to record depths below 5 per cent.
Consumers are ahead on repayment of other borrowings too, showing just how effective easier monetary policy can be.
Read the rest of this interesting article here.
This ties in with independent research from the Reserve Bank last year which found that mortgage buffers were on average the equivalent of a staggering 21 months ahead of scheduled repayments.
"Mortgage buffers – that is, balances in mortgage offset and redraw facilities – remain near their highs since the series began in 2008, at 14 per cent to outstanding mortgage balances, equivalent to around 21 months of total scheduled repayments at current interest rates.

Together, these data suggest that many households have the resources to continue to meet their debt obligations even during a transitory period of unemployment or reduced income."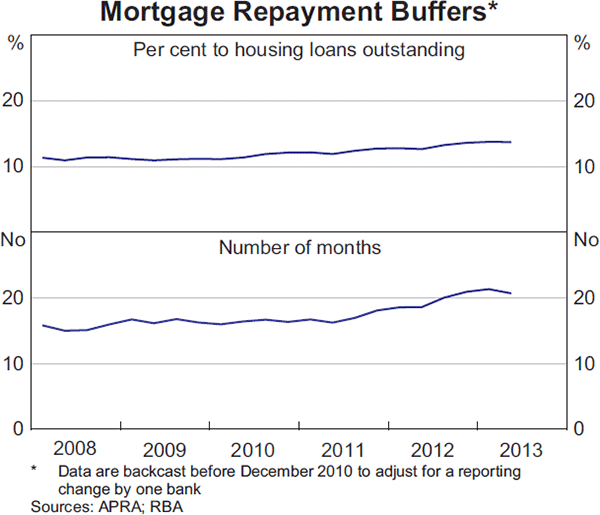 The average household has a huge mortgage buffer thanks to low mortgage rates.
And since last year with the cash rate falling to 2.75% on 7 May 2013 and then only 2.50% on 6 August 2013 and borrowing rates declining over the past year, household budgets for property owners have likely continued to get stronger and stronger.
SUBSCRIBE & DON'T MISS A SINGLE EPISODE OF MICHAEL YARDNEY'S PODCAST
Hear Michael & a select panel of guest experts discuss property investment, success & money related topics. Subscribe now, whether you're on an Apple or Android handset.
PREFER TO SUBSCRIBE VIA EMAIL?
Join Michael Yardney's inner circle of daily subscribers and get into the head of Australia's best property investment advisor and a wide team of leading property researchers and commentators.
---
---