Get the new

Property Update App
More than half of our readers view Property Update's latest content on their mobile phone. Now we've made it easier to get your property investment strategies, tips and advice from Australia's leading experts on the go.
The Property Update app is completely free.
Download yours now on your smartphone by clicking one of the links below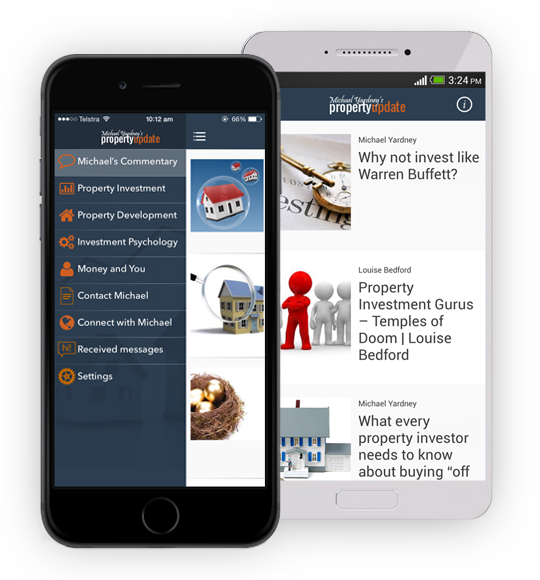 Get access to exclusive content plus a special bonus if you download your app now
SPECIAL BONUS FOR DOWNLOADING THE APP – 4 part video of my recent full day seminar & it's jam packed of great content.
Michael Yardney gives you an insider's perspective of successful property investing
Ken Raiss present an overview of why property values will continue rising
Dr Andrew Wilson gives his views on the economy
Some thoughts on what's ahead for finance from Andrew Mirams
Why download the app
Convenient
We recognise that you aren't always at your desk. You want to work on your investment strategy in all manner of environments; the train, the couch, the bus stop, the beach. Get a sleek reading experience wherever you are.
Stay on top
You can choose to have the app let you know when there's something new to read. With Property Updates' new articles you'll keep up-to-date with every new bit of information.
Exclusive content
We'll be giving our app users special investment strategies and tips that you won't be able to see on the regular website. There's an exclusive video series in the app right now!

Privacy
Even though the Property Update app is free, we don't sell advertising space to third parties. No annoying flashing ads for dating sites, games or health foods, ever.
Get it today