With home values continuing to rise across most capital city regions around the country, fewer dwellings are selling for less than $400,000.
According to the RP Data Home Value Index results, over the three month to June 2014 the combined capital city median house price was $550,000 and the median unit price was $475,000.
Given the median is the middle sale price over the period, it indicates that over the 3 month period an equal number of homes sold above that figure as below.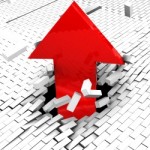 With capital city home values having increased by 10.1% over the 12 months to June 2014 it is becoming increasingly difficult for price sensitive purchasers to enter the housing market.
This is most often the case in Sydney and Melbourne where home values have increased by 15.4% and 9.4% respectively over the past year.
When you move outside of capital cities affording housing becomes somewhat more achievable. Of course employment is often more difficult to secure in regional areas.
The latest data from the Australian Bureau of Statistics (ABS) reveals that across most states unemployment is lower in the capital cities than in regional markets.
The exceptions are Qld where the unemployment rate is 6.4% in both Brisbane and Regional Qld and in SA where Adelaide's unemployment rate is 6.8% compared to 6.4% in Regional SA.
The point is, although housing might be much more affordable outside of capital cities, job prospects are often not as strong.
If we consider the growth in home values and the selling prices of homes it indicates a shortening supply of more affordable homes. Across the combined capital cities, 28% of homes sold over the 12 months to June 2014 were priced below $400,000.
In regional areas the figure was a much higher 63.9%. There has been a substantial reduction in housing under $400,000 over the past decade. 10 years ago, 69.3% of capital city home sales and 86.4% of regional home sales were below $400,000.
Looking at the proportion of capital city homes selling below $400,000 over the 12 months to June 1999 we can see that in each city the vast majority of homes sold within that price point.
Five years later in June 2004, we can see a decline in home sales under $400,000. Despite the decline, Sydney houses were the only city and property type with less than half of all sales occurring under $400,000. According to the RP Data Home Value Index, combined capital city home values increased by a total of 87.9% over the five years to June 2004.
Between June 2004 and June 2009 combined capital city home values increased by a total of 27.4%. Although overall value growth was much more moderate than the previous five years, there was a sharp decline in sales of homes under $400,000 by June 2009.
Less than half of all house sales in Sydney, Brisbane, Perth, Darwin and Canberra were below $400,000 over the year. In each city a majority of unit sales were under $400,000.
Over the 12 months to June 2014, Hobart was the only city with a majority of house sales under $400,000. Within the unit market, a majority of sales in Brisbane, Adelaide and Hobart were below $400,000.
According to the RP Data Home Value Index, combined capital city home values increased by a total of 22.1% over the five years to June 2014.
Although home value growth has moderated over each of the past two five year periods, the supply of homes selling at lower price points (i.e. less than $400,000) has also fallen.
Of course rising home values is great for those that have their own homes. Housing is Australia's single largest asset class and for most people is where they store the majority of their wealth.
It is a very different story for those who don't own their home. Affordable housing is the way that most first time buyers enter the market.
With the supply of affordable homes within capital cities shortening significantly, the prospects for first home buyers entering the market are also diminishing.
With fewer homes available at lower price points we would expect the typical age of first home buyers to increase. Further, it is likely the high cost of housing will force more residents to become long-term renters rather than home owners.

SUBSCRIBE & DON'T MISS A SINGLE EPISODE OF MICHAEL YARDNEY'S PODCAST
Hear Michael & a select panel of guest experts discuss property investment, success & money related topics. Subscribe now, whether you're on an Apple or Android handset.
NEED HELP LISTENING TO MICHAEL YARDNEY'S PODCAST FROM YOUR PHONE OR TABLET?
We have created easy to follow instructions for you whether you're on iPhone / iPad or an Android device.

PREFER TO SUBSCRIBE VIA EMAIL?
Join Michael Yardney's inner circle of daily subscribers and get into the head of Australia's best property investment advisor and a wide team of leading property researchers and commentators.
---
---