I put forward the view some time ago that resi building approvals would likely hit all-time record highs, driven on by rising dwelling prices over the past couple of years.
Although is is argued by some that supply is effectively strangled by planning restrictions and NIMBYism (to some extent, this obviously does play a part, particularly in established inner- and middle-ring suburbs), there has been another factor at play.
And that is, with high labour and construction costs in Australia combined with government charges, dwelling prices were simply not high enough to encourage developers to build.
The numbers are clear – if Sydney's apartment prices were to dip much below $550,000, construction will quickly dry up, even with today's lower financing costs.
In short, projects would not be sufficiently profitable for developers to build and there would be no adequate return on investment.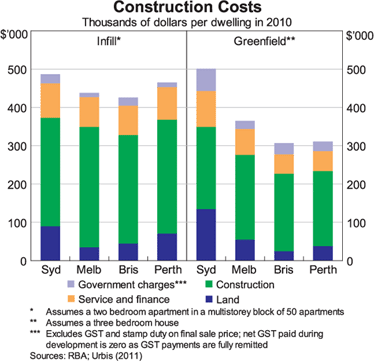 It's that simple. Ask anyone who works for a major developer in a resi division and they will tell you the same thing.
Dwelling values were previously too low and price action not strong enough for developers to be interested, until recently.
Indeed, RBA Governor Glenn Stevens confirmed as much in a speech this morning.
However, with prices moving up, there is clearly no shortage of approvals being waved through now in Sydney, thus underscoring the point.
In some areas, every second block appears to be under construction, especially in a number of inner south suburbs where thousands upon thousand of apartments are due to come online.
After three months of softer data, most commentators had already called the end of the approvals boom.
Admittedly, things were looking a tad shaky, but at the end of the day monthly approvals data is always necessarily going to be all over the shop.
In the event, after three weak readings building approvals in May jumped by 9.9% m/m to be up 14.3% y/y:
This data is always easier to read when smoothed out on a rolling monthly basis.
As you can see, rolling 12 monthly approvals are approaching the highest level ever recorded in Australia, now tracking at well over 190,000.
The previous annualised record was recorded in 1994 after the cash rate had been slashed from the nosebleed level of 17.5% to just 4.75%, resulting in higher prices and and a construction boom:
The major driver in this cycle has been a big ~20% y/y uplift in apartment approvals, casting a lot of doubt over the sticky supply response theory.
In fact, apartment approvals are booming to new record highs:
New South Wales, a state with both a dwelling and an infrastructure deficit, has been leading the way with gusto in recent years:
In NSW's case too, it's also been largely an apartment story, with nearly 7 in every 10 approvals over the past year relating to unit and apartment stock in Sydney and the state-wide level of apartment approvals soaring:
That said, it's notable that what started as a New South Wales and Western Australia boom is now becoming more broad-based.
Only in the Australian Capital Territory jurisdiction, where new supply is essentially not really needed, are building approvals not materially higher than a year ago.
In terms of the capital cities, approvals are generally very strong as detailed by RP Data's Cameron Kusher here.
"As you can see from the above chart, across each of the major capital cities there has been an upswing in dwelling approvals.

The most significant upswing has occurred in Sydney and Brisbane however, the number of approvals remains much higher in Sydney and Melbourne than in all other cities.

The number of dwellings approved for construction is at an all-time high currently in Perth, is very close to its record high in Sydney and at its highest level since the 12 months to June 2004 in Brisbane."
No signs of any constipated supply response there, rather the market just seems to be doing exactly what it should do, and the dwelling construction boom remains – albeit tentatively – still on track.
Acquirers of property, particularly buyers of units and apartments, must be wary of pockets of oversupply.

SUBSCRIBE & DON'T MISS A SINGLE EPISODE OF MICHAEL YARDNEY'S PODCAST
Hear Michael & a select panel of guest experts discuss property investment, success & money related topics. Subscribe now, whether you're on an Apple or Android handset.
NEED HELP LISTENING TO MICHAEL YARDNEY'S PODCAST FROM YOUR PHONE OR TABLET?
We have created easy to follow instructions for you whether you're on iPhone / iPad or an Android device.

PREFER TO SUBSCRIBE VIA EMAIL?
Join Michael Yardney's inner circle of daily subscribers and get into the head of Australia's best property investment advisor and a wide team of leading property researchers and commentators.
---
---