Investors return to the market.

There were many moving parts to the March Housing Finance figures, as always.
Let's run through just a few of the headline trends in three short parts.
Part 1 – Investors return
Having been bopped down from a record $14.2 billion in April 2015 to $11.4 billion by October, investor finance has steadily been creeping back up over the past five months, to sit back just above $12 billion.
The below chart plots the trend series for owner-occupier and investor finance.
Since 2012, with low interest rates the market increasingly became far too top-heavy with investors, and this has been reflected in generally weak rental price growth.
Given that the March Housing Finance figures relate to the period before the official cash rate was cut to its lowest level in history, a risk is presented that investor activity begins to surge higher once again.
That said, the regulatory intervention means that on average investors can borrow less than was previously the case due to serviceability constraints.
Total Housing Finance was fairly flat in the month of March at a historically high $32.7 billion
Investor finance accounted for 36.7 per cent of total commitments in the month – still quite high, but well down from a walloping 43.3 per cent in May.
Part 2 – Homebuyer trends
The number of owner-occupier approvals ticked down by 0.9 per cent in March to 56,316, generally in line with market forecasts.
Excluding refinancing, the total number of commitments has slipped a little over the past four months, although if recent open homes are any kind of useful guide the figure will now begin to rise again in response to another cut to the official cash rate, which became effective on May 4.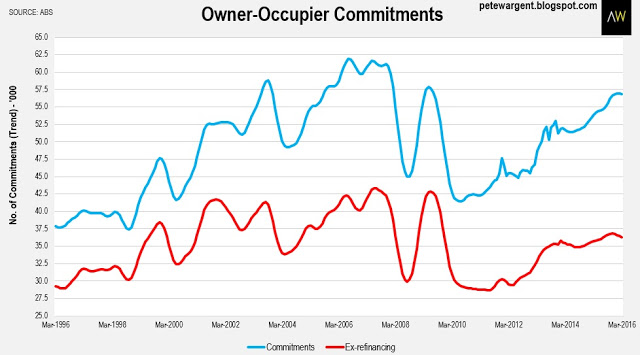 As ever, sub-markets are behaving in a far from uniform manner. Most states and territories have seen an increase in owner-occupier activity over the past half decade, but Western Australia has been in a downtrend since November 2013.
The chart below shows the swift impact of macroprudential measures, which has knocked back the average loan size from a record $386,300 in November to $357,500.
For first homebuyers the equivalent number has declined from $355,500 to $328,700.
Resultantly, after a very large spike, the total value of owner-occupier commitments has calmed in recent months in New South Wales and Victoria.
Market dynamics vary a great deal at the local level.
In the markets I am active in, Brisbane prices are rising steadily or solidly depending on the location and property type.
Sydney's inner suburbs (the Paddingtons, the Bondis, and the Surry Hills-es) remain intensely competitive, with vendors generally achieving strong results.
We have only had barely a week to judge the impact of the latest interest rate cut, but there does seem to me to be more feet on the street, certainly mid-week.
Part 3 – Construction, new dwellings and first homebuyers
The ABS numbers on first homebuyers may or may not be complete, but there is no arguing that activity is subdued, and well below the long run average.
The monthly result was around a decade low as a share of the pie.
Unfortunately low interest rates don't help you much if you don't have a deposit.
The above chart implies that younger people have by and large stopped buying property, but research from Cameron Kusher of CoreLogic-RP Data confirmed that many are now buying investment property instead, so in aggregate the total number of first time buyers probably isn't much changed.
If you work in the industry you would probably have known this intuitively anyway.
Cam's chart, which I won't nick here, showed that the greatest share of individuals claiming negative gearing or net rental losses were those in the 18 to 24 age bracket (11.77 per cent).
The second greatest share of total individuals was to be found in the 25 to 29 bracket (11.18 per cent), while the 30 to 34 age bracket followed hard upon at 10.93 per cent.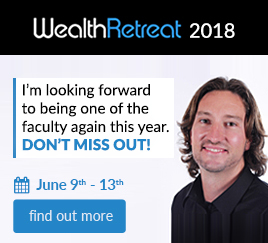 These data don't seem to quite fit the popular narrative of the Baby Boomers stitching up their youth.
In fact, I can't find a single reference to these vital statistics in any media article, suggesting that statistics are being used selectively (which, of course, they are).
Contrary to what seems to have become another popular opinion, investors in aggregate do add substantially to the dwelling stock.
The demand for dwellings itself is in part what causes prices to rise and construction to become viable, but even putting this obvious point aside, total construction loans to investors boomed by another 54.1 per cent in March.
There could be a number of reasons for the spike, potentially including, for example, a crackdown on construction offshore loans.
In any event, when looking at the chart in rolling annual terms we can see that the value of investor construction loans has surged by 164 per cent since the September 2012 nadir.
Lending to investors for construction accounted for $1.83 billion of the total housing finance commitments of $32.74 billion.
Lending to owner-occupiers to purchase new homes has increased solidly in most states over the past year but there has been a sharp pullback in Western Australia (-23.5 per cent) and Tasmania (-31.3 per cent).
The wrap
Activity remained solid in March.
The big question now on most people's lips is what impact the interest rate cut will have on markets.
At the macro level, I expect it to be quite stimulatory, but less so than for previous cuts due to serviceability constraints.
At the local level, some markets could be running red hot. Some already are.

Subscribe & don't miss a single episode of michael yardney's podcast
Hear Michael & a select panel of guest experts discuss property investment, success & money related topics. Subscribe now, whether you're on an Apple or Android handset.
Need help listening to michael yardney's podcast from your phone or tablet?
We have created easy to follow instructions for you whether you're on iPhone / iPad or an Android device.

Prefer to subscribe via email?
Join Michael Yardney's inner circle of daily subscribers and get into the head of Australia's best property investment advisor and a wide team of leading property researchers and commentators.
---
---