Let's have a look at the latest ABS figures and what they mean for investors.
With interest rates so low there is little value for investors in keeping money in the bank, as a result we are seeing a record high proportion of investors who are seeking returns that are broadly unavailable outside of property.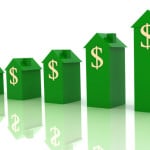 Data released by the Australian Bureau of Statistics (ABS) earlier this week showed that lending by Australian Authorised Deposit-taking Institutions (ADIs) for investment purposes hit a new high in September.
According to the data, there was a record high $11.9 billion in finance commitments to investors over the month.
Furthermore, investors accounted for 41.4% of total housing finance commitments and 50.3% if you remove refinances, both of which are record highs.
The first chart shows the proportion of housing finance commitments to investors against standard variable mortgage rates.
As you can see, the current spike and the previous spike in investor lending coincided with a period of low mortgage rates.
Of course low mortgage rates occur in concert with low interest rates which mean cash savings get low returns, as a result investors push into other markets such as residential housing.
Investors in housing essentially have two options for generating a return from their investment; capital growth or rental return.
Of course they may also choose to look at a combination of the two in order to maximise their return.
The RP Data CoreLogic Total Returns Index factors in the change in home values along with the rental returns from residential property.
As a result the index highlights the total investment return.
While combined capital city home values have increased by 8.9% over the 12 months to October, total returns have been recorded at a higher 13.3%.
Sydney and Melbourne stand-out as the markets receiving the highest total returns over the year.
Lending finance data shows that New South Wales and Victoria (both a proxy for the capital cities) are also seeing the highest ramp-up in investor activity.
Much like the rate of capital growth we have seen an easing in the annual change of total returns over recent months.
On an annual basis, total returns peaked in April 2014 (the same time at which value growth peaked) at 16.2%.
With the rate of value growth slowing and rental growth at its lowest level in more than a decade we'd expect total returns to continue to slow over the coming months.
The most recent trough for combined capital city home values was in May 2012.
Since that time, the increase in home values has been very much slanted to just a couple of capital cities (Sydney and Melbourne and to a lesser degree Darwin).
When we look at total returns they have also been strongest across these three cities but the returns elsewhere are somewhat stronger than if we just focus on capital growth.
A good example of why it is also important to factor in rental return is Hobart. Between May 2012 and October 2014, Hobart home values are -0.1% lower however quite strong rental yields see the total returns recorded at a much healthier looking 13.4%.
The Reserve Bank has repeatedly noted that interest rates are likely to remain on hold at 2.5% for some time yet.
With such a low interest rate setting, investors are finding little value in keeping their money in the bank.
[sam id=49 codes='true']
With total returns from residential property of 17.6% and 12.7% in Sydney and Melbourne respectively it is no shock that so many investors have shifted from cash into residential property.
Although the rate of growth is slowing, growth remains and until growth slows sufficiently and total returns also diminish it is difficult to see how residential property won't remain attractive to investors.
Of course, the Reserve Bank has flagged that they, along with other regulators such as APRA, are looking to introduce macroprudential tools to slow the level of investment lending taking place.
It will be interesting to see how soon and what type of measure is implemented.
Even if the tools are implemented in such a way to make investment borrowing somewhat less attractive, the far superior total returns from residential property compared to interest on savings may continue to attract the interest of investors.
Quite simply, if the goal is to slow residential property investment macroprudential tools will need to work in such a way to make residential property far less attractive to invest in or alternatively, investors need a viable and attractive alternative to property investment.

Subscribe & don't miss a single episode of Michael Yardney's podcast
Hear Michael & a select panel of guest experts discuss property investment, success & money related topics. Subscribe now, whether you're on an Apple or Android handset.
Need help listening to Michael Yardney's podcast from your phone or tablet?
We have created easy to follow instructions for you whether you're on iPhone / iPad or an Android device.

Prefer to subscribe via email?
Join Michael Yardney's inner circle of daily subscribers and get into the head of Australia's best property investment advisor and a wide team of leading property researchers and commentators.
---
---